So, lately I've had these big jars of easy kimchi sitting on my countertop and on the middle shelf of my fridge. I gaze at it with adoring eyes, and because I love it so, it sneaks its way into my cooking almost daily.
And my most recent kimchi win is this dish of roasted Brussels sprouts with ginger and kimchi.
It is high season for Brussels sprouts. Every produce shop in Paris proudly displays the miniature cabbages on their sidewalk stands — this is where they show off their most gorgeous, most seasonal stuff — and it's hard for me to walk past and not buy a bulging paper bag of them.
(Shopping tip! Pick Brussels sprouts that feel firm, with the leaves tightly furled. They should have a nice, even green color, with no sign of yellowing or browning. If you find them still attached to the stalk — which never happens in Paris, sadly — that's even better.)
Pick Brussels sprouts that feel firm, with the leaves tightly furled, and no sign of yellowing.
I have two current favorite uses for Brussels sprouts. One is to make a shaved salad, slicing them thin with my mandoline slicer and serving them raw with, say, diced apples, fresh walnuts, and a citrusy dressing. The other is to roast them hard, so they'll become tender — but not mushy! — and take on a good bit of caramelized char.
It's not surprising that roasted Brussels sprouts are so insanely good: all members of the Brassica family take beautifully to that treatment, which reveals their sweet nuttiness. If you need convincing, I'll refer you to my roasted cauliflower à la Mary Celeste, my charred broccoli and avocado salad, or my roasted Savoy cabbage.
Roasted Brussels sprouts + kimchi
I came across this particular way of pairing roasted Brussels sprouts with kimchi in one of J. Kenji López-Alt's brilliant Food Lab columns. When you think about it, it makes complete sense to eat fermented cabbage alongside fresh cabbage, and indeed the acidity and crunch of the kimchi complement the roasted Brussels sprouts most winningly.
Another take-away of this fabulous recipe is to roast fresh ginger, finely chopped into thin sticks, alongside the Brussels sprouts. Without Kenji's encouragement I might have worried the ginger would burn, but instead its flavor deepens and concentrates, and improves the overall balance of the dish.
It's an incredibly easy one to put together, too, with a simple Asian-inspired dressing that uses ingredients you should totally keep in your pantry if you don't already: honey, rice vinegar, sesame oil, and fish sauce (or soy sauce).
We've delighted in this as a simple vegetarian meal, sometimes with steamed rice underneath, sometimes with avocado on top, and I've also served it alongside spatchcocked chicken or roasted mackerel. And I think it will do really well as a unique side on your holiday table!
Join the conversation!
What's your stance on Brussels sprouts: love 'em or hate 'em? If it's the former, how do you like to prepare them? Will they figure in your holiday menu planning?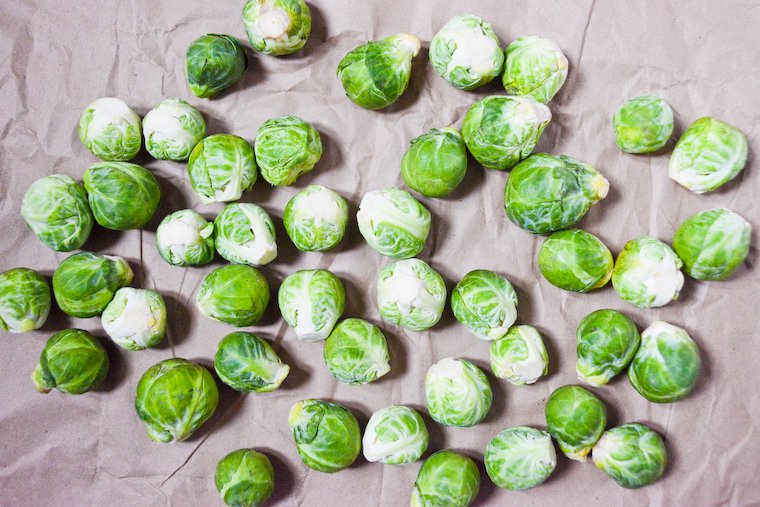 Have you tried this? Share your pics on Instagram!
Please tag your pictures with #cnzrecipes. I'll share my favorites!
Roasted Brussels Sprouts and Ginger with Kimchi Recipe
Ingredients
750 grams (1 2/3 pounds) Brussels sprouts, halved across the root
40 grams (1 1/2 ounces) fresh ginger, peeled and minced into thin sticks
3 spring onions (white and green), sliced
2 tablespoons olive oil for cooking
100 grams (1/2 cup) homemade kimchi, or store-bought from an Asian market
1 tablespoon honey
1 tablespoon rice vinegar
1 tablespoon fish sauce or soy sauce or coconut aminos
1 tablespoon sesame oil
Fresh cilantro or mint, roughly chopped, for serving
Fine sea salt
Instructions
Preheat the oven to 250°C (480°F).
On a rimmed baking sheet, combine the Brussels sprouts, ginger, spring onions, olive oil, and 1/2 teaspoon salt. Toss well to combine; this is most easily done with your clean hands.

Slip into the oven and bake for 20 minutes, stirring halfway through, until the Brussels sprouts are nicely browned. Allow to cool slightly.

In a medium bowl, stir together the kimchi, honey, vinegar, fish sauce, and sesame oil.

Fold in the Brussels sprouts gently. Taste, adjust the seasoning, and serve with cilantro.
Notes
Adapted from a recipe by J. Kenji López-Alt.
https://cnz.to/recipes/vegetables-grains/roasted-brussels-sprouts-ginger-kimchi-recipe/
Unless otherwise noted, all recipes are copyright Clotilde Dusoulier.