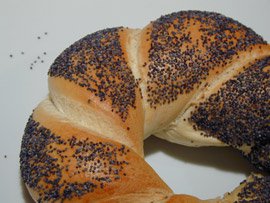 Some people have all the luck.
Maxence's company recently relocated to Belleville, in the 10th arrondissement of Paris. Not only are the new offices in a rehabilitated workshop with frosted glass windows and exposed beams, nested at the very back of a series of small rickety courtyards, it is also right at the crossroads between North Africa and Asia.
You didn't know such a geographic wonder existed? Well it does, as communities from both regions of the world have taken up residence on either side of the place de Belleville.
And this means that my lucky boy gets to conduct stupendous explorations trying out every possible hole-in-the-wall, travelling from Vietnam to Morocco by way of Thaïland, from Tunisia to China, from Korea to Turkey, and back again – all during his lunch break.
Thankfully, he is the generous kind, and from time to time he'll suprise me with a selection of local Belleville goodies. Like for instance, those huge and delectable poppyseed bagels…
Update! By popular demand, here is the name and address of Maxence's purveyor of bagels :
Les Pitoon's
122 bd de Belleville
75020 Paris