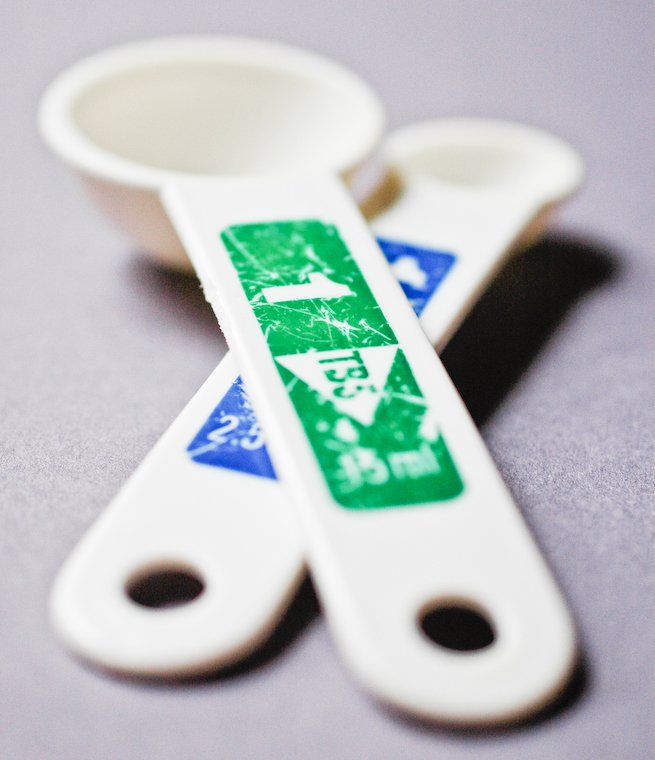 Why you need ingredient conversions
Americans typically measure ingredients by volume, while the French measure them by weight. Being a bit of a transatlantic cook myself, I own several sets of measuring cups and spoons as well as a digital scale. I feel comfortable with both philosophies, but I prefer the gram/kilo system because it introduces very little human error bias. The most eloquent illustration is found in the measurement of flour, which can vary considerably depending on the quality of the flour, how much you pack into the cup, and the humidity of the air.
Personal preferences aside, more and more American cooks are adding scales to their kitchen equipment — especially those who are serious about baking, and those who have an interest in foreign recipes — and in my books and on Chocolate & Zucchini I feature both sets of measurements.
This is the digital scale I use, love, and recommend if you're looking to add one to your kitchen equipment. (Check the complete list of my top tools and resources.)
Tried-and-true ingredient conversions
When I develop and test recipes I make copious notes on ingredients and their volume-to-weight equivalents, and I thought it might be useful to others. If you need the conversion information for an ingredient that is not here, please don't hesitate to ask — I continue to update this list regularly.
Sign up for free!
If you find this page useful, please sign up for my free newsletter! It will give you access to the fresh, colorful, easy recipes I create in my Paris kitchen, plus tips, recommendations, and lots of French inspiration. You can also follow me on Pinterest, Instagram, Twitter, Facebook, Periscope, and Snapchat.
Note: The cup measurements given throughout this conversion page and on Chocolate & Zucchini are based on American cups with a capacity of 240ml. If you're converting a recipe that was written in British, Australian, or New Zealand cups, which have a 250 ml capacity, multiply all gram equivalents below by 1.04 (i.e. add 4%).
Some of the ingredient conversions have been rounded, to minimize the headache.
Volume
1 cup (North American) = 240 mL (milliliter)
1/2 cup = 120 mL
1/3 cup = 80 mL
1/4 cup = 60 mL = 4 tablespoons
1 tablespoon = 15 mL (= une cuillérée à soupe or cs in French) = 3 teaspoons
1 teaspoon = 5 mL (= une cuillérée à café or cc in French)
1 fluid ounce = 30 mL
1 US quart = 0.946 liter ~=1 liter
Weight
1 ounce = 28 grams
1 pound = 16 ounces = 454 grams
Length
1 inch = 2.54 centimeters
1 foot = 12 inches = 30 centimeters
Temperature
400° F = 200° C = gas mark (France) 7
350° F = 180° C = gas mark (France) 6
300° F = 150° C = gas mark (France) 5
(See equivalents for UK gas marks.)
Volume-to-weight conversions
Note: Since the volume measurement of an ingredient depends on how you pack the measuring cup/spoon and on the ingredient itself (how it is cut, its density, its water content), the volume-to-weight conversions are not absolute: they are simply a reflection of my own experience.
Dairy
Hard cheese (such as Comté cheese), grated: 1 cup = 100 grams
Crème fraîche: 1 cup = 240 grams
Fresh cheese: 1 cup = 240 grams
Greek-style yogurt: 1 cup = 280 grams
Gruyère cheese, grated: 1 cup = 100 grams
Heavy cream: 1 cup = 240 grams
Light cream: 1 cup = 240 grams
Milk: 1 cup = 240 mL
Parmesan cheese, grated: 1 cup = 110 grams
Ricotta: 1 cup = 250 grams
Yogurt: 1 cup = 250 grams
Nuts and seeds
Almonds, shelled, whole: 1 cup = 140 grams
Almonds, shelled, roughly chopped: 1 cup = 100 grams
Almonds, sliced: 1 cup = 70 grams
Almond flour (a.k.a. almond meal or ground almonds): 1 cup = 100 grams
Almond butter: 1 cup = 240 grams
Black sesame butter: 1 cup = 240 grams
Cacao beans, whole, raw: 1 cup = 130 grams
Cashews, shelled, whole: 1 cup = 130 grams
Chestnuts, shelled, cooked: 1 cup = 130 grams
Chia seeds: 1 cup = 160 grams
Coconut, unsweetened dried grated: 1 cup = 100 grams
Flax seeds: 1 cup = 150 grams
Hazelnuts, shelled, whole: 1 cup = 120 grams
Macadamia nuts, shelled, whole: 1 cup = 125 grams
Nut butter: 1 cup = 240 grams
Pistachios: 1 cup = 125 grams
Poppy seeds: 1 cup = 145 grams
Pumpkin seeds: 1 cup = 130 grams
Sesame seeds: 1 cup = 150 grams
Sunflower seeds: 1 cup = 140 grams
Tahini (sesame butter): 1 tablespoon = 18 grams
Walnuts, shelled, halves: 1 cup = 100 grams
Sugar and other sweeteners
Agave syrup: 1/3 cup = 100 grams
Baking powder (levure chimique or alsacienne): 1 standard French sachet = 11 grams = 1 tablespoon
Honey: 1 cup = 300 grams
Honey: 1 tablespoon = 18 grams
Rice syrup: 1 cup = 300 grams
Sugar, brown: 1 cup (packed) = 170 grams
Sugar, confectioner's: 1 cup = 130 grams
Sugar, granulated: 1 cup = 200 grams
Sugar, granulated: 1 tablespoon = 12.5 grams
Sugar, pearl: 1 cup = 150 grams
Molasses: 1 cup = 280 grams
Active dry yeast: 1 teaspoon = 5 grams
Active dry yeast vs. fresh yeast: 1 gram active dry yeast ~= 3 grams fresh yeast
Chocolate
Cacao nibs: 1 cup = 120 grams
Chocolate chips: 1 cup = 160 grams
Chocolate, grated: 1 cup = 100 grams
Chocolate, roughly chopped: 1 cup = 120 grams
Cocoa powder: 1 cup = 120 grams
Fats and salt
Butter: 1/2 cup = 1 stick = 4 ounces = 113 grams
Butter: 1 tablespoon = 14 grams
Coconut oil: 1 tablespoon = 12 grams
Coconut oil: 1 cup = 200 grams
Oil: 1 tablespoon = 14 grams
Salt, fine: 1 teaspoon = 5 grams
Salt flakes (e.g. Maldon salt): 1 tablespoon = 10 grams
Salt, coarse: 1 cup = 220 grams
Flours, grains, legumes
Bulgur: 1 cup = 190 grams
Buckwheat groats: 1 cup = 180 grams
Chickpeas (dried, raw): 1 cup = 190 grams (= 475 grams when cooked)
Coconut flour: 1 cup = 90 grams
Cornmeal: 1 cup = 165 grams
Couscous: 1 cup = 165 grams
Dried beans: 1 cup = 180 grams
Elbow macaroni: 1 cup = 150 grams
Flour, all-purpose or whole wheat: 1 cup = 130 grams
Lentils: 1 cup = 210 grams
Pearl tapioca: 1 cup = 180 grams
Polenta: 1 cup = 160 grams
Puffed rice: 1 cup = 30 grams
Quinoa: 1 cup = 190 grams
Rice, basmati: 1 cup = 180 grams
Rice, short-grain: 1 cup = 195 grams
Rolled oats and other grains: 1 cup = 100 grams
Fruits, vegetables, herbs
Baby spinach leaves: 1 cup (packed) = 30 grams
Basil: 1 cup (packed) = 20 grams
Blueberries: 1 cup = 190 grams
Carrots, grated: 1 cup (loosely packed) = 90 grams
Cauliflower florets: 1 cup = 85 grams
Fava beans, shelled: 1 cup = 120 grams
Green peas, shelled: 1 cup = 145 grams
Hibiscus flowers, dried, semi-crushed, lightly packed: 1 cup = 40 grams
Mâche: 1 cup (packed) = 20 grams
Parsley, finely chopped: 1 cup = 60 grams
Parsley, loosely packed: 1 cup = 15 grams
Pomegranate seeds: 1 cup = 150 grams
Raisins: 1 cup = 150 grams
Raspberries: 1 cup = 125 grams
Rocket: 1 cup (packed) = 25 grams
Shallots or onions, finely chopped: 1 cup = 120 grams
Strawberries: 1 cup (small strawberries, or large strawberries, sliced) = 125 grams
Tomato paste: 1 cup = 300 grams
Young salad greens: 1 cup (packed) = 20 grams
Other
Agar-agar: 1 teaspoon = 2 grams
Baby shrimp, shelled, cooked: 1 cup = 100 grams
Capers: 1 cup = 120 grams
Dried bread crumbs: 1 cup = 100 grams
Hibiscus flowers: 1/3 cup = 15 grams
Nutritional yeast: 1 cup = 60 grams
Olives: 1 cup = 180 grams
Psyllium husks: 1 cup = 80 grams
Tofu, silky: 1 cup = 255 grams
Vanilla: 1 medium fresh bean ~= 3 teaspoons pure vanilla extract
Pans and dishes
10-inch tart or cake pan = 25-centimeter tart or cake pan
9-inch cake pan = 22-centimeter cake pan
4-inch tartlet mold = 10-centimeter tartlet mold
9-by-13-inches baking dish = 22-by-33-centimeter baking dish
8-by-8-inches baking dish = 20-by-20-centimeter baking dish
6-ounce ramekin = 180-mL ramekin
9-by-5-inches loaf pan = 23-by-12-centimeter loaf pan = 8 cups or 2 liters in capacity