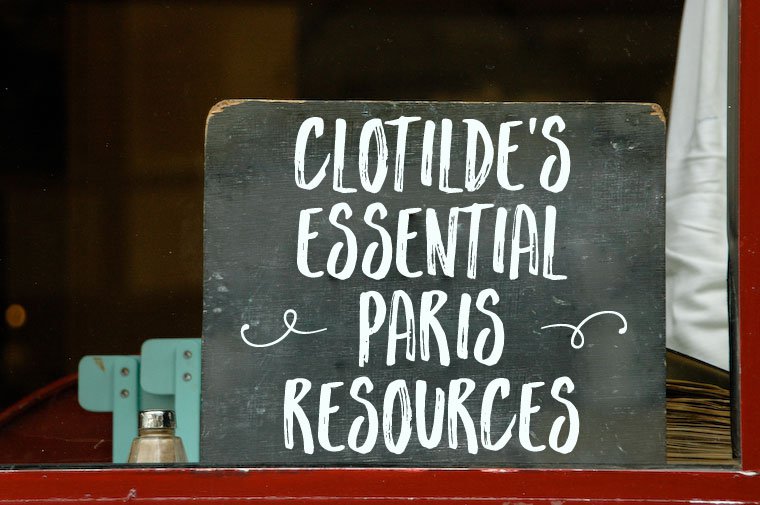 As a born-and-bred Parisian, there is nothing I enjoy more than to spread the love about my home city, and I am constantly trying to find ways to help my readers make the most of Paris when they visit. I knew I'd hit the right chord when the New York Times called me the Parisian friend we all wish we had. (That really made my day.)
So if you're planning a trip to Paris (or just daydreaming about it, armchair traveling is very comfy!), I think you'll find these free resources useful:
– I keep this map of favorites updated with the restaurants and food shops I am most excited about and most faithful to. This would be a good place to start. (Pin it for later.)
– Do you know I actually got married in Paris? I shared some highlights of my Paris wedding here. (Pin it for later.) And if you're coming with a special someone yourself, you will enjoy my 10 Romantic Ideas in Paris, free to download!
– The French have their own way of shopping for food, and the process is pretty codified, which can seem intimidating. I am giving you insider tips and recommendations in these posts about buying cheese like the French, chocolate shop do's and don'ts, and buying meat like the French. You can also find out where to buy organic food in Paris, and where to get your knives sharpened.
– Visiting an open-air greenmarket is a must-do while in Paris: it's a refreshing and inspiring experience, and if you rent an apartment, which I recommend, you can buy the makings of an easy and delicious meal in your temporary Paris home. Check this complete list of Paris greenmarkets to plan it out, with locations and days of the week. (Pin it for later.)
– Perhaps you'll want to bring home a few edible souvenirs for yourself or your lucky friends? Here's my selection of 12 Foods To Bring Back From France. Be sure to review the comments as well; C&Z readers added many great suggestions!
– I am very, very passionate about croissants; I think it's about as close to perfection as a single baked good can get. Here are, in my humble opinion, the 6 Best Croissants in Paris. (Pin it for later.)
– Eating a fine baguette is also a Paris must, and why not go straight to the Best Baguette in Paris? I tell you all about the competition and where to find this year's top-rated baguettes (map included). (Pin it for later.)
– For many, "food French" is their first brush with the language, and I would argue it is the most important area to work on. (Survival skill, right?) This French-to-English food glossary will help. (Pin it for later.)

– If you only have a very short time in the city, you can still have an authentic, memorable, delicious time. Here's how I would spend just 12 Hours in Paris. (Pin it for later.)
– When planning your trip, make sure you work in those 10 essential food experiences, and try these 10 essential Parisian foods; these are articles I wrote for the Airbnb site and BBC Good Food respectively.
– Instagram is fantastic to get your daily dose of Paris. You can follow me to see my latest food crushes, and I recommend you also follow these 12 amazing Instagram accounts. (Pin it for later.)
– If you long for Paris but don't have plan to come quite yet, the next best thing is to immerse yourself in the spirit of the city with this playlist of 25 Best French Songs about Paris, old and new! (Pin it for later.)
If you want more tips and recommendations, be sure to follow my Paris travel tips board on Pinterest!
In addition to these free resources, I offer private walking tours to show you around my favorite neighborhoods, with lots of delicious things to taste along the way. This would also be a chance for us to chat about cooking and Paris and all things food.
A recent guest had this to say about the tour I gave her and her husband: "We wanted to thank you for a lovely afternoon in Montmartre. Your knowledge, enthusiasm and ease were much appreciated. The strawberries, the croissants, the bread, the cheeses, the tart — it's impossible to pick a favorite. We enjoyed it all!"
I create custom itineraries for food lovers as well, pointing you to the best spots to hit depending on your interests, and handling dinner reservations for you, as these can be a challenge with the language barrier and the time difference. The idea is to take all of the FOMO (fear of missing out!) and planning headache off your plate so all you need to do is show up and know you'll have an unforgettable time.
If you'd like to inquire about those services, please get in touch and we can discuss the details of what you're hoping your Paris experience will be like.
Have a splendid time in France, and don't hesitate to tag me on social media (@clotildenet) to share your most delicious experiences!