Walking into a Paris cheese shop can be a daunting affair if you don't know what you're looking for, or how to ask. The great thing, though, is that most fromagers (cheesemongers) in the city are more than happy to help you select the perfect cheeses for your cheese plate.
Laure and Mathieu, creators of the artisanal cheese shop Taka & Vermo in the trendy 10th arrondissement of Paris, gave us* a tour of their shop and the aging cellar downstairs, where many of the cheeses are left to get nice and creamy in ninety-nine percent humidity.
Tips for a smooth Paris cheese shop experience
They allowed us to take the beautiful pictures that illustrate this post, and shared their passion for their craft. Visit them to taste their goods!**
1. Know your cheese families
In your French cheese adventures, you'll come across three major types of milk: cow, goat, and sheep. But within each milk type, the choices are endless: among goat's milk cheeses alone you will find many different shapes and aging stages, from chèvre très frais (very fresh), to frais (fresh), crémeux (creamy), or secs (aged).
Tommes, those large, quintessential rounds of mountain cheese, can be found made of cow's, sheep's, or goat's milk, but most cheeses with a flowery (or bloomy) rind, like Brie or Camembert, are made with cow's milk (fromages de vache). Same for cheeses with a sticky orange rind (croûte lavée), which are often the most pungent, stinkiest cheeses of all — think Munster (the real French kind from Lorraine and Alsace) or Epoisses from Burgundy.
For a classic sheep's milk cheese, or fromage de brebis, seek out Roquefort, a blue cheese from the south of France that is protected by a denomination of origin (AOC), and is a unique addition to any cheese plate. Our Paris cheese shop owner, Laure, lists it as one of her favorites.

2. Compose your cheese plate like a symphony
Most French cheese plates feature three, five, or seven cheeses (odd numbers are preferable for aesthetics), and you should strive to include cheeses from different regions and different families. Unless of course you are planning on featuring a themed cheese plate around a single region or even a single cheese.
Remember not to crowd your platter with too many of the strong, stinky cheeses, and conversely, don't stick to just the milder, demure varieties. The ideal selection features a wide range of cheeses that complement each other.
An example of a well-balanced cheese platter might be: a whole Banon (a goat cheese from Provence wrapped in chestnut leaves), a piece of Morbier (a semi-soft cow's milk cheese with a layer of ash in the middle), half of a Pont l'Évêque (a creamy square cheese from Calvados), a wedge of Abondance (a mountain cheese from Haute-Savoie), and a slice of Roquefort (see above). Hungry yet?
3. Be aware of seasonality
A good way to initiate the conversation with your fromager is to ask which cheeses are currently in season. Artisanal cheese-making, like produce, is governed by the season, and the best cheese shops will have close enough a relationship with their producers to make specific recommendations according to the time of year.
In the spring, seek out fresh, gleaming white goat cheeses: that's when the kids are weaned, and artisanal goat cheese production can start again. Between October and March, Laure recommends the Mont d'Or, an oozy cow's milk cheese from Franche-Comté, in the East of France, where Comté is also produced. It's so oozy in fact, that it has to be contained by a box and a ring of spruce wood.
Mont d'Or is a popular cheese during the holidays, and it can be eaten warmed over potatoes or — pourquoi pas ? — simply with a spoon. Another classic way to prepare it is to carve a circular outline in the cheese with a spoon, pour in some white wine, and pop it in the oven for a fondue-like treat.
4. Learn the difference between good and bad
A good fromager will take the time to answer your questions, and allow you to taste a sliver of some cheeses if you ask. They likely won't have you taste cheeses that would be ruined if they cut off a piece, though, except on a busy day when they may take one out for tasting. The fromager should also heed your instructions when you indicate how large a slice you want, without trying to force more on you.
Beware of fromageries that sell you cheese that's under-ripe (it will be bland) or over-ripe (the flavors will be too harsh); you probably won't be able to tell until you get home, but fool me once, etc. I am also not a fan of those Paris cheese shops that sell pre-cut, individually wrapped pieces, unless it's an outlet that has a high turnover (I don't want those cut pieces to sit around for days) and it is done to save time and keep the lines moving briskly.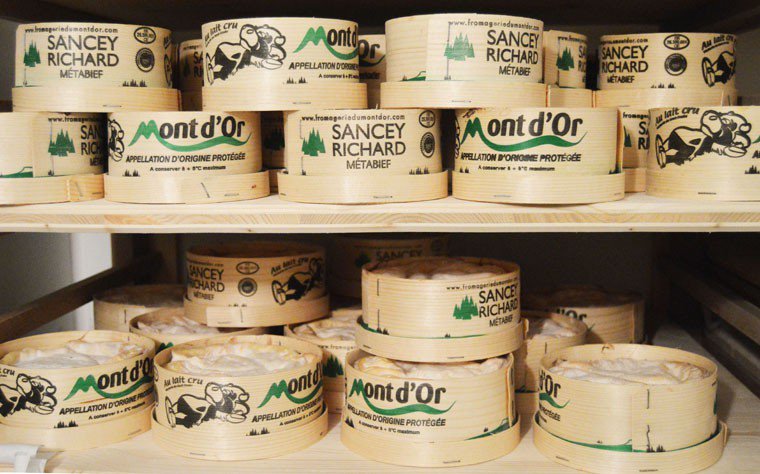 5. Master cheese speak
You're going to learn the vocab if you're going to pass off as a Parisian. First off, remember the term affinage, the art of aging cheese: the mere fact that there's a single word devoted to that concept is quite telling.
Next up, focus on how to order: the smaller cheeses, like goat cheese crottins (rounds), are sold entiers (whole), but you can ask for un demi (half) of a Camembert or Chaource, which are a bit bigger, and even un quart (a quarter) from larger round cheeses such as Reblochon.
With hard cheeses like Comté or Emmental, or big rounds like Saint-Nectaire, the fromager will cut it for you, and you can order une tranche (a slice) and gesture how big or small you want it. Learn how to ask for these below in the list of handy phrases!
6. Step out of your comfort zone
The most popular French cheeses? Laure says a majority of customers go for a crowd-pleasing Comté, a creamy Saint-Nectaire or a Camembert à point when entering a Paris cheese shop. These are all classics well known to any French cheese fiend, but don't hesitate to branch out every now and then.
Some of the best French cheeses are unpasteurized, moldy, or even covered in bugs. Don't let these cheeses scare you away! Think of cheese as the French do: a living thing that should be treated with care and devotion. In any case, remember that cheese doesn't have an expiration date; just a point of peak ripeness when it tastes best.
Most cheeses can be eaten in their entirety, rind and all. This is true of fromages cendrés, those cheeses with a rind that's coated with edible ash, and of course of cheeses whose rind has been rubbed with spices and liqueurs. Not so pleasant to eat are the rinds of hard cheeses, like Mimolette or Comté, though they make an excellent flavor boost for soup (be sure to remove any piece of paper label that may remain!).
Don't hesitate to ask for recommendations from your fromager — this is how you foster a friendly relationship — and try new specialties to broaden your cheese horizons. Perhaps you'll discover a new favorite, perfect to pair with a fresh, crisp baguette and some quince jelly after a lively meal with friends.
Embracing your love of cheese and unleashing your inner adventurer is the most French way of all to navigate a cheese shop.
Ten Handy Phrases for Cheese Shopping
"Un peu plus" or "Un peu moins"
"A little more" or "A little less"
"Je voudrais un demi Reblochon."
"I would like half a round of Reblochon."
"C'est possible de goûter le Morbier ?"
"Is it possible to taste the Morbier?"
"Qu'est-ce qui est particulièrement bien en ce moment ?"
"What's particularly good right now?"
"Il est comment, le camembert ?" "Il est à point !"
"How is the Camembert?" "It's just right!"
"C'est fort, le Maroilles ?"
"Is Maroilles a strong cheese?" (The answer is yes, though people in Northern France are known for spreading it on their breakfast toast.)
"Qu'est-ce que vous me conseillez ?"
"What do you recommend?"
"C'est quel type de lait, le Roquefort ?"
What type of milk is Roquefort made with?
"Ça vient d'où, le Banon ?"
Where does Banon come from?
Join the conversation!
Tell us about your very best cheese-shopping experience! Where was it and what did you get? Any pressing question about French cheese, and cheese-related etiquette? I'll do my best to answer!
* Please meet Anne Elder, my wonderful intern! She has come on board to be my editorial assistant for a few months, and she's the one who shot the photos in this post. Follow her on Twitter and Instagram for behind-the-scenes C&Z stuff, and check out her blog, Hardly Snarky.
** Taka & Vermo, 61 bis rue du Faubourg Saint-Denis, 75010 Paris, +33 (0)1 48 24 89 29, M° Château d'Eau.