The official Meilleure Baguette de Paris competition was held last Thursday, and the 2017 winner of the Best Baguette in Paris award is (drumroll please) Sami Bouattour from Boulangerie Brun, a bakery that's at 193 rue de Tolbiac in the 13th arrondissement (métro Tolbiac).
The competition is held every year, and it is organized by the Mairie de Paris, the mayor's office, to spread the word about Paris as a city of fabulous bread — which it no doubt is — and to foster a healthy sense of competition between the boulangers, who strive to improve their craft in the hopes of winning that coveted distinction.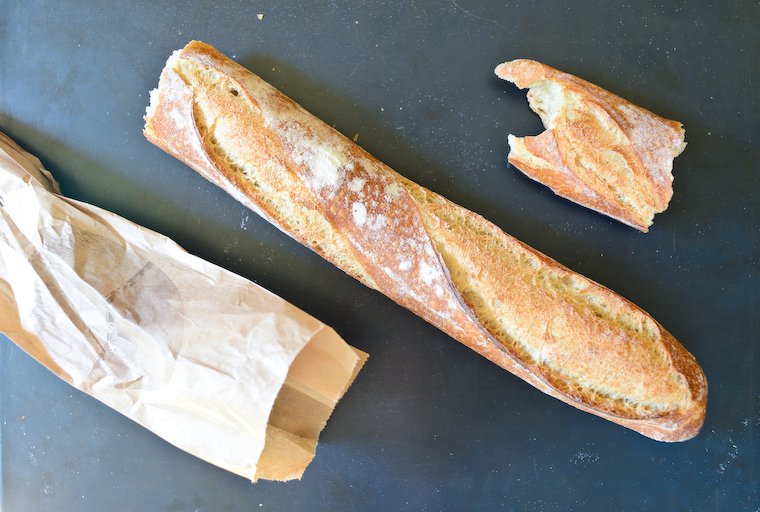 How is the Best Baguette in Paris prize awarded?
The competition is held over a single day. The bakers bring in their baguettes in the morning, and the jury spends the day grading them (anonymously) for appearance, quality of the baking, smell, and flavor. About 200 bakers enter the competition every year.
The 14-person jury is made up of other bakers, chefs, journalists, and also individuals who can put their name in and hope to be selected to participate. (It sounds like fun but it is a lot of bread to taste! Your senses and your brain get fatigued quickly when it's not your profession. But a once-in-a-lifetime experience for sure.)
At the end of the day, the names of the top baguette makers are announced.

What's in it for the baker?
For the lucky winner, the prize is threefold:
First and foremost, it is excellent publicity. The bakery puts a big sign in the window, it is talked about and featured in all the local papers, and bread lovers from around the city (and the world) come in to taste the new Best Baguette in Paris. Once that effect has subsided, locals continue to think of that bakery as the best in the neighborhood, and will favor it over the competition.
The winner receives a cash prize of 4000€. Not enough to retire (otherwise the city has just lost its best baker) but enough to buy a new piece of equipment, paint the store front, or maybe take the entire staff to a fancy dinner. (That's what I'd do myself; excellent for karma, excellent for PR.)
Finally, the winning bakery becomes the official provider of baguettes for the Palais de l'Élysée, the French White House, where the lives and works. This means that the Président de la République eats that baguette daily, but more important, it is the bread served for all the official meals with ambassadors and foreign dignitaries. It is not a very large number of baguettes (about 25 a day I am told) but bread is such a central component of the French food culture that it is a very big deal to be THE baker who makes THE baguette served to some of the most illustrious people in the world.