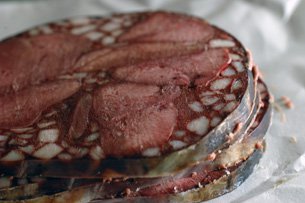 [Tongue Blood Sausage]
Paris is filled to the brim with little stores that sell produits du terroir, artisanal products from different regions of France: condiments and spices, jam and honey, cookies and candy, traditional canned dishes such as cassoulet or duck confit… You push the door and feel like you've stepped right into Hansel and Gretel's bread house, complete with cake roof and sugar windows.
Having read that fairy tale and learned my lesson, I am usually a little suspicious of such stores: it has been my experience that they often sell products that look really nifty with their handwritten labels and grandma-made-it-just-for-you packaging, but turn out to be nothing worth rolling on the floor with the spoon in your mouth (which is dangerous, I might add) when you get home and try them.
Besides, they usually charge an arm and a leg for them, or at least much more than you would pay if you were to buy them from the source. They rely heavily on the impulse purchase factor, and the fact that the goods are so out of context in the cute boutique, that it might not strike you as unreasonable to pay 10 euros for a box of crackers you might not even like that much.
When I noticed earlier this year that a new store called Les Papilles Gourmandes (papilles meaning tastebuds) had opened on the lower end of the rue des Martyrs, I peeked inside briefly, and dismissed it as belonging to the category described above. The name also sounded very uninspired (there is another shop called "Les Pipalottes Gourmandes" a few blocks away, how happy they must be) and, what can I say, names are important to me.
However, someone tipped me off recently on the fact that said shop sold Jean-Yves Bordier's excellent hand-made butter from St-Malo, and although I've been able to find it at several other places in Paris before (at the restaurant Chez Michel in particular), this is a much more convenient location for me.