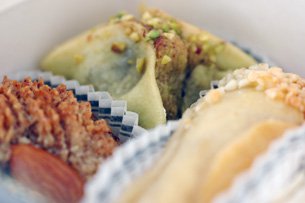 Walking through the Oberkampf neighborhood this past Friday on my way from one appointment to the next, I glanced at my watch and gleefully realized I had just enough time to drop by La Bague de Kenza, a luxurious Algerian pastry shop on rue Saint-Maur.
There was a line snaking outside onto the sidewalk — it was still Ramadan then and many of the customers were buying sweets for the nightly fast-breaking feast — but this gave me time to be entertained by the verbal fight that broke out when one lady accused another of trying to cut in front of her (if you hadn't eaten or drunk anything all day, you would be nippy too), and to admire the colorful multitude of picture-perfect delights filled with almonds, pistachios, walnuts, figs, or dates, and flavored with honey, rose water, orange blossom water, mint, citrus, or vanilla.
It's okay not to know the names of all (or any) of the little guys: the staff often caters to novices, so you can just smile and point, or ask for an assortment. I myself ordered eight different ones: a pistachio skandriate and a lemon and vanilla cornet aux amandes (pictured above, top and right), a sugar-coated corne de gazelle and a walnut baqlava (pictured here, left and top right), a doigt de Kenza, a rfisse (a mix of semolina, walnuts, almonds, hazelnuts, date, and honey, ground into a marzipan-like, pleasantly grainy paste), and two more that I unfortunately can't name: a piped round of almond and walnut paste flavored with orange blossom water and topped with an unpeeled almond (pictured above, bottom left) and a meringue round filled with pistachio paste (pictured here, bottom right).