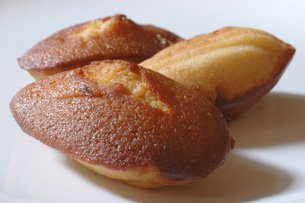 One bite in these unassuming madeleines and the hair in your nape will stand to attention, as you suddenly register the intensity of the chestnut honey aroma, and the smooth, moist, melting texture of the crumb dissolving in your mouth. You will taste it again to make sure it wasn't just a fluke or a tastebud hallucination, and to your amazement it will get even better with each bite, until the madeleine is entirely consumed. You will lick the remaining sweetness from your lips and smile with satisfaction, happy to have found such a delicious treat, but wisely deciding that you will keep some for tomorrow and the day after that.
If you want to be punctilious (and who would blame you) these are not , striclty speaking, madeleines: in addition to chesnut honey from the Cévennes (a region in the South of France), flour, butter, sugar and eggs — that's it — they are made with almond powder, an ingredient that is key to their wonderful texture but altogether absent from the classic madeleine recipe (honey is tolerated). These are, in fact, madeleine-shaped, honey-flavored financiers. But let me ask you this: do we care? Not really.
These madeleines come from a store I have mentioned in the past called Bellota-Bellota, which specializes in rare and luxurious food items*, imported from Spain for the largest part.