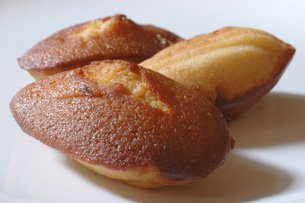 One bite in these unassuming madeleines and the hair in your nape will stand to attention, as you suddenly register the intensity of the chestnut honey aroma, and the smooth, moist, melting texture of the crumb dissolving in your mouth. You will taste it again to make sure it wasn't just a fluke or a tastebud hallucination, and to your amazement it will get even better with each bite, until the madeleine is entirely consumed. You will lick the remaining sweetness from your lips and smile with satisfaction, happy to have found such a delicious treat, but wisely deciding that you will keep some for tomorrow and the day after that.
If you want to be punctilious (and who would blame you) these are not , striclty speaking, madeleines: in addition to chesnut honey from the Cévennes (a region in the South of France), flour, butter, sugar and eggs — that's it — they are made with almond powder, an ingredient that is key to their wonderful texture but altogether absent from the classic madeleine recipe (honey is tolerated). These are, in fact, madeleine-shaped, honey-flavored financiers. But let me ask you this: do we care? Not really.
These madeleines come from a store I have mentioned in the past called Bellota-Bellota, which specializes in rare and luxurious food items*, imported from Spain for the largest part.
At their classy tasting counter, we also tried three different kinds of an exceptional Bellota ham, served on the special volcano plate that they have just developed with the porcelain manufacturer Bernardaud: shaped like an inverted funnel, this rather ingenious plate lets you place a tea light candle underneath, while you lay thin slices of ham all around the volcano. The heat from the candle, conducted gently by the porcelain, will bring the ham to the correct tasting temperature, when the fat starts to sweat a little and the aromas of the meat can bloom fully. We were also very much taken with their cooked jamón ibérico, a more unusual product: instead of being dry-cured and aged, this one is cooked on the bone (like the French jambon à l'os) and over a woodfire for part of the process, giving it a unique tenderness of texture and smokiness of taste.
Another revelation from that store was an astounding sheep's milk cheese called Torta de la Serena: it is produced in the Extremadura region of Spain (like the pimentón de la Vera) from the milk of Merino sheep, and it is one of very few cheeses in Europe to call for macerated thistle** flowers as the curdling agent (instead of animal rennet**, a substance that coagulates milk, taken from the stomach of newborn calves or lambs). The rind of the torta is semi-hard and pale yellow, hiding a surprisingly soft, almost moussy interior: the way to eat it is to slice off the top of the cheese, and serve the creamy insides with a spoon — sort of like a Spanish Mont d'Or. It is somewhat sharp, with full, complex flavors and a hint of bitterness, which comes as a pleasant contrast from the fresh smoothness of its texture.
Bellota-Bellota
18 rue Jean Nicot
75007 Paris
01 53 59 96 96
(Several other locations in Paris, Lyon and Toulouse)
* To give you an idea, a bag of madeleine (250g) is 7.50€, the Bellota-Bellota ham is 244€/kg, the cooked Spanish ham is 50.50€/kg, and the Torta is 33€/kg
** For my French readers: thistle = chardon, rennet = présure.