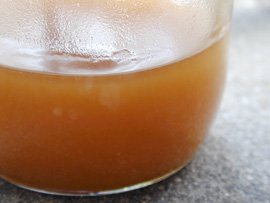 Yet another edible souvenir I brought back from my stay in Lourmarin over the Easter week-end: this large jar of thick and gloriously amber-colored honey.
I happen to have somewhat childish tastes in honey, and I am often put off by honeys that taste too much like sap, sharp and woodsy to the point of bitterness. This probably makes me a dilettante honey lover — just like real hardcore coffee lovers are supposed to appreciate strong hardcore coffee — but I think I can live with that.
Luckily, this particular honey is one of the most flowery and mellow I have ever been given to taste. It was produced by my aunt's beehives and harvested by her, late last summer. She explained to me that since the bees feed on the nectar from different kinds of flowers at different times of the year, each season brings its own blend and shade of honey. But last year she had to skip the end-of-spring harvest, so this honey is a mix of the bees' spring and summer production, making it a highly polyfloral honey — also called miel mille-fleurs or thousand flower honey. It has the texture I like best, velvety but slightly grainy, like an embroidered drapery, and it is delightfully sweet with no bitter hint, complexly flavored but instantly pleasing to the palate.
In addition to this — which I immediately shared with my neighbors because they like honey so much and I am such a good friend — my Lourmarin bounty also included a few rounds of locally produced goat cheese in various stages of ripeness (they are but a distant memory now, but they were really good friends with the honey) and fresh herbs from the garden: sage, blossoming rosemary, and even a small thyme plant, which travelled happily on the train with me for Maxence to add to our little herb patch.