The sweet potato is an incredibly versatile tuber, but I tend to prepare them in the same two or three quick and easy ways most of the time, so I decided to seek new ideas. I wasn't disappointed: there seems to be no end to the inspired recipes one can dream up to use sweet potatoes and enjoy their irresistibly sweet taste and superfood status (more details here), and I collected my forty favorites to share with you below, organized by cooking method.
My sweet potato of choice is the orange one, which is vibrantly flavorful and loaded with nutrients (especially beta-carotene and vitamin A). It's not easy to find Europe-grown ones at this point, but you can find imported ones in an increasing number of supermarkets, organic or not. Sweet potatoes grown in the United States tend to keep longer (at cool room temperature, never in the fridge!) and their flesh is moister.
You'll find all the recipes I linked to below gathered on this Pinterest board for easy browsing.
Winning pairings
~ Sweet potato + Bacon
~ Sweet potato + Leafy greens, especially kale and spinach, and salad greens, especially arugula and mâche
~ Sweet potato + Beans, especially black beans
~ Sweet potato + Chickpeas
~ Sweet potato + Lentils
~ Sweet potato + Maple syrup
~ Sweet potato + Chicken
~ Sweet potato + Pork
~ Sweet potato + Miso
~ Sweet potato + Butter
~ Sweet potato + Tahini
~ Sweet potato + Nuts, especially walnuts and almonds
~ Sweet potato + Potato
~ Sweet potato + Sage
~ Sweet potato + Olives
~ Sweet potato + Anchovies
~ Sweet potato + Herbs, especially cilantro and chives
~ Sweet potato + Citrus, especially lemon and lime
~ Sweet potato + Avocado
~ Sweet potato + Carrot
~ Sweet potato + Quinoa
~ Sweet potato + Feta cheese
~ Sweet potato + Broccoli and cauliflower
Steaming and boiling
Steaming is the best way to retain all the nutritional benefits of sweet potatoes. Cut into 2- to 3-cm (1-inch) cubes, they will need about 10 minutes of steaming. Sweet potatoes also do well boiled and puréed in the cooking liquid for a soup.
~ Make patties with the steamed and mashed sweet potatoes and an egg as the binder, possibly mixing them half and half with regular potatoes, and cook in the skillet or the oven. Add feta cheese to the mix.
~ Pair with lentils for this Thai-inspired sweet potato soup.
~ Pair with chickpeas to make sweet potato falafel.
~ Use it in an easy vegetable curry.
~ Turn it into a sweet potato hummus.
~ Use it to make a gluten-free pizza crust.
~ Make sweet potato and kale balls.
~ Add to your burritos, quesadillas and tacos.
~ Roll into sweet potato tots.
Grilling
Cut the sweet potatoes into thickish slices or wedges, and pre-steam the sweet potatoes until just tender (8 to 10 minutes) before brushing with oil and throwing on the grill.
~ Make grilled sweet potato wedges and sprinkle with black olives and toasted almonds.
~ String sweet potato slices together like kabobs for easy handling.
~ Assemble sweet potato skewers with halloumi cheese.
~ Pair grilled sweet potato wedges with a cherry salsa.
Roasting
This cooking method really highlights the sweetness of sweet potatoes and makes them almost caramelized. You can roast them whole in their skin (prick with a fork first; about 45 minutes at 200°C or 400°F for a medium sweet potato) or cut them into 2- to 3-cm cubes or slices and bake them for 30 minutes at 200°C (400°F). Fries will only take about 20 minutes.
– Make sweet potato oven fries with lots of spices. Coat them with cornmeal or panko to make them extra crispy, or use a spiral slicer to make shoestring fries.
– Make a salad with roasted sweet potatoes, arugula, roasted walnuts and avocado.
– Make a two-potato gratin with alternating slices of potatoes and sweet potatoes.
~ Pair with black beans and quinoa for these filling lunch bowls (or this soup).
~ Bake sweet potato skins and load with all kinds of zesty or wholesome toppings.
~ Combine with black beans and rice to make the burger patty for this sweet potato burger.
~ Mash into a sauce for pizza.
~ Make crisp sweet potato salt and vinegar chips.
~ Wrap bites in bacon and bake!
Sautéing
You'll want to cut the sweet potatoes into smallish dice so they'll cook more quickly in the skillet. You can then pair them with whatever seasonal vegetables you like for a wholesome, one-bowl meal.
~ Sweet potato hashbrowns.
~ Julienne the sweet potatoes and cook with eggs.
~ Spiralize the sweet potatoes into sweet potato noodles.
~ Cook sweet potato fries in coconut oil.
~ Make a sweet potato hash with black beans and avocado sauce, or with sausage, or with kale.
Mashing
Comfort food par excellence! Steam until very tender then mash with the liquid of your choice — stock, cream, or milk, dairy or non-dairy. Once mashed, you can freeze the purée to use later, possibly in baking (see below).
~ Mash along with cauliflower.
~ Add a few drops of Angostura bitters to your mash.
~ Make sweet potato gnocchi.
~ Use mashed potatoes as a filler for meat balls in place of breadcrumbs.
~ Add to cornbread.
Breakfast and Dessert
The natural sweetness of sweet potatoes makes them prime candidate for dessert recipes, allowing you to decrease the amount of added sugar, or even use none at all. Generally, in baking you'll be using steamed and puréed sweet potatoes.
~ Bake whole and serve with butter and brown sugar.
~ Add mashed sweet potatoes to your cakes, as in this sweet potato spiced bread.
~ Make these two-ingredient pancakes.
~ Grain-free sweet potato brownies.
~ Fold mashed sweet potatoes into your bowl of oatmeal.
~ Make sweet potato waffles.
~ Make a sweet potato and yogurt cake.
~ Bake donuts.
This post is sponsored by the American Sweet Potato Marketing Institute; visit their website for more information and recipes to use the delicious sweet potato! All words and opinions are my own. Thank you for supporting the organizations who support Chocolate & Zucchini.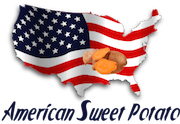 Want more amazing sweet potato recipes?
Follow my sweet potato board on Pinterest!