Do you ever found yourself with a surfeit of onions? I've developed this delicious roasted onion quiche as a coping mechanism for just this situation.
Every Monday I get a basket of vegetables and herbs from a producer who actually delivers them to my doorstep — an incredible luxury. I've been using his services for seven years, and in a way he's become a little bit of a family member.
He sometimes comes by super early, so he's seen us in our pyjamas, he's seen us open the door completely frazzled and sleep-deprived after the first baby, and infinitely more zen after the second. We joke around, we discuss the effect of the weather on crops and what computer he should get, and then he goes on his merry way to deliver his goods to his other (mostly chef) clients.
The contents of the basket varies widely from one tip of the year to the other, from the mind-blowing tomatoes he unloads on our doorstep all through summer, to the procession of root vegetables that grace the fall and winter months.
But one thing that's a constant is the supply of onions and shallots, of which he includes a goodly amount every week. Now, I love onions, but prepping them is my least favorite kitchen task. And although I firmly believe, being French and all, that virtually every dish benefits from an onion base, when I'm pressed for time it's the first thing I drop.
In comes the roasted onion quiche!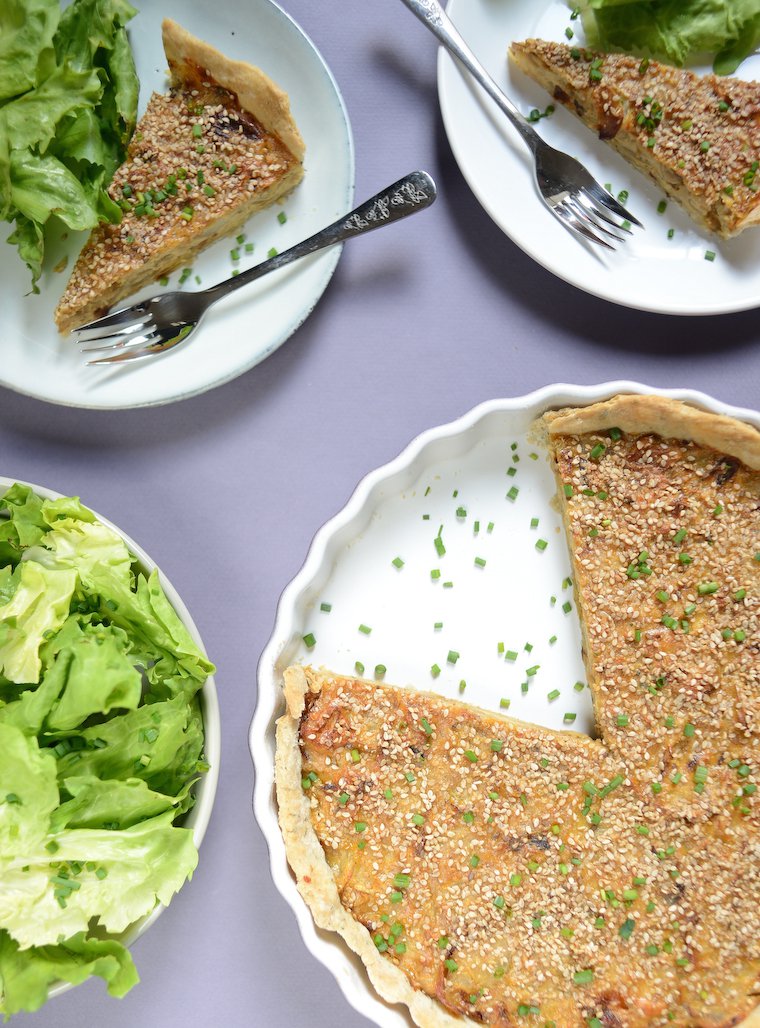 So I tend to use fewer onions than he brings, and the excess accumulates week after week until I give some out to my neighbors (to my mother, to my babysitter) or make this super easy onion quiche that we absolutely love.
It uses up a full kilogram of onions (2.2 pounds) and the life-changing trick is that these onions are simply halved and roasted in the peel, rather than peeled, sliced, and sautéed as is the more classic, and more time-consuming, method.
To add an extra layer of flavor to the onions, I like to add tahini (sesame paste) to the filling and sesame seeds on top. And I typically make it dairy-free by using nutritional yeast in place of grated cheese, and my wonderful olive oil tart dough, which comes together in minutes with 100% pantry ingredients. (You must try it!)
A make-ahead onion quiche
Another fabulous thing about the recipe is that you can easily make it ahead: I usually prepare the dough (and possibly line the pan with it) the day before, and roast the onions as well. Then, on the day of serving, all I need to do is blind-bake the crust, assemble the ingredients for the filling, and put the whole thing back into the oven until golden and lovely.
I like to make it just before the weekend because it makes about six servings, so we spread it across three meals (for two adults and one almost-4-year-old). It reheats beautifully — just pop it back in the oven for ten minutes or so — and even improves every time.
Join the conversation!
Do you have a least favorite cooking task, and what's your strategy to deal with it? Do you cook with onions a lot, and what do you like to make with them?

Have you tried this? Share your pics on Instagram!
Please tag your pictures with #cnzrecipes. I'll share my favorites!
Roasted Onion Quiche with Sesame Recipe
Ingredients
1 kilogram (2.2 pounds) yellow onions
1 recipe olive oil tart dough
2 large eggs
2 tablespoons tahini (sesame paste from a Middle-Eastern or organic store) (substitute another nut butter or sour cream)
20 grams (1/3 cup) nutritional yeast (substitute freshly grated cheese such as comté or parmesan)
1 teaspoon salt
1 tablespoon sesame seeds
Chives, snipped, for serving
Instructions
Preheat the oven to 175°C (350°F) and grease a rimmed baking sheet with a little cooking oil.
Slice off the root and stem ends of the onions, cut them in half, and remove the grimy outer layer of skin. No need to peel entirely.
Place the onions face down on the baking sheet, insert into the oven, and roast for 30 minutes, until tender.
While the onions are roasting, make the olive oil tart dough according to these instructions, line the pan, and place it in the fridge to rest. (You can prepare the dough up to a day ahead; cover loosely with plastic wrap and keep in the fridge.)

When the onions are done roasting, flip them flesh side up, and allow to cool just enough that you can handle them.

Prick the dough all over with a fork and insert the tart dough in the oven to par-bake for 15 minutes, until lightly golden.

Scoop the onion flesh out of the skins and place in a medium mixing bowl. Using clean kitchen scissors, chop the onions roughly; if you prefer to chop with a knife on a cutting board, that works too, I just find it easier this way. (You can roast and chop the onions the day before; cover and keep in the fridge.)

Break the eggs into the onions, add the tahini, nutritional yeast, and 1 teaspoon salt, and mix well.
Remove the tart shell from the oven and pour in the filling. Even out the surface.

Sprinkle with sesame seeds.

Return to the oven and bake for 40 minutes, until the filling is set and golden.

Sprinkle with chives and serve hot, with a green salad on the side.
https://cnz.to/recipes/vegetables-grains/roasted-onion-quiche-recipe/
Unless otherwise noted, all recipes are copyright Clotilde Dusoulier.