Perhaps you recall the very delicious kale and mushroom risotto I shared with you a few months ago, which you can take from idea to table in 30 minutes? I knew that would get your attention.
I use this basic risotto recipe very regularly. It's an easy weeknight dinner that can incorporate all kinds of vegetables: I like it with broccoli or carrots, radish greens or beet tops, peas or finely sliced green beans. The kids like it, and I can reheat the leftovers for lunch the next day. Win, win, win.
Because I make this often, I always have on hand a jar of the vegan "parmesan" that I like to sprinkle on top. It's also handy when I make pasta dishes, such as this curried butternut squash pasta or this zucchini pasta with almonds.
If you have dairy troubles, or you're simply curious about plant-based options, this vegan parmesan recipe is a life-changing formula I initially got from Dana's blog. I've changed the proportions a little bit to suit my taste, but it is essentially the same.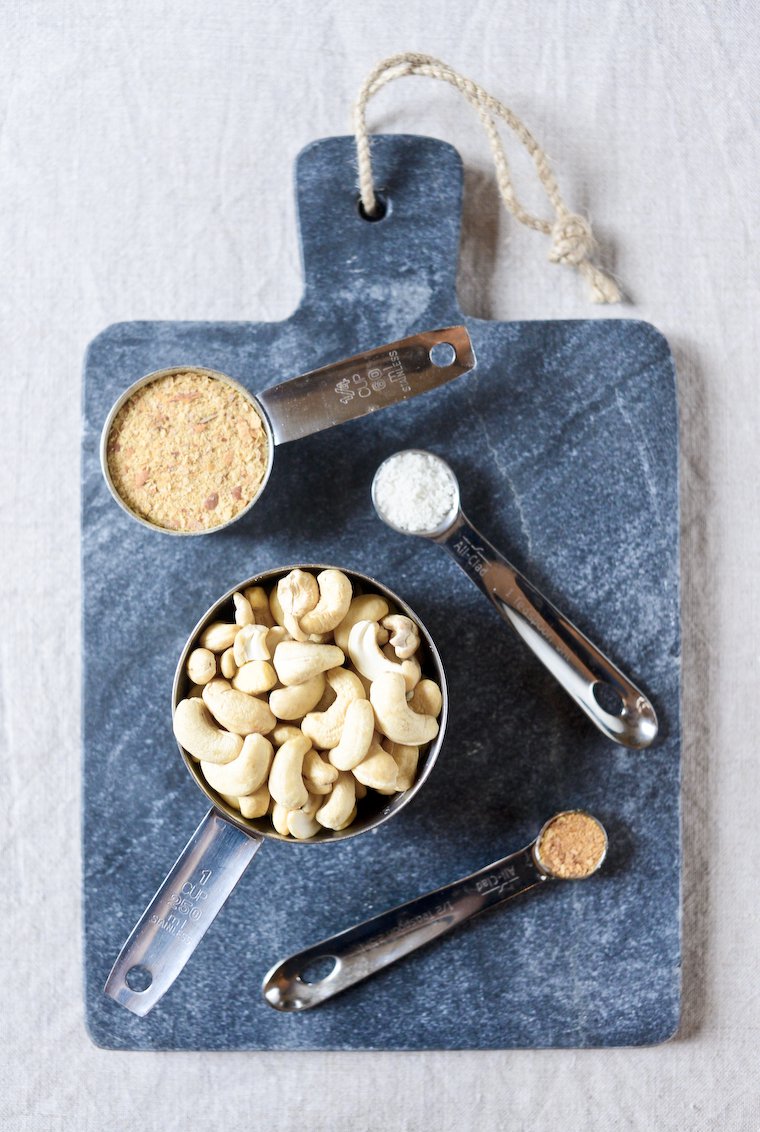 The idea is to take cashews, i.e. the Universe's gift to vegans, and ground them finely with nutritional yeast (little flecks of deactivated yeast you'll find at the organic store or online), salt, and dried garlic flakes. So easy, so good.
Other vegan must-haves using cashews:
Equipment notes:
I have given away the pressure cooker you see pictured in the risotto recipe, and make it now in my Instant Pot, which I adore.
I like my measuring spoons (pictured above) because they sit level when you place them on the counter.
The blender I use and love is this one.

Have you tried this? Share your pics on Instagram!
Please tag your pictures with #cnzrecipes. I'll share my favorites!
Ingredients
130 grams (1 cup) cashews (unsalted, unroasted)
15 grams (1/4 cup) nutritional yeast (in organic stores)
1/2 teaspoon dried garlic flakes
1 teaspoon fine sea salt
Instructions
Combine the cashews, nutritional yeast, garlic, and salt in a blender (this is the one I use and love) or food processor, and process to a fine powder.
This can be kept for months in the refrigerator, in an airtight container.
https://cnz.to/recipes/basics/vegan-parmesan-recipe/
Unless otherwise noted, all recipes are copyright Clotilde Dusoulier.