Could there be anything more comforting, on a damp November night, than a beautiful plate of creamy risotto? The aromas dancing up to your nose, delivering the scents of fall in the form of soft kale ribbons and meaty morsels of mushrooms?
Well, sure, you say, that sounds more than okay. But risotto requires you to stand and stir, and I am tired. Yes, I reply, but. There is another way: you can cook risotto in the pressure cooker.
It is quite revolutionary, and I may very well incur the wrath and curse of generations of Italian mammas, but I need to share this: a super simple method that brings risotto from stove to table in thirty minutes flat, ingredient prep included.
That weeknight risotto seems a lot more realistic now, right?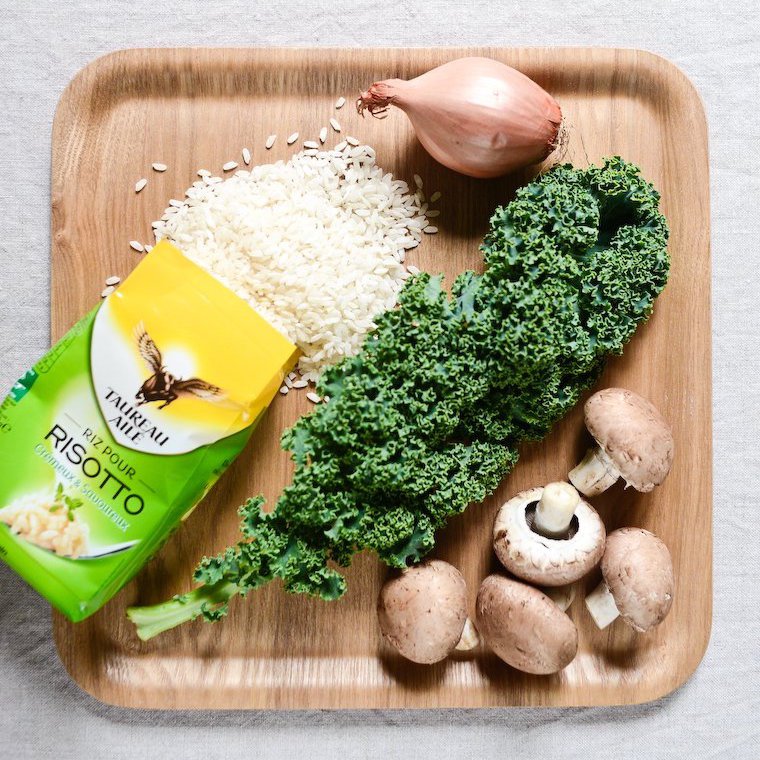 If you prefer to listen than to read, here's a 2-minute recording of this post:

Here is how it unfolds: you'll start by sautéing the onions and the rice at the bottom of the pot (mine is similar to this), as in the traditional recipe. But then you'll add the rest of the ingredients all at once. The stock, the white wine, the vegetables… all aboard!
You'll close the lid, bring the cooker to pressure, and find something to occupy you for 7 minutes.
Here, I suggest using this time to make a vegan "parmesan", inspired by Dana's and quickly prepared in the blender (here's the one I use), which will serve you well beyond this risotto. If you do not have the time, or don't care about veganism, simply grate some real Parmigiano-Reggiano. Perhaps this will get you back in the mammas' good graces; we'll see.
And after that? Well, you'll just have to open the pot, taste, and serve, in your favorite soup plates, with lots of parmesan for sprinkling. Because, as we all know, much of the pleasure of eating risotto comes from savoring it layer by layer, adding on more cheese (or faux cheese) as you go, to benefit anew from the irresistible contrast of textures and flavors.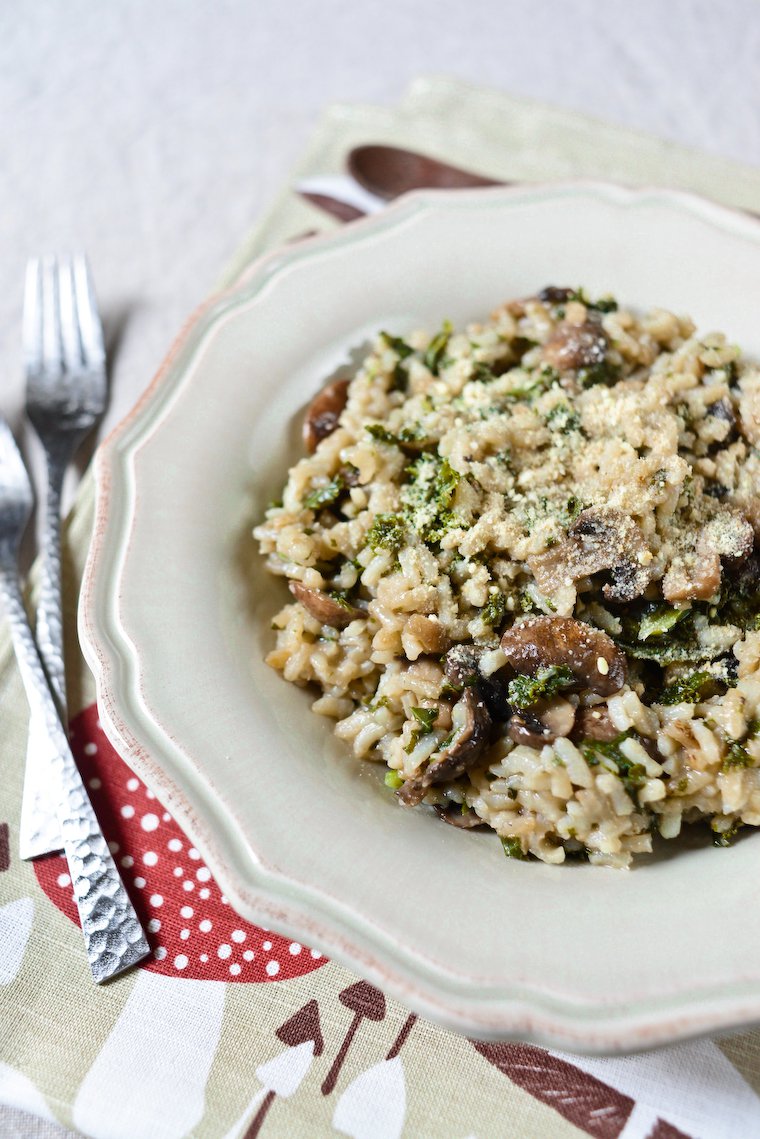 PS: I shared this method more than a decade ago on Chocolate & Zucchini, and if you like before-and-afters, I invite you to take a look at this 2003 post to see the progress one can make in thirteen years of food photography.

Have you tried this? Share your pics on Instagram!
Please tag your pictures with #cnzrecipes. I'll share my favorites!
30-minute Vegan Risotto with Kale and Mushrooms Recipe
Ingredients
2 tablespoons olive oil
1 small yellow onion, about 90 grams (3 ounces), diced
1/2 teaspoon fine sea salt
300 grams (1 1/2 cups) risotto rice, such as Arborio or Carnaroli
300 grams (10 1/2 ounces) brown mushrooms, trimmed and sliced
150 grams (5 ounces) kale, about 2 medium stalks, thick stem removed, frilly part thinly sliced
720 ml (3 cups) vegetable stock, warmed to a simmer
120 ml (1/2 cup) dry white wine

For the vegan parmesan:

130 grams (1 cup) cashews (unsalted, unroasted)
15 grams (1/4 cup) nutritional yeast (in organic stores)
1/2 teaspoon dried garlic flakes
1 teaspoon fine sea salt
Instructions
At the bottom of the pressure cooker (see Note if you don't have a pressure cooker), heat 1 tablespoon olive oil over medium heat. Add the diced onion and the 1/2 teaspoon salt, and cook for 2 minutes, until softened, stirring frequently.
Add the rice and the remaining tablespoon of olive oil. Stir to coat and cook for 4 to 5 minutes, stirring frequently, until the grains of rice become translucent.

Add the mushrooms and kale, and stir to combine.

Pour in the stock and wine, bring the pot to pressure and cook at pressure for 7 minutes.
In the meantime, make the vegan parmesan: combine the cashews, nutritional yeast, garlic, and salt in a blender or food processor, and process to a fine powder. This makes more than you will use for this recipe, and can be kept for months in the refrigerator, in an airtight container.
Release the pressure (the quickest way for a stovetop cooker is to put it in the sink and pour cold water over the lid), open the pot, and taste the rice; it should be creamy and al dente.

If it needs a little more cooking, set the pot back over medium heat until the consistency is right. Taste again and adjust the seasoning.
Serve in pasta bowls, with vegan parmesan on the side for topping.
Notes
You can also make this risotto the classic way, in a large skillet. You'll be adding the wine and stock about 120 ml (1/2 cup) at a time, stirring regularly and allowing the rice to fully absorb the liquids before adding more. The rice should be fully cooked in 20 to 25 minutes.
If not vegan, you can use butter in place of the oil, chicken stock instead of vegetable stock, and/or freshly grated Parmesan cheese in place of the vegan version.
https://cnz.to/recipes/vegetables-grains/vegan-risotto-kale-mushrooms-recipe/
Unless otherwise noted, all recipes are copyright Clotilde Dusoulier.