I am dedicating this particular post to the beautiful souls who follow me on Instagram, several of whom clamored for this recipe when I shared a casual shot of it in my Instagram story a few weeks ago.
"What is it?" they asked collectively. "It looks really good! Where's the recipe?"
In truth, it is a recipe so simple, and one I make so often and with such ease, that I hadn't thought to share it until then.
And I am glad indeed for the nudge, because it is the kind of dish that I would happily eat, in one variation or another, every day of the week, every week of my life. I can only assume, if it is true for me, that it will be true for some of you.
So there you have it: my recipe for red lentil curry (or dhal) with roasted cauliflower and crunchy coconut chips.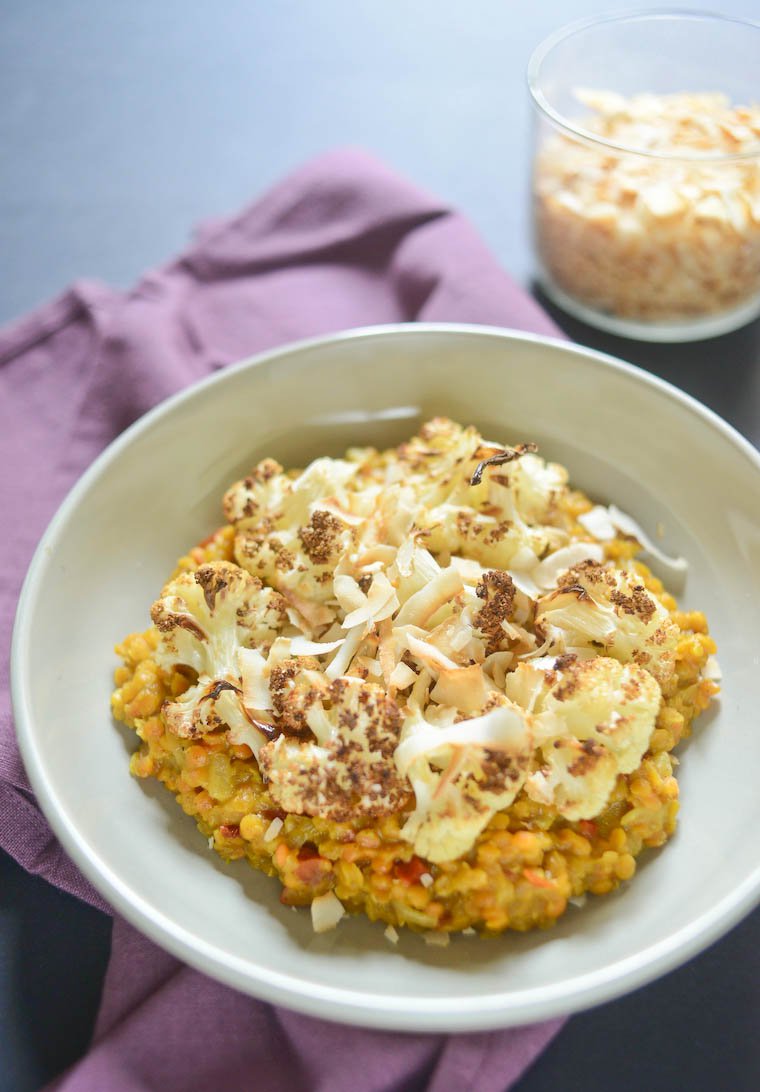 It starts with a tray of cauliflower florets you slip into the oven to roast until brown at the edges.
While that's roasting, you soften a couple of onions in coconut oil on the stove, then you add in red lentils, curry powder, and a handful of finely snipped sun-dried tomatoes, which brighten the flavor of the curry like an unexpected ray of sunshine in the cold November air.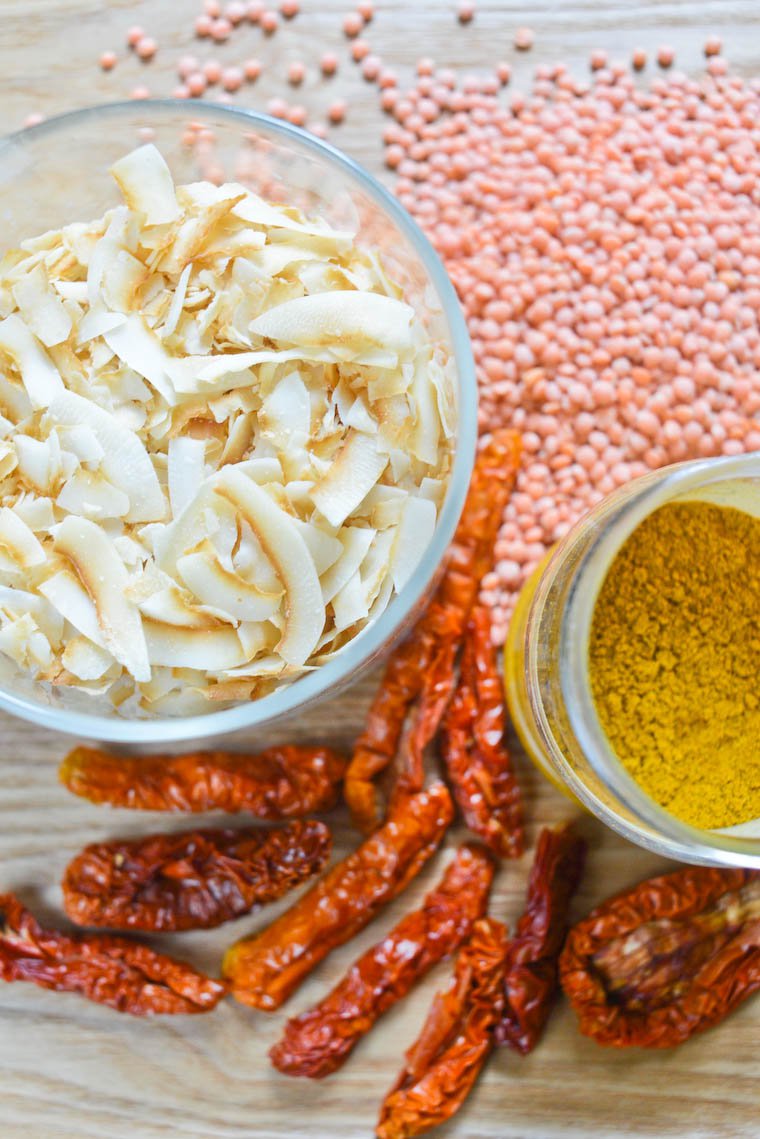 This you simmer in coconut milk for, oh, fifteen minutes, until the lentils are soft but not mushy. You want something unctuous, but it's nice if you can still make out the lentils and feel them bursting undertooth every now and then.
But the real magic happens at the last minute, after you've scooped that good red lentil dhal into some bowls and crowned it with cauliflower florets. This is when you'll shower the whole thing with coconut chips, toasted strips of coconut flesh that provide crunch and nuttiness in every bite, and tie everything together.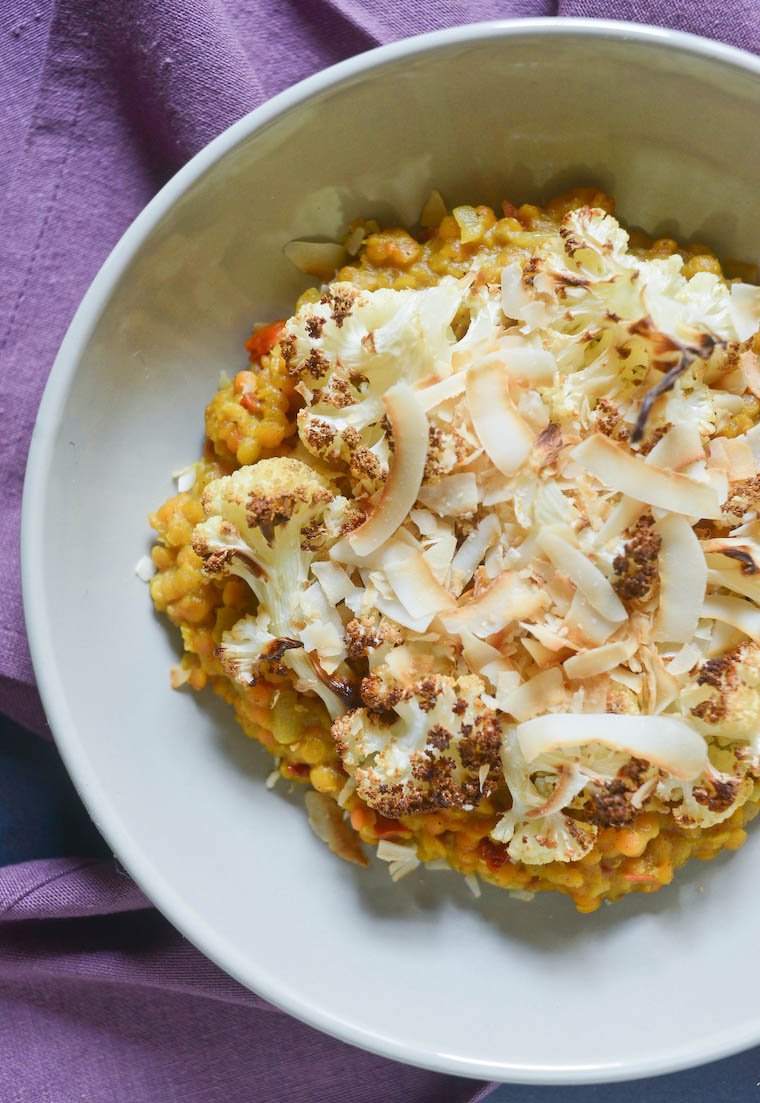 The coconut chips I use are just toasted shavings of coconut, no added sugar or salt, crunchy and delicious. I use them pretty much everywhere — in my paleo granola, over my green smoothie bowls, in my perfect chocolate chip cookies and in my healthy breakfast cookies — and my kids and I also just snack on them, trail mix style, in combination with raisins and nuts.

Have you tried this? Share your pics on Instagram!
Please tag your pictures with #cnzrecipes. I'll share my favorites!
Red Lentil Curry with Cauliflower and Coconut Chips
Ingredients
1 large head cauliflower, separated into florets
1 teaspoon fine sea salt
2 tablespoons coconut oil (mine is from La Maison du Coco)
2 medium yellow onions, finely sliced
400 grams (2 cups) red lentils, rinsed and drained
1 tablespoon curry powder, or more to taste
20 strips sun-dried tomatoes, finely chopped
Two 400-ml (13 1/2-oz) cans coconut milk (mine are from La Maison du Coco)
100 grams (3 1/2 ounces) unsweetened toasted coconut chips (mine are from La Maison du Coco>)
Instructions
Preheat the oven to 200°C (400°F).
Spread the cauliflower florets on a rimmed baking sheet, sprinkle with 1/2 teaspoon salt, drizzle with 1 tablespoons coconut oil, and toss to coat.
Roast for 30 minutes, until browned at the edges.
In the meantime, heat the remaining 1 tablespoon coconut oil in a heavy-bottomed pot over medium heat. Add the onions and remaining 1/2 teaspoon salt, and cook for 3 to 4 minutes, until softened, stirring frequently.
Add the lentils, curry powder, and sun-dried tomatoes, and stir to combine.
Pour in the coconut milk and 240 ml (1 cup) fresh water, and stir.
Bring to a simmer and cook, stirring regularly to prevent sticking, until the lentils are tender but not yet falling apart, about 15 minutes.
To serve, scoop lentil curry into 6 bowls, add cauliflower on top, and sprinkle generously with coconut chips.
https://cnz.to/recipes/vegetables-grains/red-lentil-curry-cauliflower-coconut-chips-recipe/
Unless otherwise noted, all recipes are copyright Clotilde Dusoulier.