Having a two-year-old at home who wakes up bright and (verrrry) early, excited to announce the breakfast item his heart is set on, I have become quite adept at flipping crêpes and cooking one-egg omelettes in a dazed half-sleep.
Beyond crêpes and eggs and bananas, my son is also quite keen on breakfast cookies — who isn't? — and although I have no qualms against yogurt cake and madeleines and buckwheat speculoos at any time of day, my motherly, nutrition-conscious instincts push me to try and offer things that match the request ("Gâteau ? Gâteau ?") but provide a little more in the way of quality early-hour fuel.
We can all benefit from a nutritious and portable breakfast cookie, whether it's eaten on the train ride to work, or while pushing a toy version around the living room.
This led me to create these healthy breakfast cookies, made up of wholesome ingredients — rolled grains, coconut, almond flour, chia seeds — and no added sugar, relying on the sweetening power of mashed bananas and dried fruit instead.
They are extremely easy to make, and if you have a toddler underfoot you can even enroll him/her to mash and dump and stir and scoop (practical life activity, people, so Montessori!).
Healthy Breakfast Cookies for Everyone!
But naturally there is no reason to constrict these to the realm of kid food: we can all benefit from a nutritious and portable breakfast cookie, whether it's eaten on the train ride to work, or while pushing a toy version around the living room.

The formula is very forgiving, and entirely open to variations: in different incarnations of these cookies I have switched the rolled grains around to use quinoa or rice or millet, I've added in finely chopped nuts (especially pecans!) or cacao nibs for crunch, and I once made a version with a touch of cocoa powder thrown in, all to great results.
Join the conversation!
What's your favorite easy-to-carry yet nutritious breakfast option? And if you have a young child, what's breakfast like at your house?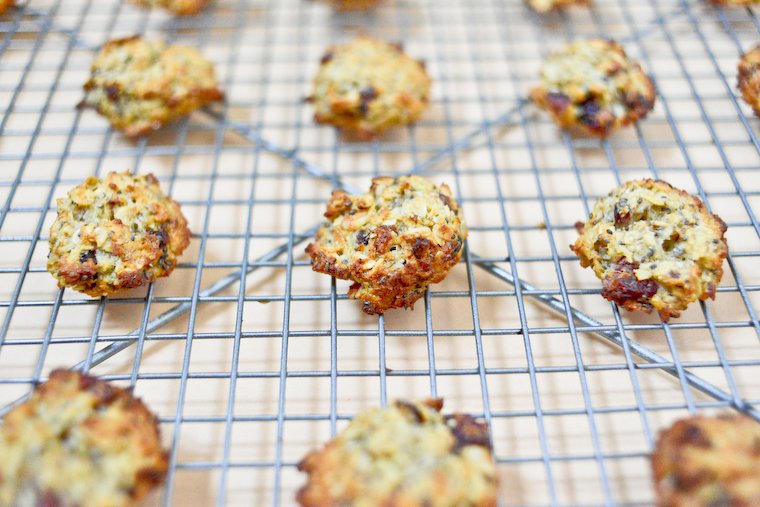 Have you tried this? Share your pics on Instagram!
Please tag your pictures with #cnzrecipes. I'll share my favorites!
Healthy Breakfast Oatmeal Cookies Recipe
Ingredients
2 overripe medium bananas, about 160 grams (5 1/2 ounces) weighed without the skin
1 large egg (substitute 1 tablespoon ground flax seeds soaked in 3 tablespoons water until gel-like)
35 grams (3 tablespoons) coconut oil
100 grams (1 cup) old-fashioned oatmeal (use certified gluten-free as needed) or other rolled grains (spelt, quinoa, millet, rice, etc.)
40 grams (6 tablespoons) almond flour
40 grams (1/3 cup) dried cranberries (preferably unsweetened) or raisins
20 grams (3 tablespoons) dried unsweetened grated coconut
1 tablespoon chia seeds (substitute sesame or poppy seeds)
1/2 teaspoon baking powder
1 pinch fine sea salt
Instructions
Preheat the oven to 175°C (350°F) and line a baking sheet with parchment paper or a silicone baking mat.
In a medium mixing bowl, use a fork or potato masher to mash the bananas thoroughly with the egg and the coconut oil.
In another bowl, blend together the remaining ingredients -- oatmeal, almond flour, cranberries, coconut, chia seeds, baking powder, and salt.
Fold the dry ingredients into the banana mash, and stir until thoroughly combined.
Scoop tablespoonfuls of the batter onto the prepared baking sheet, giving the cookies a little space to expand, and bake for 15 minutes, until set and golden.
Transfer to a rack to cool.
Notes
These cookies keep for 2 to 3 days in an airtight container at cool room temperature; refrigerate or freeze for longer storage.
https://cnz.to/recipes/cookies-small-cakes/healthy-breakfast-oatmeal-cookies-recipe/
Unless otherwise noted, all recipes are copyright Clotilde Dusoulier.