If you keep an eye on my Favorites of the Month posts, which naturally I recommend you do, you may remember me featuring some organic and gluten-free cookies made in Belgium by a small company named Generous: a friend had kindly refered them to me, and they had offered to send samples my way.
I was impressed by the delicate, sandy texture they managed to create for their sablés — not so easy with gluten-free baked goods — and I love that they chose to use buckwheat flour, and embrace its bold flavor.
The simpler-shaped cookies had just as much snap and flavor as their more ornate counterparts.
The buckwheat notes work especially well in their speculoos, an emblematic spice cookie that is typically baked in the north of France, Belgium, the Netherlands, and parts of Germany. But the popularity of the speculoos has vastly outgrown these borders, and it is hugely popular all over France now, where it is often slipped on the saucer of espresso cups in cafés and restaurants (and often much needed to make the acrid coffee palatable).
When I saw how quickly that sleeve of buckwheat speculoos was inhaled in my household, I was inspired to revisit my own speculoos recipe, substituting buckwheat flour for half of the wheat flour (and decreasing the amount of sugar a little bit while I was at it).
I also took this opportunity to use the special speculoos molds that friends of mine brought me back from Alsace some time ago: before speculoos became a year-round treat, they were traditionally made during the Advent and given seasonal shapes — in my case, a crane and a Saint-Nicholas figure — by pressing the dough into finely carved wooden molds.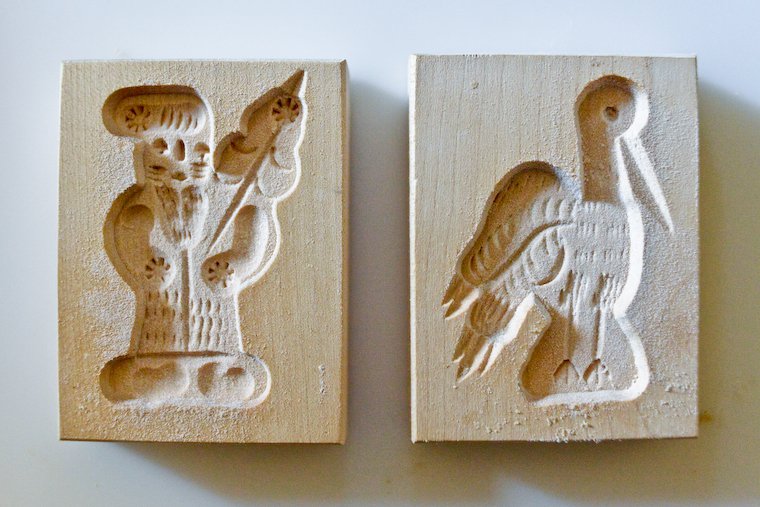 I confess I was a little sceptical about these: how could the dough possibly take on such an intricate shape, unmold without tears, and bake without all the details getting fudged? But I was amazed to see that, with proper flouring and no leavening agent in the dough (which my recipe didn't call for anyway) all three bases were covered effortlessly.

I was intent on using these pretty molds, especially as I thought it might amuse my two-year-old to nibble on an oiseau and a monsieur (it did), but once I'd convinced myself that it worked and that the cookies were pretty indeed, I reverted to the much quicker slice-and-bake method.
Luckily, these simpler-shaped cookies had just as much snap and flavor as their more ornate counterparts.
Speculoos are lovely with a cup of tea or coffee — dipping is allowed, and even encouraged — but they are also the perfect companions to a fruit salad, or a compote of stewed or roasted fruit. They are also the cookie crust component of choice for French bakers who want to make cheesecake — no graham crackers in supermarkets this side of the Atlantic — and they make a pretty spectacular ice cream, too.
About the cinnamon I use
I am in love with the fresh cinnamon I order from Cinnamon Hill, a small company that specializes in sourcing and selling the highest-quality, freshest cinnamon from Sri Lanka and Vietnam (ordinary cinnamon usually comes from China or Indonesia). I get whole sticks, and grate them with the beautifully crafted (and highly giftable!) cinnamon grater that Cinnamon Hill has designed. Truly, you don't know what cinnamon tastes like until you've tried freshly harvested, freshly grated, top-grade cinnamon, and it makes an amazing difference in this recipe.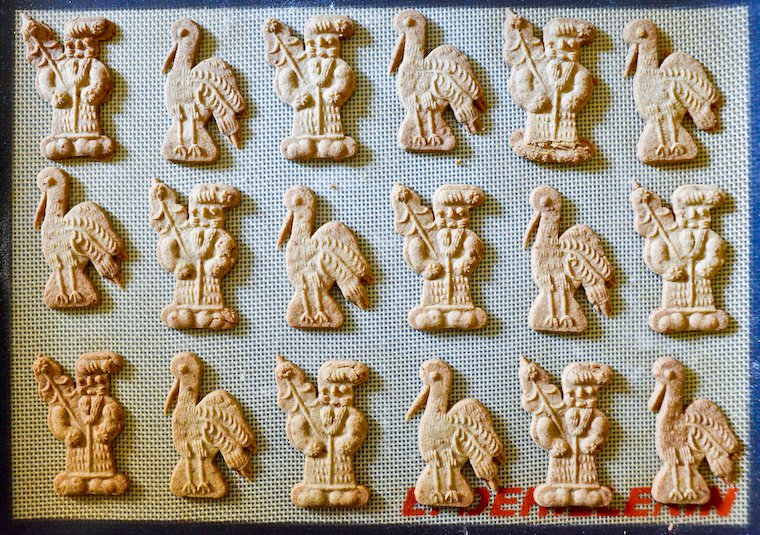 Have you tried this? Share your pics on Instagram!
Please tag your pictures with #cnzrecipes. I'll share my favorites!
Buckwheat Speculoos Cookies Recipe
Ingredients
250 grams (1 1/4 cups) unrefined sugar with flavor, ideally beet sugar (French vergeoise or Belgian cassonade); I used 50 grams (1/4 cup) muscovado sugar and 200 grams (1 cup) of my standard blond unrefined sugar
150 grams (1/2 cup plus 2 tablespoons) unsalted butter, at room temperature
1 large egg
250 grams (8 3/4 ounces, about 2 scant cups; see note) all-purpose flour
250 grams (8 3/4 ounces, about 2 scant cups; see note) buckwheat flour
2 teaspoons speculoos spice mix -- mine contains cinnamon (I use fresh cinnamon from Cinnamon Hill), aniseed, star anise, ginger, mace, coriander, and allspice -- or pumpkin pie spice mix
1/2 teaspoon fine sea salt
Instructions
In the bowl of a mixer or working by hand, cream together the sugar and butter. Add the egg, and mix again.

Add in the flours, spices, and salt (if you're using an open mixer such as a KitchenAid, fold them in with a spatula first so they don't go flying everywhere), and mix just until the dough comes together, without overmixing. If you find the dough is too dry to come together, add a little milk or water, tablespoon by tablespoon, until it does.

If you're making slice-and-bake speculoos:

Turn the dough out on the counter and divide it in two. Roll each half of the dough into a log, then pat it on opposing sides so the section becomes rectangular. Each log should be about 20 cm (4 inches) in length, 5 cm (2 inches) in width, and 2.5 cm (1 inch) in height.

Wrap separately in plastic and refrigerate for at least 2 hours, or overnight.
Preheat the oven to 180°C (360°F) and line a baking sheet with parchment paper or a silicone baking mat.
Slice the prepared logs into 3-mm (1/10-inch) slices, and transfer to the prepared baking sheet; they won't expand much in the baking.

Bake for 10 to 12 minutes, until the speculoos start to brown around the edges.
Transfer to a rack to cool completely.

If you're using speculoos molds:

Preheat the oven to 180°C (360°F) and line a baking sheet with parchment paper or a silicon baking mat.
Sprinkle a little flour into each mold, and shake lightly to encourage the flour to enter every crevice of the pattern. Flip the mold over a bowl (so you can reuse the flour) and tap the back of the mold to remove excess flour.

Take a piece of the dough and press it into the mold, keeping the shape of the pattern in mind to make sure you pack the dough well into every part. Don't worry about it being pretty at this point; it won't be.

Run a thin knife blade flat along the surface of the mold -- sharp edge toward the dough and away from you -- to slice off the excess dough. If your molds are not very deep, you may need to keep your hand gently pressed over the dough to prevent it from following along as the blade works its way through. If your molds have pointy details (such as the beak and wing tips of my stork), it works best if the knife pushes "into them" (i.e. from top of stork head toward tip of beak), rather than against them.

Invert the mold onto the prepared baking sheet, and tap it firmly against the sheet to dislodge the dough; if you've floured the molds properly, the dough will pop right out. If not, tap again, or nudge it out with the tip of the knife. If it still doesn't unmold, remove the dough and start over.

Once you've filled the baking sheet, insert it into the oven and bake for 10 to 12 minutes, until the speculoos start to brown around the edges.
Transfer to a rack to cool completely.
Notes
Measuring by volume yields notoriously unreliable results, especially with flour. For the amounts called for in this recipe, I strongly recommend you use a kitchen scale to measure.
https://cnz.to/recipes/cookies-small-cakes/buckwheat-speculoos-cookies-recipe/
Unless otherwise noted, all recipes are copyright Clotilde Dusoulier.