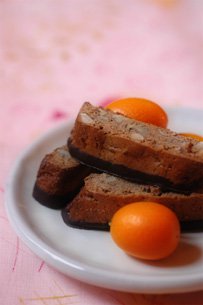 [Chestnut Pecan Biscotti]
Because I know you've been hanging on to the edge of your seats and I'm not such a bad person after all, here is my report on this year's batch of edible gifts. The recipe I ended up making on Saturday afternoon — in between a few last-minute errands, but I'm fortunate enough to live in a neighborhood that offers plenty of shops that cater to the disorganized and thus belated present-buyer — was Nolwenn's, a recipe for hard and crunchy little cookies that the Italians may liken to biscotti di Prato or cantuccini, the Americans to biscotti, and that we French call croquants. In their almond version, these cookies are a traditional — though optional — addition to the treize desserts de Noël (thirteen desserts of Christmas) in Provence.
[A brief aside on the word croquant: it comes from the verb croquer, which dictionaries tell you can be translated as "to crunch". I respectfully and regretfully disagree, it is but an approximate translation: say both words out loud, can you hear how they describe quite different texture experiences? And don't even get me started on croustillant, perhaps the most joyful of French words, and for which "crisp" is such a weak equivalent. There are — obviously — superb English words that one can't express in French, but these two I miss dearly.]
What attracted me to this particular recipe was that it used chestnut flour and nut butter, two ingredients I love and love to use. I realize as I type that I made quite a few modifications to her recipe: I used ground almonds instead of ground hazelnuts; I used almond butter and praline paste instead of almond butter only; I lowered the amount of chestnut flour by blending it with wheat flour (chestnut flour is quite assertive and I didn't want it to overpower the other flavors); I used just pecans instead of a mix of nuts and dried fruits; and finally, I didn't add any olive oil because the dough was plenty moist without it.
Once cooled, these croquants, subtly sweet and boasting the sort of earthy, toasty flavor that is just perfect for this time of year, were lightly dipped in bittersweet chocolate to give them the smooth, rich note this treatment adds, as well as a rather attractive lining of dark velvet. They were then packaged up in little crystal bags (from the box of 100 I acquired at Mora some three years ago and can't seem to make a dent into), along with a handful of the most delectable kumquats I've ever been given to taste.
These were a chance inspiration from my Saturday morning run to the Batignolles market, where things were quiet enough for the eve of a Christmas eve. I bought just a few at first, tried one as I went about the rest of my shopping, and soon enough found myself eating them one after the other, like those ladies you see in old movies, sprawled out on their couch and gobbling up chocolate bonbons. Kumquats can be fierce little guys, dry and astringent, but these were just the right mix of sweet and bitter to make them a grownup's treat, yes, but not a punishment (although some punishments can be quite sweet, but I digress).
My little bag almost empty, I went back to the stall to get more to share, and hope they'll still have them next week, for I may try making candied kumquats, or kumquat marmalade, or perhaps a kumquat ginger cake.
Croquants Châtaigne et Noix de Pécan
50 grams (1/2 cup minus 1 tablespoon) chestnut flour
50 grams (1/2 cup minus 1 tablespoon) all-purpose flour *
100 grams (1 cup) ground almonds **
50 grams (1/4 cup) unrefined cane sugar
1/2 teaspoon salt
30 grams (1 tablespoon) praline paste ***
30 grams (1 tablespoon) almond butter
2 eggs
75 grams (2/3 cup) pecan halves, toasted and chopped
70 grams (2.5 ounces) bittersweet chocolate, chopped
Makes about 2 dozens. (I don't recommend doubling the recipe: better to make 2 batches instead.)
Combine the flours, ground almonds, sugar, and salt in a medium mixing-bowl or a mixer. Add the praline paste and almond butter, and mix until combined. Add the eggs one by one, and mix until combined; the dough will be tacky. Fold in the pecans (by hand, if you were using a mixer), cover, and chill for an hour; the dough will be easier to handle.
Preheat the oven to 180°C (350°F) and line a baking sheet with parchment paper. Divide the dough in two, and shape each half into a flattened log, about 30 by 5 cm (12 by 2″), on the prepared baking sheet. (The dough will still be a bit sticky, you can use the piece of plastic wrap to help you shape it.)
Bake for 30 minutes, until browned and lightly crusty. Remove from the oven (leave the heat on) and let cool for 5 minutes. Transfer to a cutting board and use a sharp knife to cut the logs in diagonal slices, about 1.5 cm (2/3″) in thickness. Return the slices to the baking sheet, one cut side up, and bake for another 10 minutes, until golden brown. Transfer to a rack to cool completely.
Have ready a sheet of parchment paper or feuille guitare (a special sheet of plastic chocolate makers use to ensure a shiny finish). Melt the chocolate in a double-boiler (or in a heatproof bowl set over a pan of simmering water). Dip one cut side of each croquant into the chocolate, transfer to the prepared sheet, and leave out in a cool, dry spot until the chocolate has hardened. (This produces a thin coating of chocolate; for thicker results, repeat the melting, dipping, and drying steps.)
Notes:
* If you want to make these wheat-free, you can use chestnut flour only, as in the original recipe; I would personally substitute another, milder non-wheat flour, such as rice flour.
** Almond meal, a.k.a. ground almonds or powdered almonds, can be found at natural foods stores. If you can't find it, substitute 2/3 cup plus 2 tablespoons whole blanched almonds. Combine them with the sugar in a food processor and process in short pulses until finely ground.
*** Praline paste (pâte de praliné or praliné au sucre cuit in French) is made by toasting, caramelizing, and grinding a mix of almonds and hazelnuts; it is what chocolatiers use in their praline-filled chocolates. You can make your own praline paste (although I've never tried it myself) or buy it ready-made from a baker's supply store: I've purchased mine at the Salon du Chocolat, but I know G. Detou sells it, too. If you can't find it, just up the amount of almond butter by 2 teaspoons and the amount of sugar by 1 teaspoon.