I know little about Persian cuisine. I do know it is a multifaceted one, that its flavors are refined and its roots run deep, but I have never been to an Iranian restaurant nor an Iranian home — though now that I think about it, one of the Middle Eastern groceries we went to in California may have been Iranian — so this Persian stew (that's what khoresh means) was a foray into uncharted territory for me.
And as far as forays go, this lamb khoresh was positively thrilling: I don't think I've ever cooked a stew so brightly flavored and so subtle.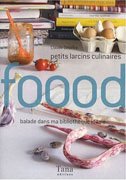 What prompted me to make it was a little book I recently bought, called Petits Larcins culinaires ("culinary petty thefts," but it sounds better in French). It is written by a well-known and very likable figure of the Parisian food scene, Claude Deloffre. Claude has a passion for (and a crazy-extensive collection of) cookbooks, and for a few years she ran a specialized bookshop/gallery on rue Charlot, called FOOD*. In this book, her first, she writes about her lifelong relationship with cookbooks and the ones that have meant the most to her, and she shares a few recipes "stolen" — hence the title — from her favorite authors.
As any successful anthology will, this one makes you want to go out and buy each and every one of the books she evokes — were it a website, it would have an "Order All" button — and among the recipes I flagged to try, one of them sprung forward with particular force: it was this Persian lamb stew, on page 63, which Claude simply introduces under the name Khoresh.
This lamb khoresh is a Persian dish of lamb slowly stewed in citrus juice, garnished with candied orange peel, mint, and pistachios.
I wasn't familiar with the term, but the recipe itself — a dish of lamb stewed in citrus juice, garnished with candied orange peel, mint, and pistachios — sung to me like a mermaid. We were to have Pascale and her husband David over for dinner a few days later, and there was now little doubt about what I would serve.
I altered the recipe just a bit — I used a little less sugar and butter, but more vegetables and more meat, as the amount given seemed insufficient for six, and I added saffron — but overall, I followed Claude's lead, and found the process easy and pleasurable.
We are at the tail end of the citrus season and the first new carrots are appearing, so now is the ideal time to try this. And if it seems a little supererogatory to candy your own orange peel, I hope I can persuade you to do it anyway: the crisp, caramelized strands sit at the juncture between the sweet, the savory, and the bitter, thus summing up the different facets of this dish and acting as the perfect garnish.
About the cinnamon I use
I am in love with the fresh cinnamon I order from Cinnamon Hill, a small company that specializes in sourcing and selling the highest-quality, freshest cinnamon from Sri Lanka and Vietnam (ordinary cinnamon usually comes from China or Indonesia). I get whole sticks, and grate them with the beautifully crafted (and highly giftable!) cinnamon grater that Cinnamon Hill has designed. Truly, you don't know what cinnamon tastes like until you've tried freshly harvested, freshly grated, top-grade cinnamon, and it makes an amazing difference in this recipe.
* She eventually had to close FOOD; cookbook fans in Paris now turn to La Librairie Gourmande to fill their needs.

Have you tried this? Share your pics on Instagram!
Please tag your pictures with #cnzrecipes. I'll share my favorites!
Lamb and Orange Khoresh Stew Recipe
Ingredients
4 organic oranges, about 700 grams (1 1/2 pounds) total
30 grams (2 tablespoons) butter (use coconut oil for dairy-free or paleo)
2 tablespoons sugar (use honey for paleo)
1 tablespoon olive oil
1.8 kilos (4 pounds) lamb, half from the shoulder and half from the neck (bone-in), cut into 4-cm (1 1/2-inch) cubes
400 grams (14 ounces) yellow onions, peeled and thinly sliced
1/2 teaspoon ground cinnamon (I use fresh cinnamon from Cinnamon Hill)
4 pods green cardamom, smashed with the blade of a knife
a pinch saffron threads (optional)
1 lime
600 grams (1 1/3 pounds) carrots, peeled and thinly sliced
2 tablespoons orange flower water
40 grams (1/3 cup) unsalted pistachios, roughly chopped (omit for nut-free)
a handful of fresh mint leaves
salt, pepper
Instructions
Prepare the candied orange peel.

Wash 3 of the oranges well and use a vegetable peeler to peel off the very surface of their peel: the goal is to get the orange part and as little of the white as possible.
Cut the peel in matchstick-size strips (I use kitchen shears).
Bring water to a boil in a small saucepan, add the orange peel and boil for 3 minutes. Drain and return to the pan.
Add the butter, sugar, and a good pinch of salt. Melt over medium heat and cook for a few minutes, stirring frequently, until the pan smells like salted butter caramel and the strips are lightly browned. Don't overcook or they will be bitter.
Lift the peels from the pan with tongs or a slotted spoon, letting the melted butter drip down, and transfer to a plate lined with a paper towel to cool. Reserve the butter that remains at the bottom of the pan. (This can be made a day ahead.)

Cook the stew.

Heat the oil and reserved butter in a large, heavy-bottomed pot (I use my cast-iron cocotte) over medium heat.
Add the meat without crowding (you may have to work in two batches) and cook for a few minutes on each side until browned. Set aside on a plate.
Pour in a little water to deglaze the bottom of the pot, add the onions, sprinkle with a little salt, and cook for a few minutes, until soft.
Add the cinnamon, cardamom, and saffron, and cook for a minute to toast the spices.
In the meantime, squeeze the juice from the lime and 2 of the oranges (one of them now naked).
Return the meat to the pot and sprinkle with salt and pepper.
Pour in the citrus juices, and add a little water so the liquids almost cover the meat but not quite.
Turn the heat down to low, cover, and simmer for 1 1/2 hours, stirring every once in a while.
Add the carrots 30 minutes before the end of the cooking.
Segment the 2 remaining oranges and add the segments to the pot 10 minutes before the end of the cooking. Taste and adjust the seasoning.
Stir in the orange flower water at the last minute.
Serve with basmati rice (I opted for brown basmati rice) and a sprinkle of candied orange peel, pistachios, and mint cut into strips -- I just passed these toppings around in small bowls for each guest to help himself.
Notes
https://cnz.to/recipes/meat-charcuterie/lamb-and-orange-khoresh-stew-recipe/
Unless otherwise noted, all recipes are copyright Clotilde Dusoulier.
This post was first published in April 2009 and updated in March 2016.