Like most French children, the boulangerie played a big role in my earliest food memories.
The corner bakery was the mythical place where snacks were purchased after school, where grownups could be observed closely while waiting in line with one's mother for the Saturday lunch baguette, and where one secretly went to buy a few centime's worth of candy to sneak into one's room and share with one's sister.
My allegiances to after-school snacks came and went. There was a long period of getting a milk bun (pain au lait) with a bar of milk chocolate unwrapped, unfoiled, and pushed right in. I never cared for pain aux raisins (eww raisins) but I was all over the almond croissants.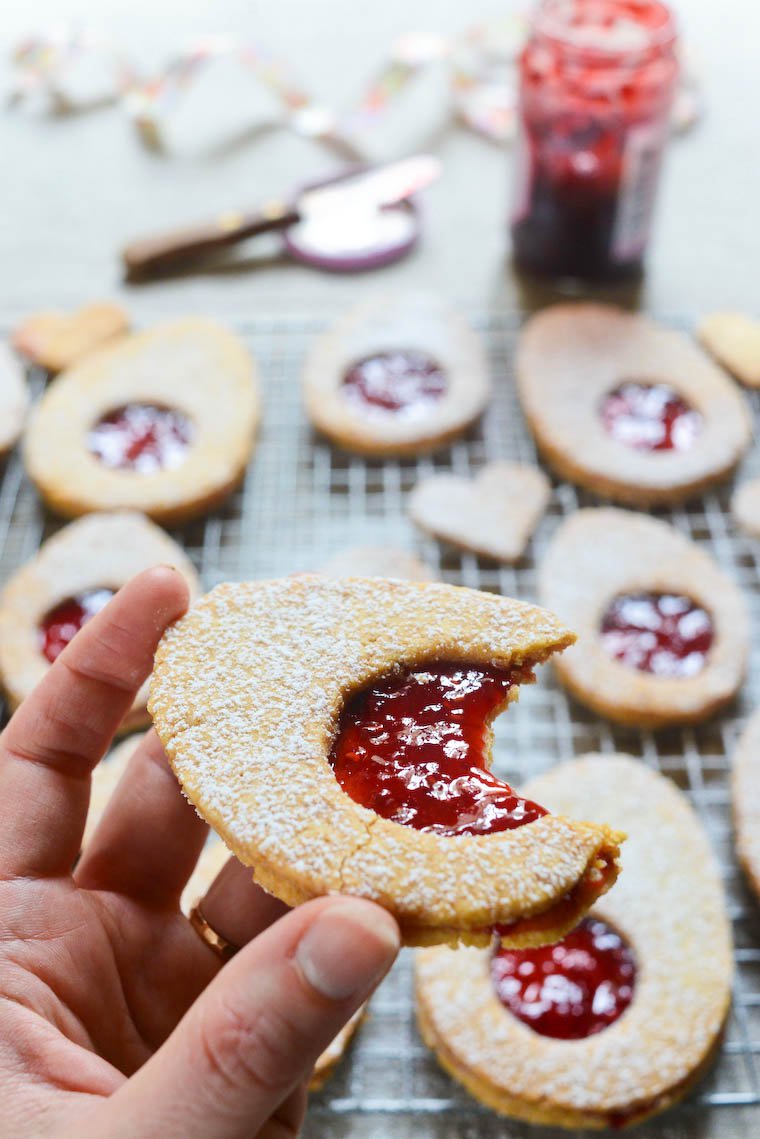 One of my all-time favorites was the lunettes à la confiture ("jam spectacles"), a football-shaped, sugar-dusted cookie sandwich with scalloped edges, and two holes cut out to reveal the layer of jam holding the sablés together (see this video).
I loved those dearly, so it meant a lot that my own kids took to them like a fish to water when I got a box at the organic store. They have been scarfing them down faster than we can buy them, my two-year-old clamoring for "Nettes! Nettes!" and I decided to try and make them myself.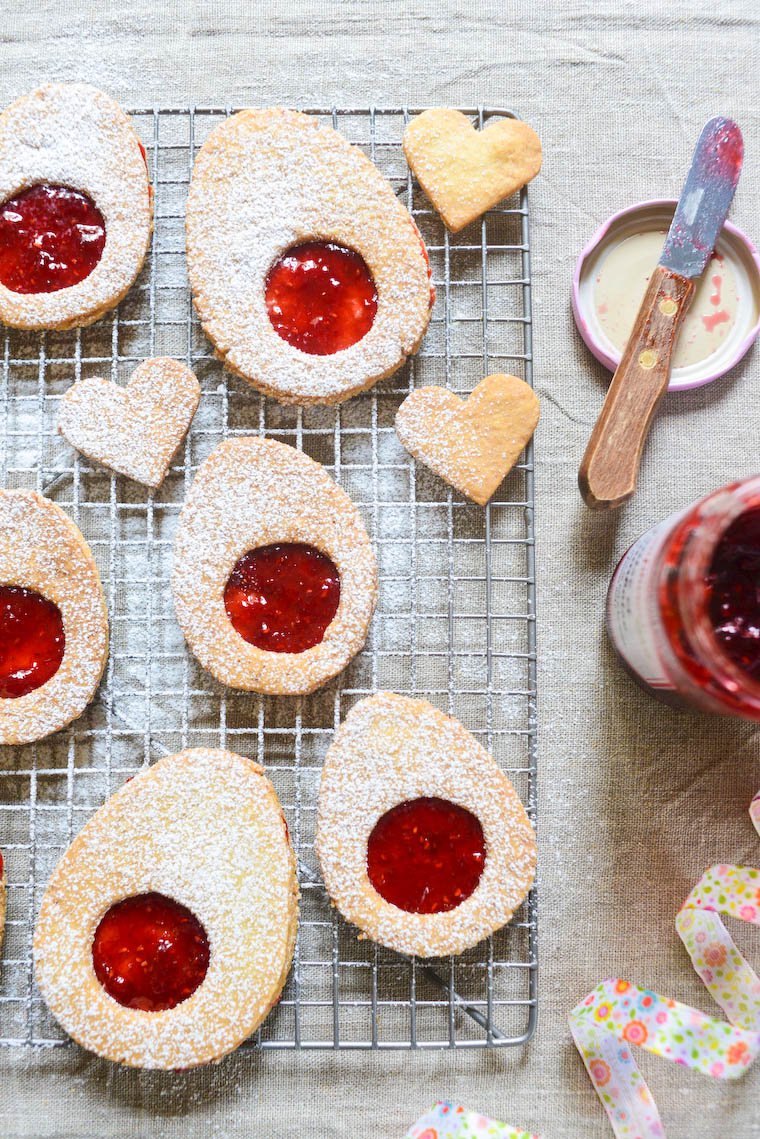 Until I invest in the proper cookie cutter, and because Easter is around the corner, I had the idea to made egg-shaped cookies rather than eyeglasses. So I drew up an egg stencil in two sizes, which you can download here with my compliments. I printed it out on thick paper, and used it to cut the cookies with the tip of a sharp knife.
So it's all very straightforward: you make roll-out cookie dough, cut out shapes, cut out circles in half the cookies, bake, and pair two by two with a layer of jam in the middle. For the cookie base, I used my recipe for French Christmas sablés, which produces crisp, delicious little cookies, omitting the cinnamon and lowering the sugar to make room for the sweetness of the jam.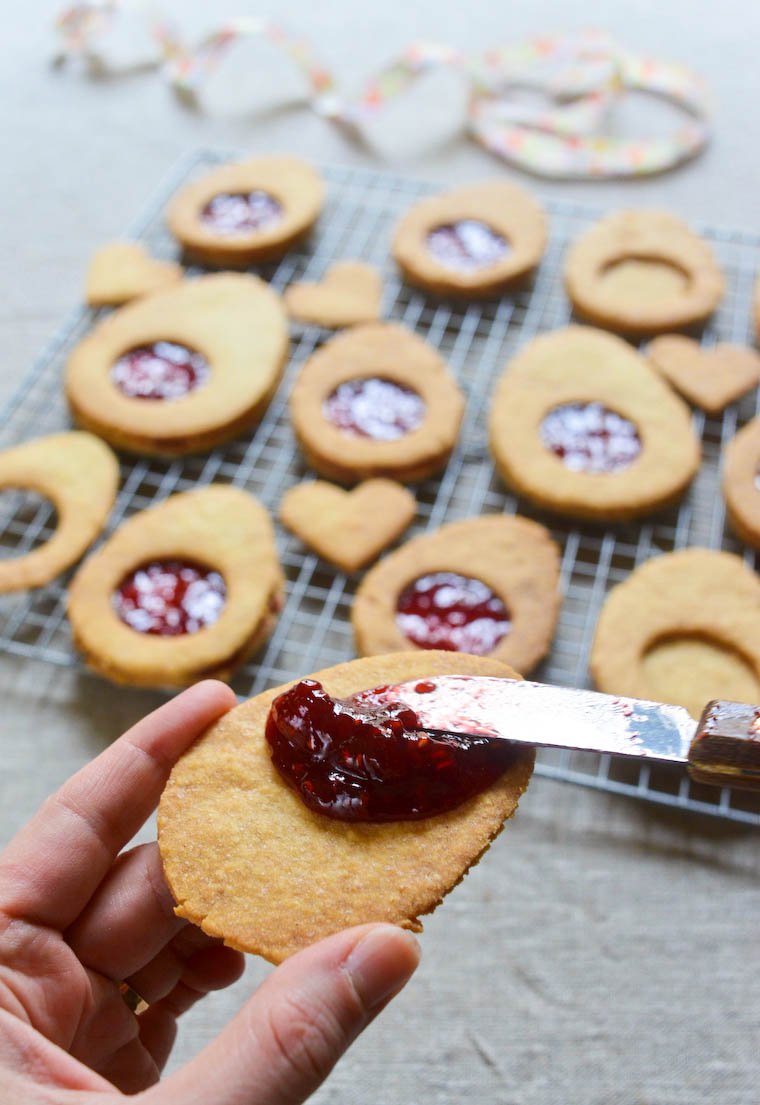 These will be perfect if you celebrate Easter, to give away as a gift, or to serve at brunch, or with tea in the afternoon while the kids are running around hunting for chocolate. Having two sizes makes the tray of Easter cookies that much more attractive. I also cut out little hearts with the scraps of dough, and they were the first to disappear.
I used a strawberry-raspberry jam that I got at the organic store, but you'd get bonus points for using your own homemade jam. And if you can't think of eating anything other than chocolate at Easter, you can replace the jam with ganache or chocolate-hazelnut spread.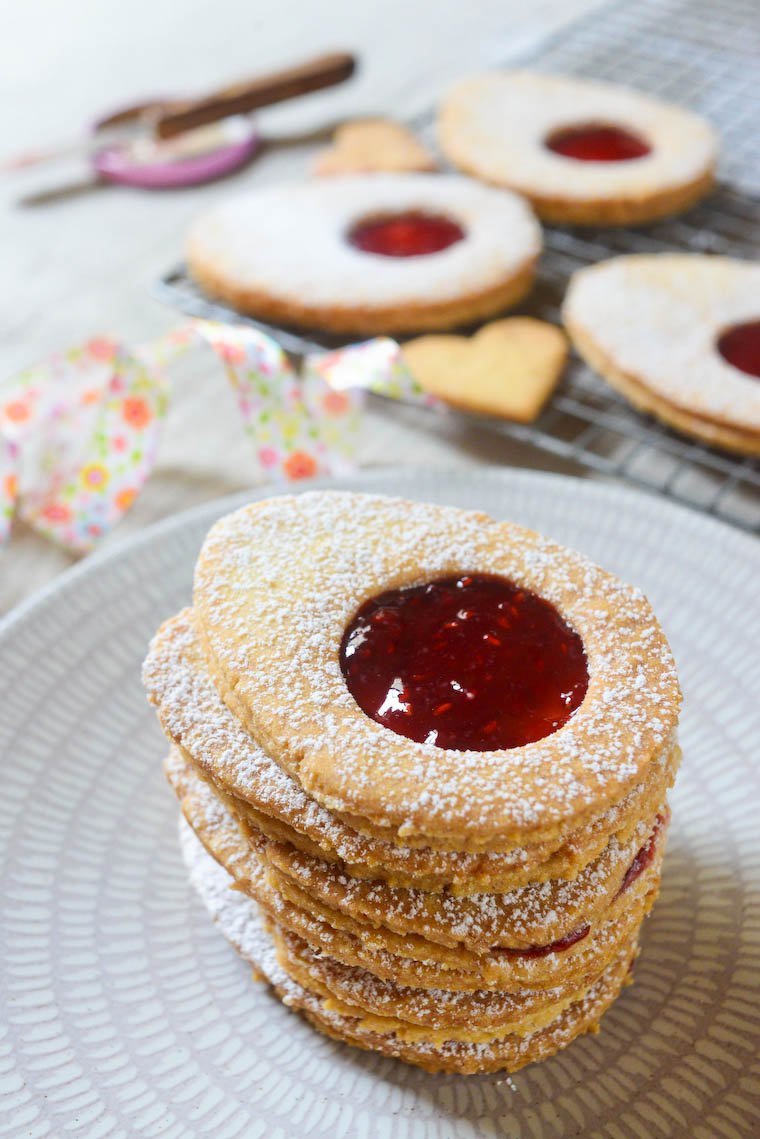 Have you tried this? Share your pics on Instagram!
Please tag your pictures with #cnzrecipes. I'll share my favorites!
Easter Egg Jam Cookies Recipe
Ingredients
200 grams (7 ounces, about 1 1/2 cups) all-purpose flour, plus more for dusting
125 grams (10 tablespoons) sugar (I use unrefined blond cane sugar)
1/4 teaspoon fine sea salt
1 large egg
125 grams (1/2 cup plus 1 tablespoon) unsalted butter, diced and softened (I leave it out for about 2 hours at room temperature)
175 grams (6 ounces) quality jam such as strawberry, raspberry, apricot... (you can also use chocolate-hazelnut spread)
Confectioner's sugar
Instructions
Prepare the dough at least 8 hours in advance, or the day before.
In the bowl of a mixer, combine flour, sugar, and salt. Add the egg and mix well.
Add the butter in small pieces, mixing it in before adding another piece. The dough will be rather soft; it will get firm after chilling.

Divide the dough into 4 equal pieces and shape each piece into a thick disc. Place in an airtight container and refrigerate for at least 8 hours, and up to a day.
Line a baking sheet with a silicone baking mat or parchment paper.
Preheat the oven to 160°C (325°F).
Take a piece of dough out of the refrigerator. On a well-floured work surface and using a floured rolling pin, spread the dough to a thickness of 2 to 3 mm. Keep everything well floured to prevent sticking.
Bonus trick: I use two chopsticks as "rails" under the rolling pin to roll out the dough evenly at first. I then remove them to roll out the dough more thinly.

Print out the egg shapes on thick paper, cut them out, and use as stencils to cut egg shapes in the dough with the tip of a sharp knife.

Arrange them on the baking sheet as you go. The cookies won't spread much in baking, so it's okay to keep them a little close, not too much. Cut out a circle in the middle of half of the "eggs" and remove it to create a hollow "yolk".

Gather the trimmings (including the circles) into a ball without overworking, and roll it out again and again to cut as many cookies as you can. If the dough becomes too soft, put it back into the fridge to firm it back up.
Bake for 12 to 15 minutes, until golden brown. Allow to rest 1 to 2 minutes before transferring to a rack to cool completely.
Repeat with the remaining pieces of dough.
When the cookies are completely cool, spread the full shapes with a thin layer of jam, and top with one that has a hole in it. (I recommend you make a first test cookie to gauge how much jam suits your taste in terms of sweetness.)
Sprinkle with icing sugar and serve.
https://cnz.to/recipes/cookies-small-cakes/easter-egg-jam-cookies-recipe/
Unless otherwise noted, all recipes are copyright Clotilde Dusoulier.