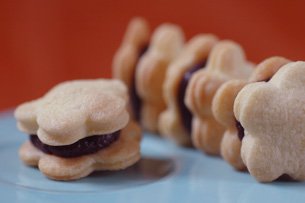 I am not very good at falling asleep. Once I manage to drift off I sleep soundly till morning — which is a blessing, no doubt — but it can take a while before I achieve that state of blissful nothingness. However much I try to relax before bedtime, my mind is reluctant to let go of the day's activities, and seems to take the head-hits-pillow event as a signal to start whirring up again, and brainstorm on whichever problem needs solving, whichever writing needs editing, or whichever recipe needs tweaking.
I do wish I could doze off faster than that, but I have actually found that some of my best ideas spark up as I lie there in the dark, trying to concentrate on green meadows (sans brook, or I need to get up again) or relaxing my toes one by one. For this reason I always have a notebook and a pen on my nightstand to jot down any inspired thought — the fear to have it vanish come morning might keep me awake. Of course, I can't very well switch on the light to write (that wouldn't be very civil to the other inhabitant of the bed), so that notebook is covered with particularly squiggly blind writing.
A few nights ago, the matter at hand in this pre-sleep session was, "What should I do with the scraps of pâte brisée I have left?" I'd only made four tartlets, so I had about a third of one ball leftover (the other ball of dough being tightly wrapped and biding its time in the freezer), and there was no way I was tossing it. I usually make little palmiers (elephant's ears) in such situations, but I was wondering if the dough could be combined with the leftover ganache that was resting one floor up in the refrigerator (yes, my fridge is a shelter for all kinds of stray edibles). After a few minutes or a few hours I have no idea — it's difficult to keep a sense of time in pitch dark — these mini sandwich cookies took shape. I fell asleep before writing them down, but they were still under my pillow when I woke up.
And so the next day, in need of procrastination a break from my work schedule, I walked into the kitchen and brought them to life. I think they would have benefited from an eggwash and a sprinkle of sugar, but they were very good nonetheless — 100% recycled, and very cute too, dancing cheek to cheek on my plate.
Ganache Sandwich Cookies
– Leftover pâte brisée
– Leftover ganache (if you don't have leftover ganache, a good chocolate spread will work just as well)
– One egg yolk, whisked with one tablespoon water (optional)
– A bit of sugar (optional)
Preheat the oven to 180° C (350° F), and line a cookie sheet with parchment paper. Roll out the dough on a lightly floured surface. Using a small cookie cutter, cut out identical shapes and arrange them on the prepared baking sheet. Brush with the egg yolk mixture and sprinkle with sugar if desired. Slip into the oven for 12 to 15 minutes, until golden. Transfer onto a rack to cool completely.
Reheat the ganache gently in a double boiler, stirring with a fork until melted and smooth. Pour into a small freezer bag, empty out all of the air, and close the bag with a knot. Let cool slightly. Snip off the very tip of one corner, and use this to pipe a fat blob of ganache onto the flat side of half the cookies. Place another cookie flat side down onto the ganache, press lightly, and let stand at room temperature until the ganache has firmed up again.