Travel season will be upon us very soon, and I want to make sure you see and taste the best France has to offer. When it comes to Paris I've got you covered (ask me about my tours!) but there are many other places with exciting and delicious things for you to experience. So I've asked a team of French bloggers from different cities to share their favorite spots, and I am offering them to you in this series.
In Toulouse, Lucie recommends…

Lucie Paimblanc is a journalist with a passion for the environment, plant-based foods, and Chinese culture. She started her blog Je veux tout goûter ("I want to taste everything"; I understand the sentiment) four years ago, to share seasonal recipes and her favorite places to eat in and around Toulouse. In May 2016, she began a second blog, Je deviens écolo ("I'm becoming green"), to document her journey toward a no-waste lifestyle with zero side effects. You can follow her on Facebook, Instagram and Twitter.
I actually had the pleasure of meeting Lucie in Paris after we connected for this post; if you read French (and/or want to see my kitchen!) check out her post and video. She has taken all of the lovely photos that illustrate this post, as well.
A greenmarket: Le Marché Saint-Aubin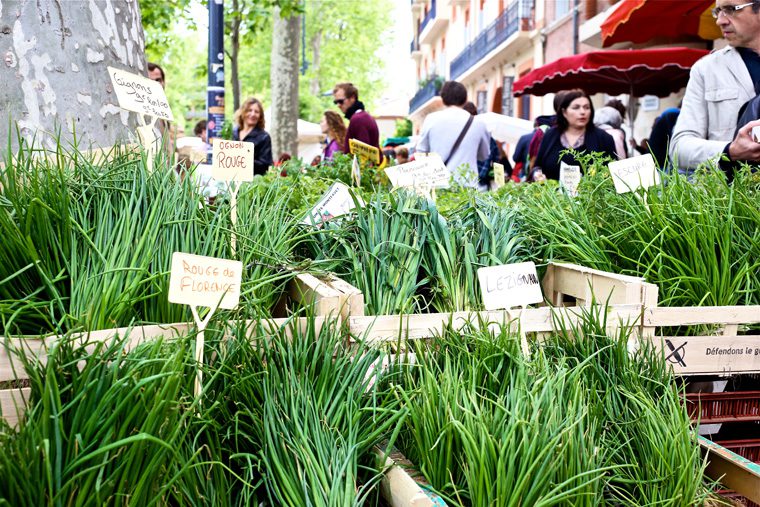 If you are wondering what grows around Toulouse at any point of the year, go straight to the food market of Saint-Aubin on Sunday mornings. When facing the massive church, follow the flow of people on your right, where all the local and organic farmers set up their stands.
You will find bread, meat, flowers, cheese, vegetables, fruits, etc. at the main market, and when you arrive behind the church, follow the inside of the first circle around it where a few food trucks may be of interest, serving empanadas and freshly fried beignets, a French donut.