I come to you with my biggest city crush in a really long time. I have just returned from a vacation in Stockholm with my family, and it was instant love between me and the Swedish capital.
It's beautiful, it's walkable, it's elegant, it's welcoming, it is perfectly clean, and exceptionally civilized. The colors and architecture are amazing, great design is everywhere, and there is no dearth of exciting eats.
If you follow me on Instagram, perhaps you were able to catch some of my Instagram Stories documenting my favorite eats and sights? In any case, this post is my mini-guide to Stockholm, for you to delve into if you're planning (or dreaming of) a trip of your own.
I dedicate this with gratitude to the many readers and friends who passed along their best recommendations on Facebook in particular. You never steered me wrong and I credit you for the amazing time I had. If you missed the opportunity to share a favorite spot, please do so in the comments now.
All right, fasten your seatbelt, we're off to Stockholm now!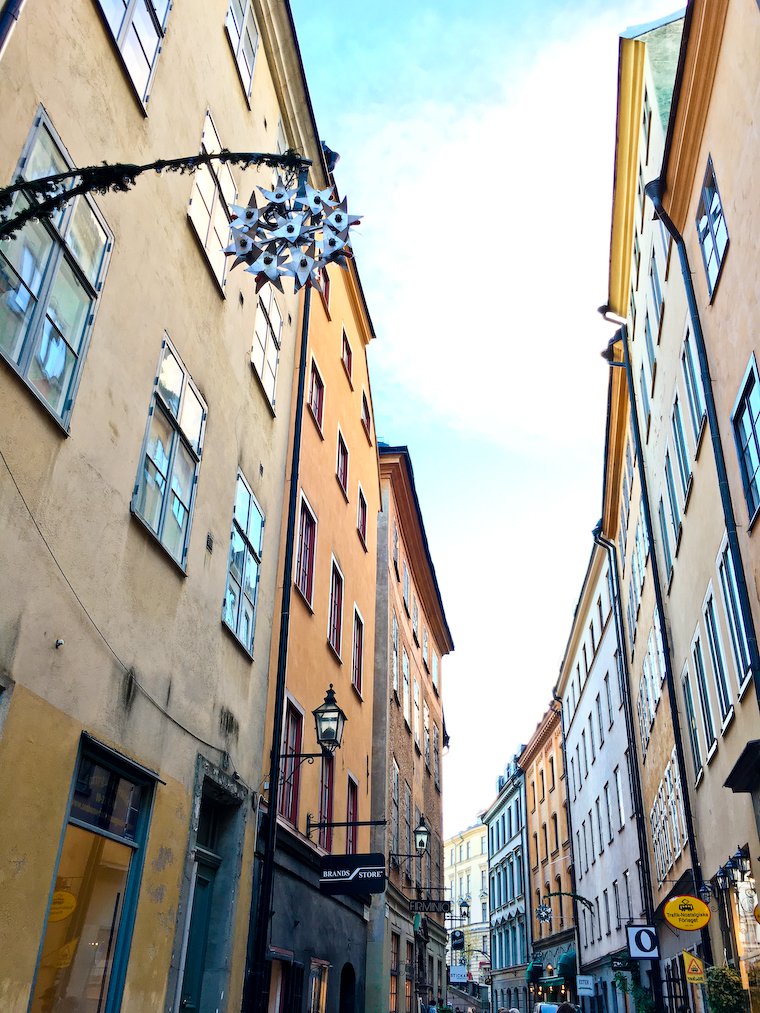 Practical things about Stockholm
Stockholm is made up of a few islands connected together by bridges and ferries. We stayed at an apartment on the hip island of Södermalm, and loved it. It's easy to get around using public transportation — subways and buses — and venture out to other islands, but Södermalm is a fantastic base camp.
Everybody speaks perfect English. It's as if it was the second official language, and you don't need to start off the conversation asking if they do (which you should in France). I did however learn a handful of basic phrases (Hej hej / hello, hej doå / goodbye, tack / thank you, snälla / please, ursäkta / sorry, ja / yes, nej / no) mostly because it's fun for me, but also to communicate to locals that I'm interested in their culture.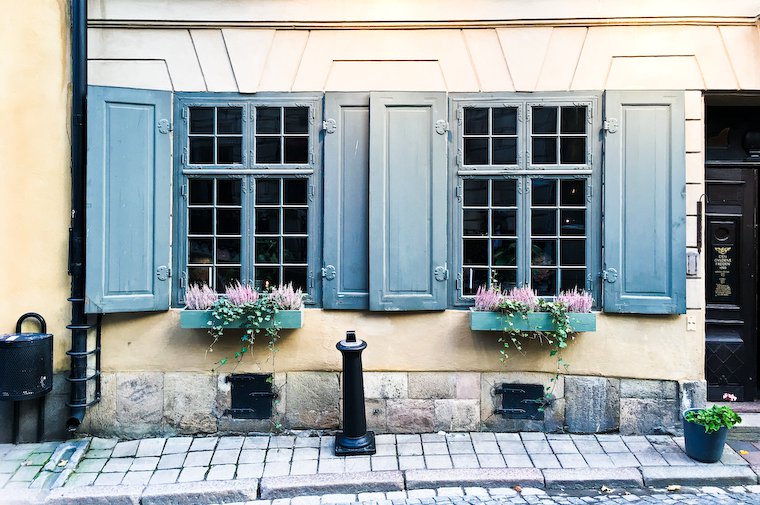 It's a pretty kid-friendly city; we felt welcome everywhere we went. Sidewalks are easy to navigate with a stroller, and subway stations all have elevators and ramps. There are high chairs available at every restaurant where you might reasonably want to go with a kid, and everyone was super sweet to our boys.
One thing we did that blew my mind was to hire a baby-sitter locally so Maxence and I could go out on a few nights and experience the city as adults. It was the first time we did that on vacation and it felt ah-mazing. People go out to dinner pretty early, comparatively to Paris, so we typically got to restaurants around 6:30pm with the kids, 7:30pm without.
A word of warning: Stockholm is not a cheap city. The standard of living is high, so everything is expensive: transportation, accommodation, museums, restaurants, food… If you can stay in an apartment with your own kitchen to avoid eating out all the time, that will save you some money, and you can look into city passes that bundle transportation and museum tickets.
Favorite Restaurants in Stockholm
The Stockholm gastronomic scene is vibrant, with many restaurants serving nouveau Scandinavian cuisine higlighting local ingredients and traditions. The landscape is equally cosmopolitan, incorporating trends you might recognize from other large Western cities — vegan/raw food, organic ingredients, gluten-free options, juice bars, burgers, tacos, craft coffee, artisan bread…
The restaurants we most enjoyed were:
Favorite Bakeries and Cafés in Stockholm
In line with the Swedish emphasis on fika, Stockholm has a big bread and baking culture and everywhere you turn you stumble upon a new bakery boasting gorgeous artisan loaves and irresistible little buns — the famous kardemummabullar, kannelbullar, blåbärsbullar, respectively with cardamom, cinnamon, and blueberries.
I particularly liked Fabrique (where the blueberry bun was from), Petrus Bageri (they sell big slabs of their own knackebröd, the typical crisp flatbread of Sweden) and Bröd+Salt (excellent gluten-free bread full of nuts and seeds, beautiful knotted loaf).
There are many cozy coffee shops where you can sit and have a steaming cup of something, but the ones we went to most often were Drop Coffee and Johan & Nyström, both of which are local specialty coffee roasters. If you're in the mood for a snack, Drop makes excellent little sandwiches, such as you'll find everywhere in Stockholm, with bread from Green Rabbit bakery, and various baked goods.
Chokladbollar (chocolate balls rolled in grated coconut) and are a popular treat you see absolutely everywhere, and I am planning to make my own asap. You'll be the first to know.
If you like hand-crafted caramels, pay a visit to Pärlans Konfektyr. It's an adorable little shop, and from the sidewalk you can see the caramel fairies at work making, cutting, and wrapping up the soft and chewy caramels, which come in assorted flavors. They have a liquorice flavor that is probably very good if you like liquorice, but my favorite was, unsurprisingly, chocolate with cacao nibs.
Swedes are big on liquorice, especially the salted kind. If you hate liquorice with a vengeance, as I do, watch out for anything lakrits. As a show of good faith, I bought a bar of dark chocolate with liquorice, tasted one bite, and had to throw the rest out. Clearly, I'm not there yet.
Food Shopping in Stockholm
I have a fascination for foreign supermarkets, and spent some blissful hours exploring the aisles of various types of grocery stores, both mainstream and organic. Though local produce options are very limited, for obvious climate reasons, even mainstream supermarkets have many organic and natural foods in the dry goods sections.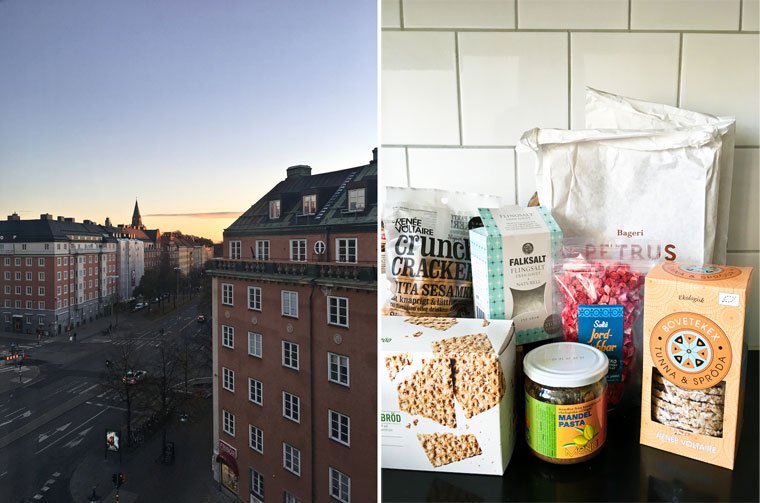 I liked the food section (saluhall) at 1915 department store Nordiska Kompaniet and the Östermalms Saluhall, though it is currently in a temporary bulding next door to the historic hall, which is being renovated.
For organic stores and quirky goods, I recommend Paradiset (the local Whole Foods), Cajsa Warg, and Renée Voltaire's pepstop. Renée Voltaire is a Swedish food personality who promotes plant-based eating, and she has a line of products distributed in most grocery stores, but this is her flagship store offering the whole range.
For local produce, we had better luck visiting the lovely Saturday morning farmers' market on Katarina Bangata, on Södermalm. There we bought local mushrooms, honey, kale (grönkål), and a Swedish-made camembert that was surprisingly good (no offense).
There are houseware and decoration shops everywhere; my not-so-subtle theory is that when the weather gets really cold and you're housebound for most of the time, you want to make sure your home is super homey. We liked the Granit and Designtorget stores, and the lamp shop Norrmalms Elektriska, but we also popped into random shops and galleries as we walked around.
Favorite Sights and Museums in Stockholm
Staying in Stockholm with two young children, we gravitated toward kid-friend activities, and the highlights were:
Souvenirs to Bring Home from Stockholm
Here are a few ideas of things to bring back for yourself and your friends: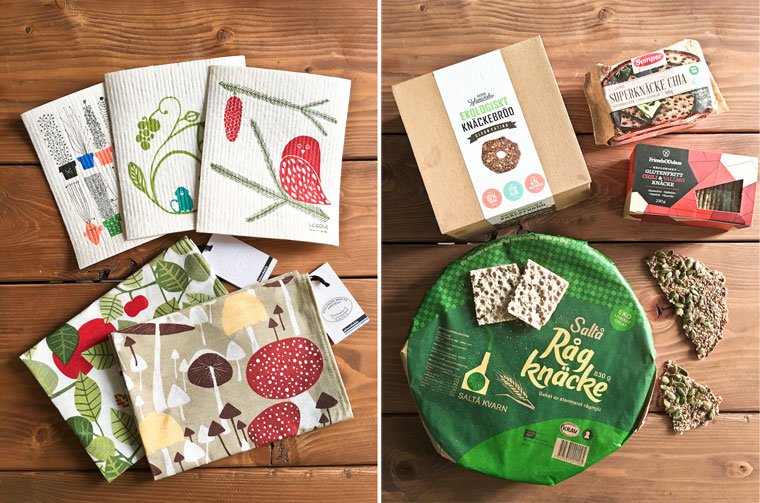 Want to see me show and discuss a couple of the above? Watch this Facebook Live video!
Aaaand… that's a wrap for my (kind of epic) Stockholm Mini-Guide! Do you have more to add? Advice and recommendations for my next trip, which I will make sure happens very soon?
All shops and restaurants listed above can be found on this map: