In the heart of summer, when the zucchini I find at the greenmarket is the pocket-size kind that feels firm and bouncy with youth, all I want to do is eat it raw.
I really love (love, love!) shaving it for this zucchini tarte fine I shared a few summers ago, and I also like to cut it into sticks for dipping in muhammara or roasted eggplant and yogurt dip.
But most recently, my raw zucchini obsession has revolved around zucchini noodles: crisp, fresh, graceful on the plate, and so fun to eat.
Looking closely at the zucchini noodles on my plate that day, I had an epiphany.
The passion was ignited during a trip to Corsica one spring: at a sun-bleached restaurant on the isolated bay where we were staying, I was served a dish of fried calamari over zucchini noodles. Up until then, I'd been sure you needed a spiralizer to make them, and although the Benriner model had been on my wishlist for years, I'd stayed on the fence because I was not sure how well it worked, and reluctant to find room for such a bulky gadget.
But looking closely at the zucchini noodles on my plate that day, I had an epiphany: these were simply made with a mandoline slicer! A tool I already owned! And the very same one whose virtues I extolled when I wrote about grated carrots.
All you need to do is set up the mandoline slicer with the comb-like blade, and feed the zucchini through it along its full length, as if it were riding down a water slide*.
It is a little precarious, especially when you're nearly done and only a thin portion of the zucchini remains, so be extra super mega careful, and use the kevlar glove that reader Elaine helpfully recommended, or at least the hand guard, however awkward and annoying it is. Alternatively, I've heard good things about julienne peelers such as this one, and it may be a good low-cabinet-occupancy option.

To make noodles, you should use small and young zucchini: the bigger, older specimens have lots of seeds and slightly fibrous flesh in the middle, which won't do well in noodle form. This means it isn't the ideal use for the giant zucchini taking over your vegetable garden, unless you use only the outer parts and reserve the core for soup or stock.
And once you have your zucchini noodles in a glorious heap on your cutting board, you'll find they're quite versatile. I like to make a simple salad seasoned with olive oil, lemon juice and cumin and sprinkled with toasted pumpkin seeds and purple basil, as in the recipe below.
But you can also dress them with:
Or, you can treat them like pasta and:
Although some recipes recommend blanching or microwaving the zucchini noodles for pasta-like uses, I prefer to keep them raw for optimal texture, and let the warm sauce or broth heat up the dish.
Join the conversation!
Do you make zucchini noodles, and how do you like to serve them? Do you covet or own a spiral slicer? What do you think: gadget or necessity?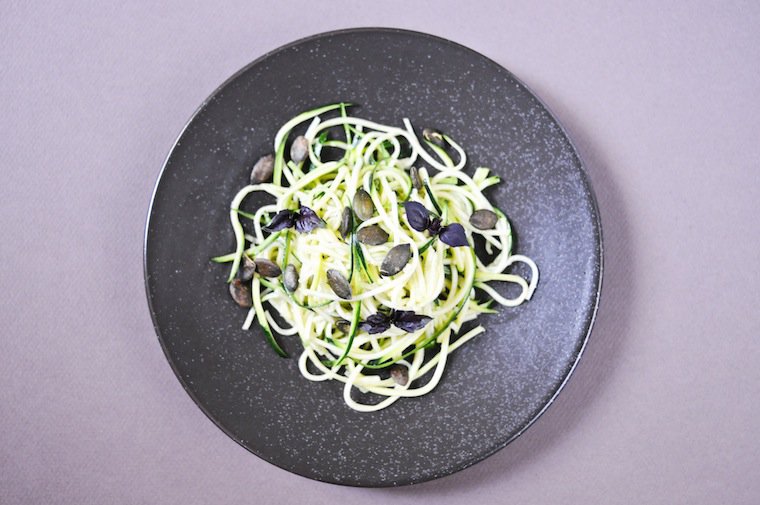 * When I was a teenager, going to the Aquaboulevard water park was a popular outing. Riding the water slides was thrilling, but also a little scary because urban legend had it that unspecified people sometimes wedged razor blades in the grooves between the different sections of the slide so the skin on your legs would be gashed open as you slid down.
** This is the vegetarian cookbook issued by David Frankiel and Luise Vandahl Andersen of The Green Kitchen Stories. Disclosure: I received a review copy of this book from the publisher.
Want more spiralized recipes?
Follow my spiralized board on Pinterest!

Have you tried this? Share your pics on Instagram!
Please tag your pictures with #cnzrecipes. I'll share my favorites!
Zucchini Noodle Salad Recipe
Ingredients
600 grams (1 1/3 pounds) small zucchini, about 4
60 ml (1/4 cup) extra virgin olive oil
2 tablespoons freshly squeezed lemon juice (I tried lime and it wasn't as good)
3/4 teaspoon fine sea salt
1 teaspoon ground cumin
freshly ground black pepper
a handful of pumpkin seeds, toasted
a few sprigs fresh basil (green or purple), sliced or torn
Instructions
Trim the zucchini and slice it into noodle-like strips using a mandoline or spiral slicer.
Transfer to a bowl. Add the oil, lemon juice, salt, cumin, and pepper, and use your clean hands to combine all the ingredients, working gently. Taste and adjust the seasoning.
Divide among serving plates, lifting bunches of the noodles with your hand and creating pretty swirls. Sprinkle with pumpkin seeds and basil, and serve immediately.
Notes
The zucchini may be sliced and dressed a few hours before serving, but only add the salt at the last minute. Since it draws moisture out of the zucchini, it would soften it and cause its juices to pool at the bottom of the bowl.
https://cnz.to/recipes/vegetables-grains/zucchini-noodle-salad-recipe/
Unless otherwise noted, all recipes are copyright Clotilde Dusoulier.
This post was first published on August 7, 2013.