Well, this is it! The French Market Cookbook, my new book of vegetable recipes, is coming out today.
[Scroll down to see how you can enter to win a copy!]
It is an exciting day for me, one I've been looking forward to for three years, ever since the idea for the book first popped into my head. (I know the exact date because I have the email I sent my agent that very day to share!) It has been a pretty smooth ride since then — the planning, the proposal-ing, the writing, the recipe testing, the shooting, the editing, the correcting, the naming, the designing, the waiting — and I am most grateful that I've had such a great team at Clarkson Potter on my side all along.
And now the book is finally ready — and dying! — to start its own life in your hands and on your kitchen counter. It is my most ardent hope that you and it enjoy each other's company, and that perhaps you'll write and tell me about it from time to time.
The French Market Cookbook is available wherever books are sold, including Amazon, Barnes & Noble, and IndieBound.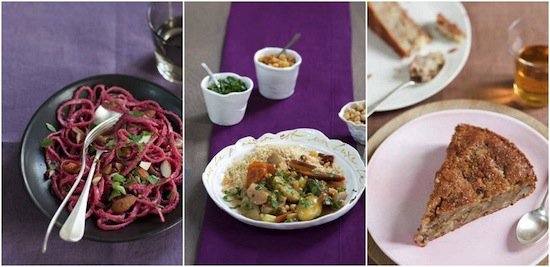 In The French Market Cookbook, you'll find my take on the love story between French cuisine and vegetables.
It is admittedly a challenge to dine out as a vegetarian in France, where meat and fish are treated as the main character of any special-occasion dish, yet the French culinary repertoire is rife with delicious ideas on how to cook vegetables.
Over the past few years, I have transitioned to a more and more plant-based way of eating — for reasons of ethics, environmental concern, and natural inclination — so I've had plenty of opportunities to explore unusual and exciting ways to use up my weekly selection of seasonal vegetables.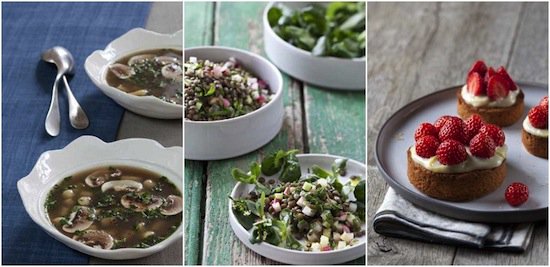 In this new book I am sharing the best of those dishes through 90 seasonal recipes (many of them vegan) and 75 color photographs by the talented Emilie Guelpa, Françoise Nicol, and Virginie Michelin. Some dishes are personal creations, others are drawn from my research into lesser-known regional cuisines, or inspired by memorable restaurant meals. All are simple and flavorsome, so you can make the most of the time you spend in the kitchen.
My goal, in this book as on the blog, is to teach and inspire, so each of the recipes is meant to leave you not just with a wonderful dish to share with your friends, but also with a trick, a technique, a building block that you can adopt and use elsewhere in your cooking.
If you'd like to see more of the book, you can view excerpts, or use Amazon's Look Inside! feature.
The French Market Cookbook is available wherever books are sold, including Amazon, Barnes & Noble, and IndieBound.
And to celebrate, I have five copies to give away!
To enter, please leave a comment below (in English or in French) telling me about your favorite vegetarian recipe.
You have until Tuesday, July 9, midnight Paris time to enter; I will then draw five entries randomly and announce the winners here. My publicists at Clarkson Potter have agreed to ship the books to any mailing address in the world, so you're welcome to play regardless of your location; please make sure you enter your email address correctly so I can contact you if you win. Good luck!
Update! I have drawn five random numbers using the tools at random.org, and the five winning entries are:


I will be emailing the five winners — Becca (of the lemon parmesan risotto), Jodie, Chelsea, Zosia, and Abby (of the chickpeas and couscous) — to request their mailing address. Thank you all for participating!