EDIBLE FRENCH, my new book of food-related French idioms, is released today.
EDIBLE FRENCH explores fifty of the most evocative French expressions related to food with cultural notes, recipes, and whimsical watercolors by my talented friend Mélina Josserand.
It's a project that has been brewing in my mind for years and years, and as a lover of both food and language, I am thrilled to be able to share it with you now.
I am also incredibly pleased with how the physical object turned out; the production team has done a wonderful job of it. It's a book that feels very loveable, and the quality of the paper — thick, matte, with a bit of texture — really brings out the beauty of Melina's watercolors, almost as if they were originals. I can tell that the people I show it to don't really want to let go once they have it in their hands, and I hope you feel that way too.
I have set up a companion site for the book where you can view excerpts and listen to the expressions and example sentences featured in the book.
And if you plan to be in Paris in the coming weeks, I have two book events lined up on October 14 and November 29 (all details here).
EDIBLE FRENCH is now available in the US and Canada, in France, and in the UK.
See below for an animated sneak peek of the book, and details about the giveaway.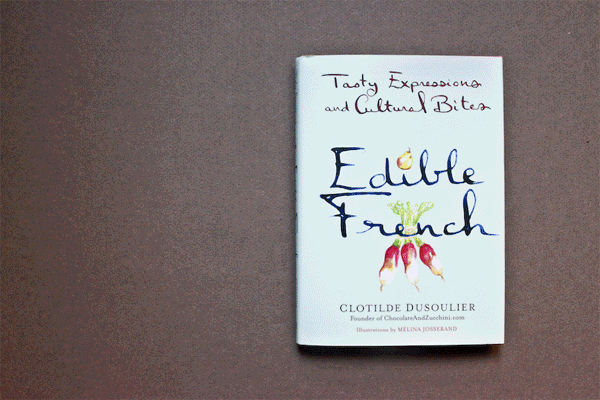 To celebrate the release, I have five copies to give away!
To enter, please share in the comments below your favorite food-related idiom in any language, explaining what it means and why you like it.
You have until Tuesday, October 14 (midnight Paris time) to enter. I will then draw five entries randomly and announce the winners here. My editor at Perigee Books has agreed to ship the books to any mailing address in the world, so you're welcome to play regardless of your location; please make sure you enter your email address correctly so I can contact you if you win. Good luck!
We Got Winners!
The giveaway is now closed, and the following five readers will each receive a copy of Edible French:
Christiana, who wrote, "My favourite is stick a fork in me! as it reminds me of the 90's film Pump Up The Volume and how I pined for Christian Slater with such abandonment and teenage angst!"
Lota, who wrote, "I have two: one in English: a bun in the oven meaning pregnancy and a Polish idiom wpuścić kogoś w maliny which is translated literally as to let someone in the raspberry bushes which means that you knowingly set someone up for difficulties, getting lost and confused, losing their way etc."
Michelle, who wrote, "I love cherry on top – it always sounds so happy!"
c n, who wrote, "When life gives you lemons, make lemonade! because when life gets rough, you got to get through it!"
Kara Johnson, who wrote, "As busy as popcorn in a skillet… I recently heard this for the first time and love the image of bouncing, popping corn it gives me. :)"
Congratulations to them, and thank you all for participating with such enthusiasm! I had a blast reading through this most colorful selection of expressions.