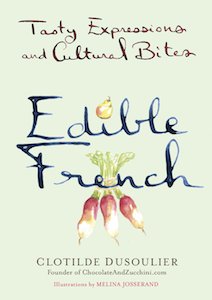 The idiosyncrasies of language can tell us a lot about a culture. In this delightful book, Clotilde Dusoulier, creator of the award-winning food blog Chocolate & Zucchini, delves into the history and meaning of fifty of the French language's most popular food-related expressions.
Accompanied by beautiful watercolor illustrations by artist Mélina Josserand, Edible French explores whimsical turns of phrase such as:
Tomber dans les pommes (falling into the apples) = fainting
Se faire rouler dans la farine (being rolled in flour) = being fooled
Avoir un cœur d'artichaut (having the heart of an artichoke) = falling in love easily
A treat of a read for Francophiles and food lovers alike, Edible French is the tastiest way to explore French culture—one that will leave you in high spirits—or, as the French say, vous donnera la pêche (give you the peach).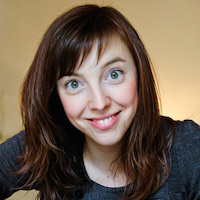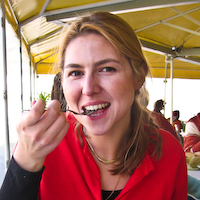 Clotilde Dusoulier is the 30-something Parisienne behind the award-winning food blog Chocolate & Zucchini, in which she shares her passion for all things edible. Her focus is on fresh, colourful, and seasonal foods, making room for both wholesome, nourishing dishes and sweet treats.
An enthusiastic explorer of flavors and acute observer of culinary trends, she contributes to food and travel magazines internationally. She is also the author of four books, including the recent book of French vegetarian recipes The French Market Cookbook. She lives in Montmartre with her boyfriend and their young son.
Mélina Josserand is a mother of four, a full-time lawyer, and a watercolor artist. Born and raised in France in the back of an antiques gallery, she now lives and works in London.
To see more of her work and inquire about prints and commissions, please visit her gallery.