I discovered chokladbollar, or Swedish chocolate balls, during my blissful trip to Stockholm last month.
The city is peppered with cosy coffee shops that sell coffee, yes, but also pretty little sandwiches, and the kind of wholesome home-style sweets that go so well with a steaming cup of something.
And though each place had a selection all its own, I soon identified a few classics you could count on finding pretty much everywhere: kardemummabullar, the Swedish cardamom rolls (also available in a cinnamon version, and sometimes chocolate or blueberry!), and chokladbollar, ping-pong-sized chocolate balls coated in grated coconut.
What makes chokladbollar especially seductive, beyond the simple presence of, you know, chocolate and coconut, is that they're made with ground oats. This gives them a lightly nubby texture, and infinitely pleasing nutiness.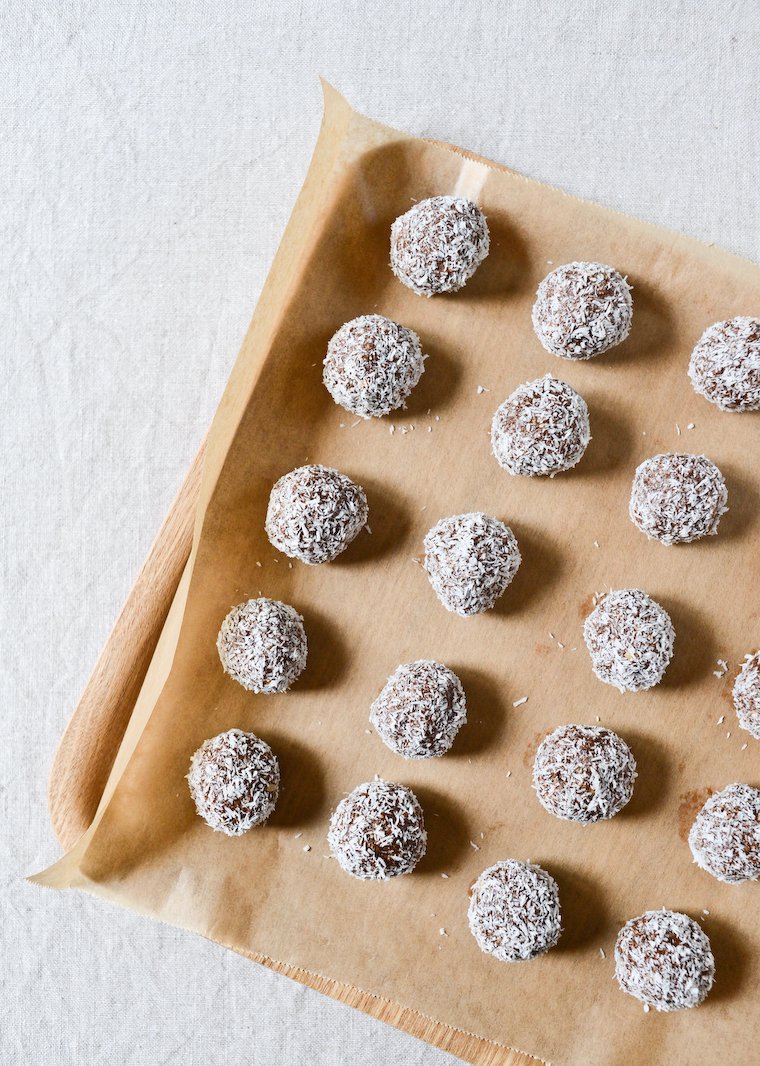 It was love at first bite in a herregud* kind of way. I ate my fill while in Stockholm, and couldn't get them out of my head once home in Paris. I researched the recipes available out there, created a comparison spreadsheet (yes, I am that kind of person), and found that most of them called for impressive amounts of sugar and butter.
And so, I set out to create a version of my own using coconut oil more moderately instead (nothing against butter, you can use that instead if not vegan), and just the right dose of sugar to round out the other flavors.
Hey, want to see a video?
I hesitate to call them good for you but this version is as close as chokladbollar will get, and they won't leave you feeling icky like a ball of sugared butter might.
These no-bake treats are quick and easy to make using a blender, and if you have kids to occupy, definitely get them involved in the rolling. (Read more about my beloved blender in my review of the Optimum 9400 by Froothie. Promo code included!)
If you're planning to make food gifts this year, or need something lovely and unusual to greet your out-of-town relatives with, or bring to a holiday party, this is a guaranteed success. I've already given some away as hostess gifts in pretty beribboned sachets, and they were a hit.
PS: 12 Best Food Gifts for the holidays, my recipe for Vegan Hot Chocolate, and my epic Stockholm mini-guide.
* That's OMG in Swedish. I've yet to learn WTF, but I want to.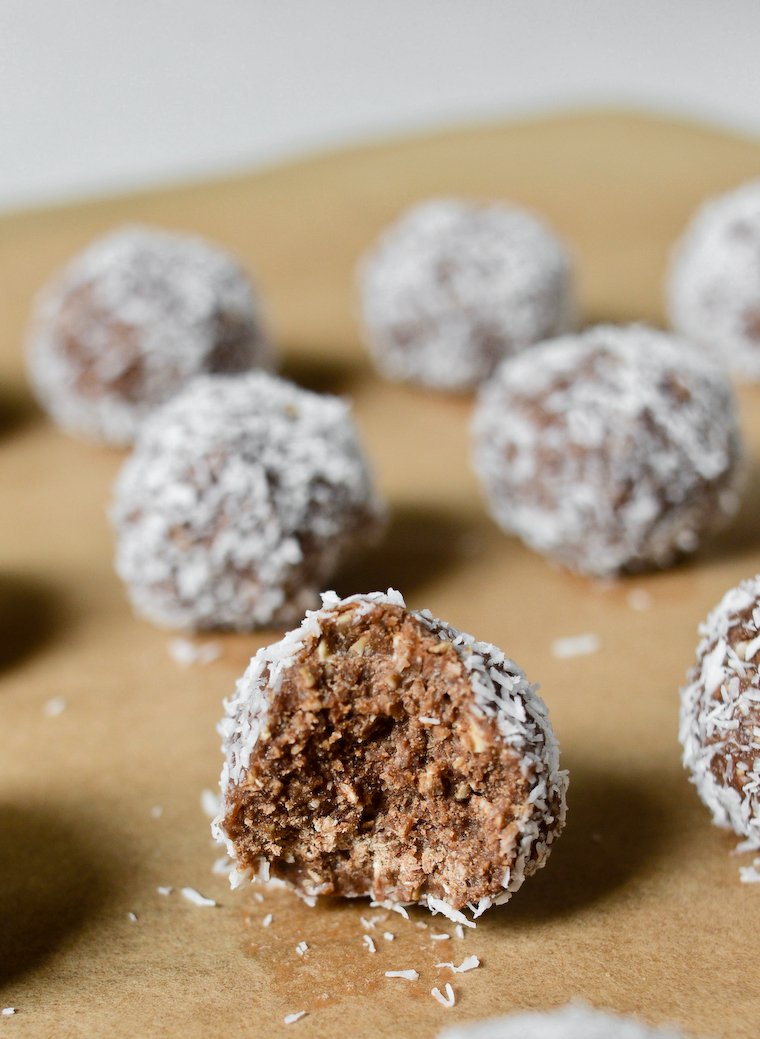 Have you tried this? Share your pics on Instagram!
Please tag your pictures with #cnzrecipes. I'll share my favorites!
Swedish Chocolate Balls (Chokladbollar) No-Bake, Vegan Recipe
Ingredients
200 grams (2 cups) quick-cooking oats (certified gluten-free as needed)
100 grams (1/2 cup) muscovado sugar or other unrefined cane sugar
3 tablespoons unsweetened cocoa powder
1/4 teaspoon fine sea salt
130 grams (2/3 cup) coconut oil, softened (substitute the same weight in unsalted butter, softened)
2 tablespoons strong coffee, cooled (substitute non-dairy milk or water if avoiding caffeine)
35 grams (1/3 cup) unsweetened grated coconut, for coating
Instructions
In a blender or food processor, combine the oats, sugar, cocoa powder, and salt. Process in a few short pulses to grind the oats to a fine powder.
Tip into a large mixing bowl. Add the coconut oil and coffee, and mix, first with a dough whisk or spatula, then with your hands, until a dough forms. It should be slightly sticky.
Scoop out rounded tablespoons of the dough and roll into balls. Set aside as you go.
In a shallow soup plate, put the grated coconut. Roll the balls in the coconut to coat.
Refrigerate for at least 1 hour. I like them best brought slightly back to room temperature before eating.
The chocolate balls will keep for a couple of weeks, refrigerated in an airtight container.
https://cnz.to/recipes/cookies-small-cakes/vegan-swedish-chocolate-balls-chokladbollar-recipe/
Unless otherwise noted, all recipes are copyright Clotilde Dusoulier.