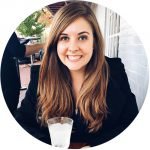 This is a guest post by Anne Elder, my friend and former assistant, who has lived in Paris long enough to know the city like the back of her hand.
Anne is the writer behind Hardly Snarky, where she shares her stories of delicious adventures. She learned how to cook in the tiniest kitchens of France and how to taste cheese in the Jura mountains.
She now lives in New York, where she works as a freelance writer and social media consultant. She still has a tiny kitchen. Follow her on Instagram!
As Paris becomes easier to reach via layover en route to so many European cities, I've had several friends come to me overwhelmed by the many ways to spend their precious few hours in the City of Light.
This 24-hour guide, adapted from the many personalized schedules I've crafted for friends, combines must-see tourist sites with the charming streets Paris is known for, as well as some stellar views of the city.
Bring your prettiest walking shoes, and make sure to stop at the closest boulangerie for a nice fresh croissant before you begin, like a true Parisian.
Allez, c'est parti!

Morning: Start the day at Notre-Dame (and climb to the top!)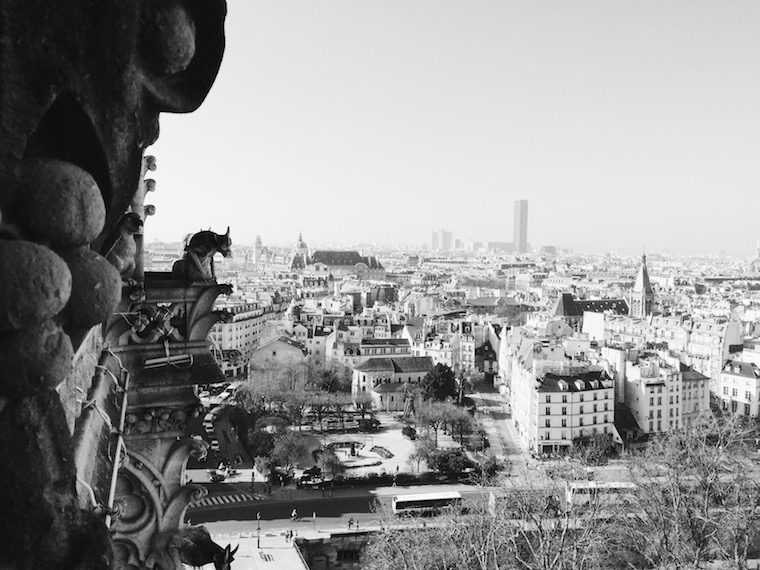 Notre-Dame is one landmark of Paris that I never tire of — the Gothic architecture and flying buttresses send me back to my short-lived art history classes in high school, and the stained glass windows leave me feeling so creatively inspired.
The Notre-Dame façade can be admired from the charming streets of Saint-Michel and the quais of the Seine. The garden behind it is perfect for strolling through on a spring day as the flowers bloom. But my favorite way of visiting Notre-Dame is to get up close and personal with the cathedral's famed gargoyles by climbing all the way to the top.
The best views are worth climbing for, even if it means walking up a narrow, spiral staircase that was actually designed to prevent people from climbing quickly. I think I've climbed up all of the monuments the city of Paris will let you, and Notre-Dame is my favorite by far. It offers a stunning panoramic view of the city that helps new visitors situate themselves.
Pro Tip: Get there early and walk through the cathedral (it opens at 7:45 a.m.) before getting your spot in line for the gargoyle tour (you'll want to be in that line about 20 minutes before they open, perhaps earlier during busy season). By the time you've climbed down the tower, the security lines to get back into the cathedral will be much longer, and you will be too hungry to wait.
Midday: Walk through the Marais and taste the city's famous falafel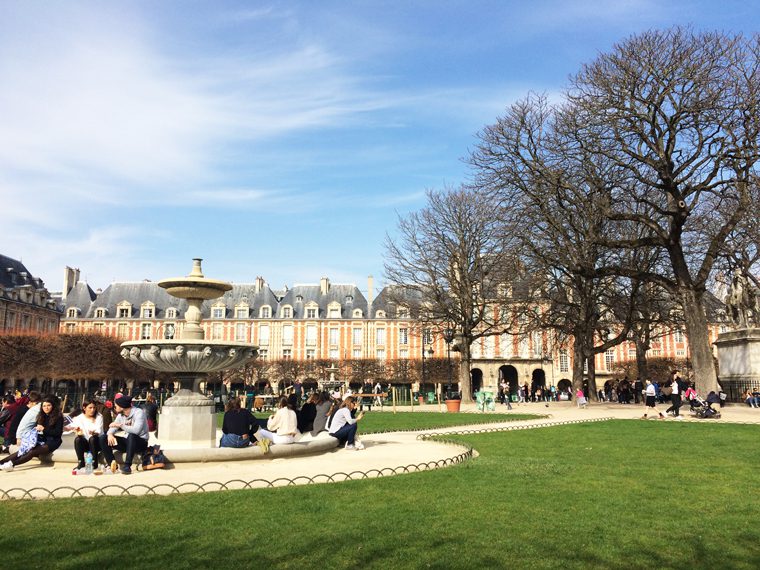 From Notre-Dame, walk behind the cathedral across the Pont Saint-Louis onto the Île Saint-Louis, and walk around the charming streets of the oldest part of town. Then cross the Seine again at Pont Louis-Philippe. Keep going — you're almost there! — through the cobblestoned rue des Barres before finally entering Paris' historic Jewish neighborhood on rue Vieille-du-Temple.
The Marais is my favorite neighborhood in Paris to introduce newcomers to. The neighborhood is rich with history, as evidenced by the timber framing on houses near Saint-Paul and the fading painted signs above boulangeries-turned-luxury shops. The neighborhood has become a blend of cultures, encompassing Jewish, Lebanese, LGBT, and fashion communities all within a few blocks. Lots of culture to experience, feisty street art, and plenty of delicious food options.
A quick right turn off rue Vieille-du-Temple and onto rue des Rosiers leads you down the historic pedestrian street, past kosher bakeries (the streudel! the challah!) and upscale fashion stores. At the cross street with rue des Ecouffes, you'll find yourself surrounded by some of Paris' best lunch options.
On your left, the best falafel sandwich in Paris at L'As du Falafel; slightly to your right, the best pastrami at Florence Kahn; and at its neighbor on rue des Ecouffes, the best handmade pita sandwiches at Miznon, a Paris outpost to the famed Israeli restaurant. Grab your lunch to go (à emporter, s'il vous plaît) and walk down to the picturesque Place des Vosges for a picnic, surrounded by beautiful French buildings, one of which Victor Hugo once called home.
Afternoon: Louvre or Musée d'Orsay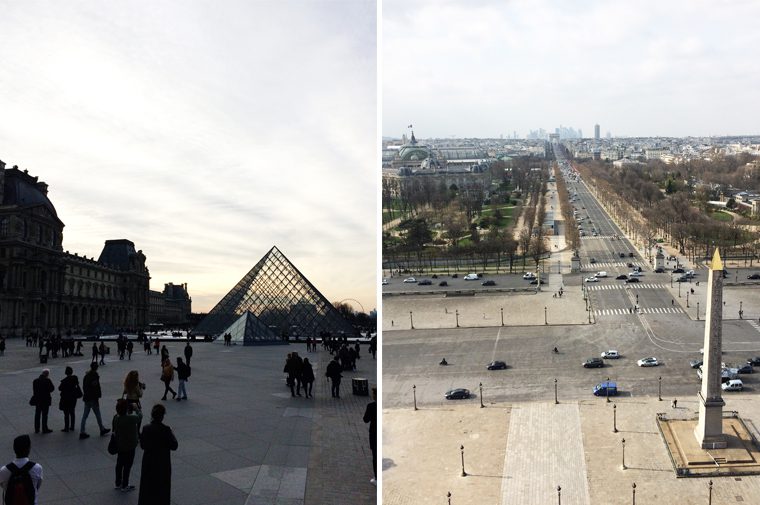 Note: The Louvre and Musée d'Orsay are easily accessible from the Marais by taking the metro from Saint-Paul.
Museums are often the question that divides those-who-have-visited-Paris and those-who-have-not. If you have only a day in Paris, the Louvre will eat up a lot of it, especially if you are caught in a long line to get in (advance tickets allow you to skip the line).
I often recommend that friends on a quick trip choose between the Louvre and the impressionist haven Musée d'Orsay just across the river, and -— especially for the Louvre -— I urge them to map out what you want to see beforehand. The Louvre has a great app that makes this easier. Though strolling leisurely through museums is much more my style, doing so at the Louvre can be overwhelming, particularly at the peak of tourist season.
Pro Tip: If you have time post-museum, walk through the Jardin des Tuileries and take a rest on La Grande Roue (ferris wheel) at Place de la Concorde. The lines are often short and it is the most relaxing way I've found to soak in the city. (I also recommend bringing a Paris-themed playlist like this one to set the mood!)
Late afternoon: Sacré-Cœur and Montmartre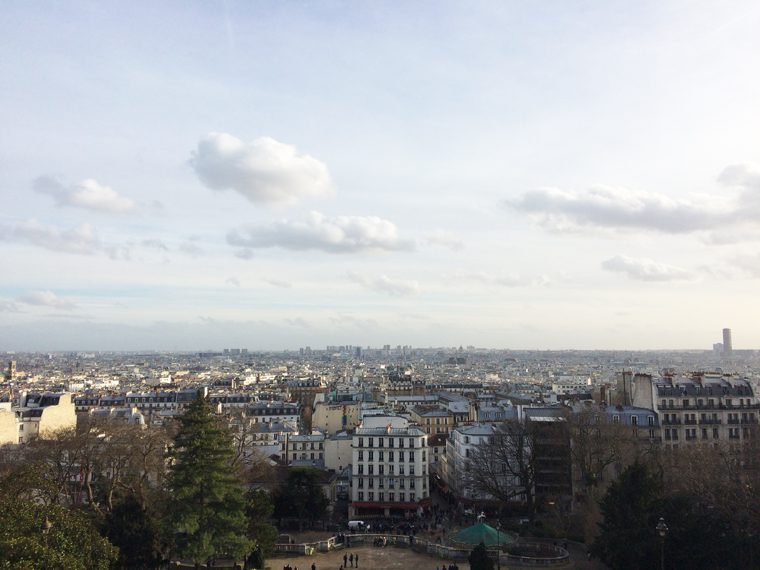 Hop onto the métro at Concorde and head straight for Abbesses, in the neighborhood of Montmartre. With its idyllic cobblestoned alleys and charming market streets, there is always something new to discover (like, ahem, the best baguette in Paris) in this historic and artistic neighborhood.
I love taking visitors up to the Sacré-Cœur basilica and looking out over the city, especially at sunset, before looping behind the church to watch artists paint at Place du Tertre. A walk through Montmartre and down the hill along rue Lepic leads to Boulevard de Clichy, where everyone's favorite cabaret windmill, the Moulin Rouge, awaits.
Pro Tip: If you want to spend even more time in Montmartre and taste all of the treats it offers, Clotilde offers an excellent private walking tour of her neighborhood! Contact her and tell her I sent you. ;)
Evening: Trocadero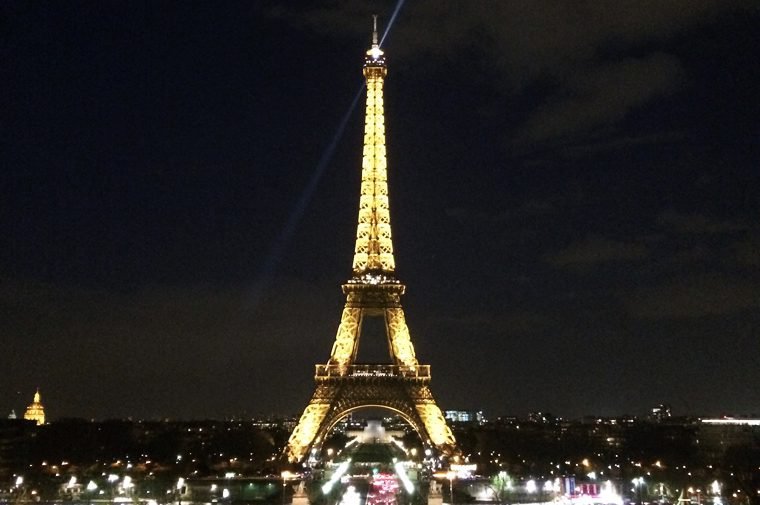 No one-day stay in Paris would be complete without visiting La Tour Eiffel. Though you sensed her presence in the distance from Notre-Dame, La Grande Roue, and behind some un-strategically placed trees near Sacré-Cœur, standing on the Trocadero platform gives an breath-taking view of the tower and makes you realize just how BIG it is.
Pro Tip: If at all possible — this is difficult in the summer months when the sun refuses to set — try to time your arrival at the top of the hour (say, 7 p.m. or 8 p.m.) after sunset, when the tower sparkles for five minutes.
Later in the evening: Drinks and dinner on the Right Bank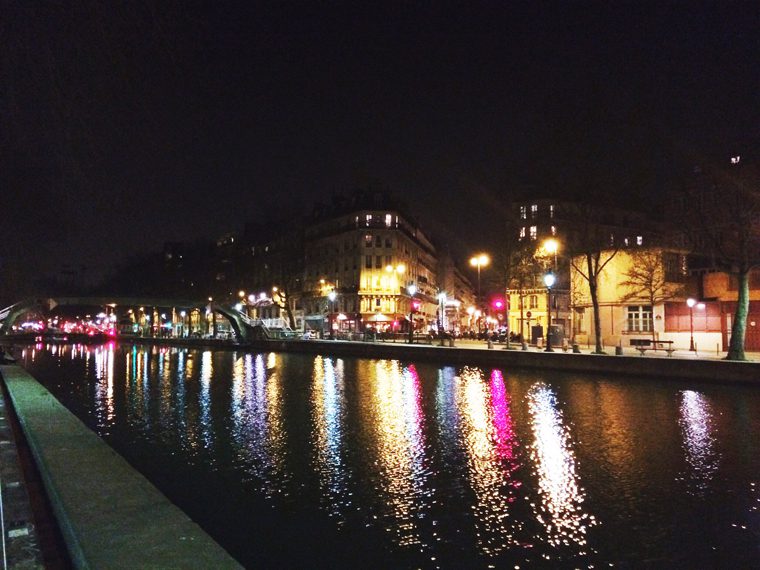 Paris' Right Bank is bursting with innovative wine bars and restaurants that are redefining the city's cuisine.
End your day with wine and dinner at one of these contemporary spots — my favorites are Au Passage and Comestibles et Marchand de Vins. If you are feeling flush, plan way ahead and make reservations at the highly acclaimed Septime. Many more recommendations can be found on Clotilde's map of favorites. Whatever your choice, please be sure to make a reservation; you don't want to be turned away hungry on your one night in Paris.
And finally, if you're feeling up for it, walk over to the Canal Saint-Martin for one last romantic glimpse of the city lights as they shimmer on the water.

Et voilà!
In just one day, you'll have conquered many of the wonders Paris has to offer —- just enough to whet your appetite for another, longer visit!
Don't miss:
• Clotilde's 12 Hours in Paris
• Clotilde's Paris Wedding
• 10 Tips for Choosing a Paris Restaurant
All photos in this post by Anne Elder.