If you're a Chocolate & Zucchini reader, there's actually a good chance that you have a blog of your own, or are thinking about starting one.
And whether you're just in this for the fun of it, or have ambitions to turn your talents into an occupation that pays the rent, I'm sure your number one goal is to grow your food blog: blogging is such an all-consuming activity that it's natural to want the greatest number of eyes on the fabulous content you strive to create.
This means working really hard to hone your craft and put out content you're excited to share (if you lie sleepless because you can't wait to hit publish in the morning, you're doing it right) but it also means staying in the game in terms of social media and, for those with professional goals, monetization.
And when it's just you and your computer, these considerations can easily throw you into overwhelm mode. There are dozens of avenues you could explore and research and experiment with, but you only have so much time in your day (or your nights and weekends, if you have a regular job on top of that). These strategies take time to put in place and evaluate, so it can all feel very spin-your-wheels frustrating and discouraging. Analysis paralysis, anyone?
I know. I've been there. Multiple times. Fourteen years of food blogging certainly don't mean I have everything figured out, so I try my best to devote time and resources to the site's growth. And things took a turn for the better two years ago, when I found a resource that's made the process considerably easier, more efficient, and way more fun.
Food Blogger Pro in Review
It's a membership site called Food Blogger Pro run by Lindsay and Bjork Ostrom, the couple behind the crazy successful blog Pinch of Yum. They have always been generous with their advice and (amazingly) transparent about their process, going so far as to publish monthly income reports for others to learn and draw inspiration from.
But Food Blogger Pro takes this coaching to another level, providing members with a wide assortment of video courses that take you through everything from getting your blog set up and building traffic, to improving your food photography and editing your photos, to playing the social media game, generating income, and publishing your own ebooks.
In recent months they've added modules about shooting food videos and editing them, and also podcasting, which, as perhaps you know, is close to my heart.
The videos are beautifully produced, fast-paced so you don't waste any time, and really fun to watch — Lindsay is such a friendly and approachable teacher (she actually taught 4th grade in her former life). They include transcripts as well, if English isn't your first language or you're more of a written text learner.
Food Blogger Pro also offers community forums where you can get together with like-minded bloggers, ask questions, share struggles, and get support. There's monthly live chats with Lindsay and Bjork and their team, a newsletter, a Nutrition Label generator, and even a deals page to get lower rates on recommended tools and plugins.
Why I love it
What's fantastic about Food Blogger Pro is that you feel in really good hands. Because the courses are so comprehensive, you can build up your skills from wherever you currently stand. And in this ever-changing online world, being part of a community such as this one means you benefit from Lindsay and Bjork's advanced research and experiments without doing all the legwork yourself, and you're sure to be in the know when new usages and tools pop up.
Membership to Food Blogger Pro is $29 per month or $279 for a full year (that is the subscription I've been on, now on my third year) with a 60-day money-back guarantee.
I realize this is an investment, and I have personally felt like it's been plenty worth my money. If you're not sure this is right for you, I recommend you listen to the fantastic (and free) Food Blogger Pro Podcast, of which every single episode has taught me something valuable. This will give you a sense of the tone and mindset of the site, to see if you would get value out of it.
Enrollment to Food Blogger Pro is open just a couple of times a year.
If you read this post past the enrolment period, you can sign up to be added to the waiting list: you'll be notified before anyone else. In the meantime, you can also download these helpful ebooks for free: 10 Mistakes that Bloggers Make and 7 Essential Tools You Need to Shoot Your Own Recipe Videos.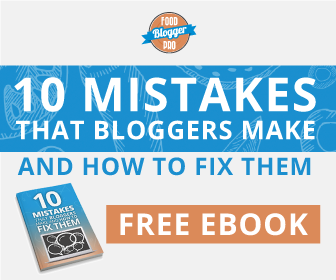 Tell me what you think!
Are you an aspiring pro blogger? Do you feel you would benefit from a resource like this one? What other resources have you been using to develop your skill set? And if you have questions about my own experience with Food Blogger Pro, I'm more than happy to share.
This page contains affiliate links, which means I receive a commission — at no extra cost to you — if you decide to sign up for Food Blogger Pro. All opinions are my own.