I've been having so much fun with Snapchat and Facebook Live that I wanted to report back on my experience. If you're a food blogger too, this should help you decide whether these new platforms are for you; and if you're a reader of food blogs, you'll learn what's in it for you!
Wait, what's Snapchat?
Snapchat is a smartphone application* that was originally used by teens to exchange photos, short videos, and text messages that disappeared as soon as the recipient had viewed them.
The app has gradually gained features, and as it did, attracted a wider following with more grownups. The most significant change is the possibility of adding your photos and videos to your public "story", which lives for just 24 hours before disappearing. Any snapchatters who adds you (I'm clotildenet!) can then view your daily story, get a feel for what you've been up to, and send a quick comment if they want to.
The general aesthetic of Snapchat is very unpolished, and the tone is light and fun. On your images and videos you can add text captions, emoticons, and very basic drawings made with the fat tip of your finger on your tiny screen. The idea is not to worry about lighting and the perfect frame, nor is it to labor for hours over prettification and curation. The idea is to just shoot and share, shoot and share, knowing it will live for just 24 hours** so if you're not 100% happy with what you put out, well, tomorrow's another day.
The result is a marvelously refreshing social media platform that is undemanding and unthreatening, through which to share daily nothings and just be yourself. (I enjoyed this related article.)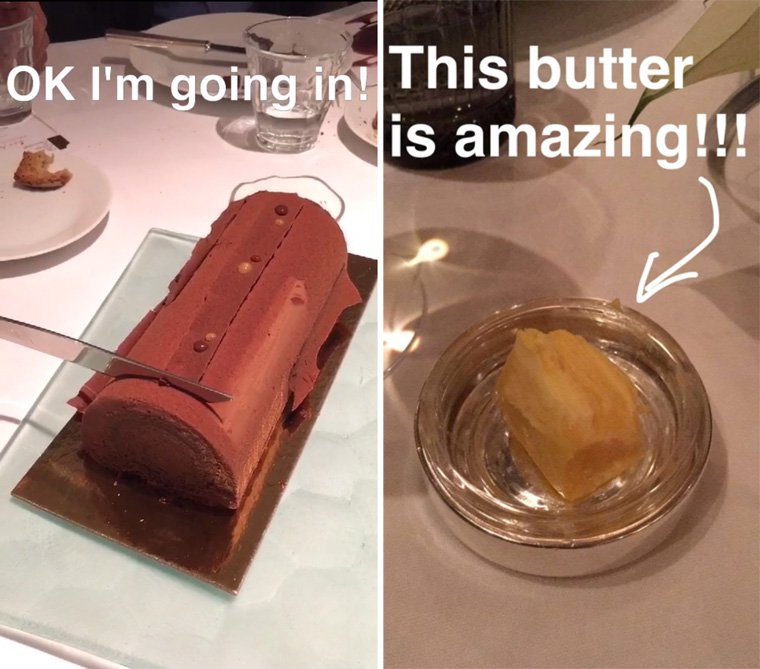 And, um, what's Facebook Live?
Facebook Live is a feature that was recently added to the Facebook smartphone app***, allowing you to broadcast a live video straight to your Facebook page or personal account. People who follow you are notified and can watch you live, or they can watch the replay that's posted to your page after the live session is over. During the live stream they can post comments, which you'll see on your phone screen so you can interact. Those comments are displayed below the replay video, where you can continue to interact with viewers, and add any "show notes" you have about the session.
What you choose to share during those live sessions is really up to you: so far I've been doing mostly simple chats where it's just me talking about a particular subject, but others might film themselves in the kitchen, or when they're out and about. I am dying to take you on walks around Paris, but the data connection could be a concern, so I'll need to do some testing.
Periscope is based on the same idea, and some have great success with it, but Facebook Live works better for me in several ways: 1- You're finding your followers where they already are, rather than asking them to install a new application to their phone, 2- The video is saved to your Facebook page where it can easily be found (no third-party hack), 3- The comments are also saved, so you can respond after the fact if you've missed one, follow up, etc. 4- Thanks to Facebook's real-name policy, trolling and unsavory comments aren't an issue.
Here are some best practices for getting started with Facebook live.
Got it. And why should food bloggers get on board?
I can hear you groaning from here — "Oh no, not another social media platform! I'm already on overwhelm!" — but hear me out. I'm certainly not saying that Snapchat or Facebook Live are a must-join for anyone, but here are five wonderful benefits I've been seeing through my personal use of these platforms: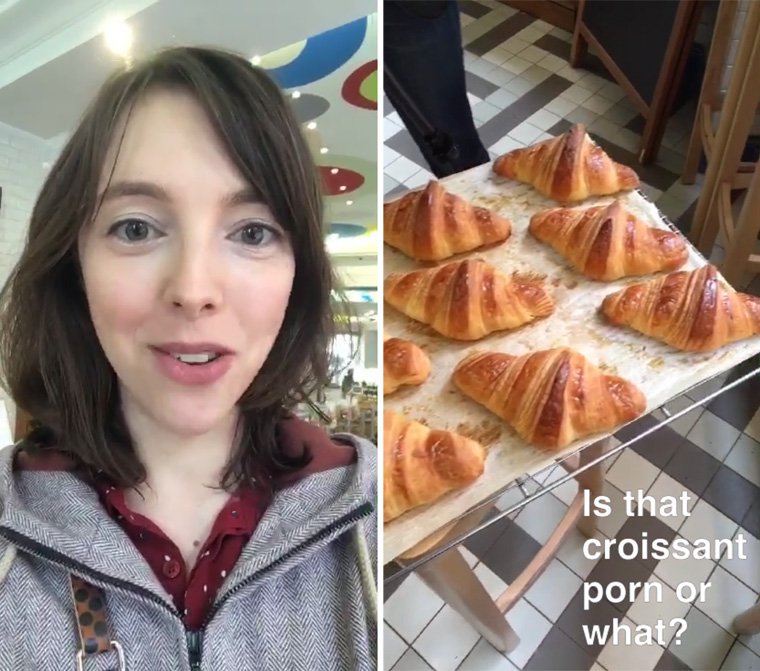 Engage more

This is what I like best about these platforms: because they're candid and instantaneous, they're a great place to give your readers glimpses into your life and show sides of you that don't ordinarily come through in your posts. These quirks or side interests make you more three-dimensional and even more relatable.

Snapchat is also a fine way to reach a younger audience. Because it was historically a teen-dominated app, the age of the average user is much lower than, say, on Facebook or Twitter. I can't promise joining will be a fountain of youth, but it's always a positive thing to keep abreast of what the younger generation is into: it keeps you on your toes, and helps you stay relevant as the Internet changes so very rapidly.

Try your hand at video

By now you've likely heard how important video content is, and how much more important it's going to become over the next few years. Maybe you already have a video strategy in place, but if you don't have the budget or the inclination to go full force in that direction, platforms like Snapchat and Facebook Live allow you to have a video presence very simply, with no investment aside from your phone and your time.

People expect unstaged content, so there's really no reason to feel embarrased that the lighting isn't perfect, and you're just in your own apartment, not a studio kitchen. And if you're hesitant about appearing on screen (so much more comfortable to write in your PJ's and unkempt pony tail!), dipping your toes in with these low-pressure formats can help you get used to the experience, and perhaps even fall in love with it.

Play with different material

When you write a food blog, there's a lot of material that you're excited about but doesn't make the cut — a good recipe that's too similar to something you've already posted, a quick tip, a cool find at the store — and these platforms are perfect, informal places to give them the spotlight. It's also a chance to show behind-the-scenes stuff — a dish you've been shooting, the first cherries you spot at the market, the state of your desk after a brainstorming session — to get your audience excited for what's to come and gauge their interest.

Leverage your location

If you don't habitually include pictures of your surroundings in your blog because your focus is on the food, then this is your chance to share fun or interesting details about where you live (keeping your privacy in mind always). For instance, because I live in Paris and it's a city I dearly love, I enjoy sharing snaps of Place de la Concorde or the view from the Sacré-Coeur, and give my followers a daily dose of Paris. And of course, it's a golden way to document any trip you're taking, whether it's to your friend's country house or to Thailand.

Have fun!

As food bloggers our collective passion is sharing, and these platforms make it extraordinarily simple to do so: just snap and share, or just start a live session and chat away. And because those platforms are still so new, everything remains to be invented, and it's up to early adopters to do so. We get to try things, see what works and what doesn't, what we like or don't like, and have fun every step of the way. No pressure, no popularity contests (at this point, Snapchat doesn't even display how many friends you or other people have), just fun experimentation.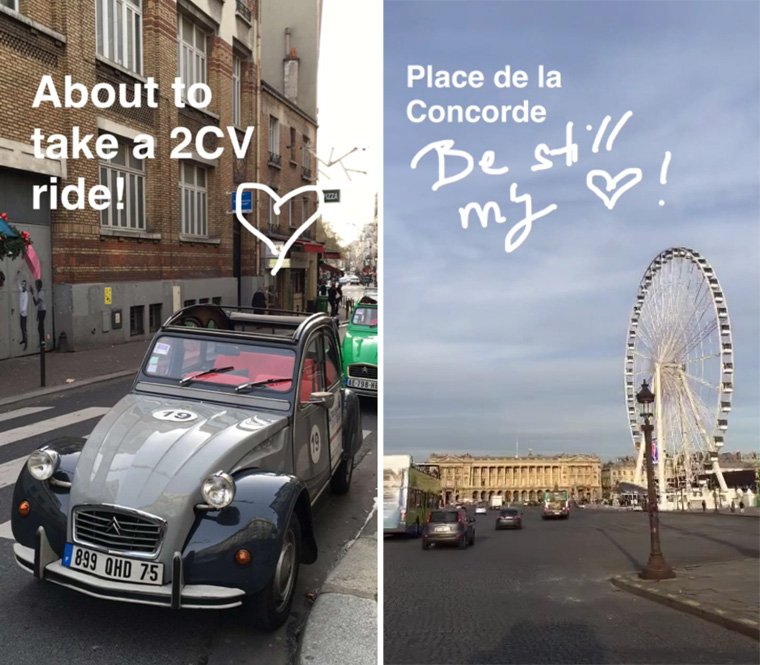 How to follow me on Snapchat
Download the Snapchat app to your iOS or Android phone, then choose "Add friends", "Add by username", and type my profile name clotildenet. If you're on your phone right now, this profile link will allow you to follow me in a single click.
How to follow me on Facebook Live
Start by liking the Chocolate & Zucchini Facebook page. You'll find my latest Facebook Live session pinned to the top of the page. In the upper right-hand corner of the video, you'll see a "Live Subscribe" button: click to be notified of future sessions!
Join the conversation!
Are you on Snapchat? If so, share your username and your experience! Have you dabbled in live video streaming? What platform have you tried, and how did it go?
* iOS and Android only for now, sadly.
** You can save your own story to your phone if you want to.
*** iOS only for now, Android soon, and the list will probably end there.