You can divide the French population in two camps: those who go on vacation in July, and those who skip town in August.
My own family was unequivocally juillettiste (August vacationers are called aoûtiens) so Bastille Day found us in the French Alps every year, crossing our fingers that the summer thunderstorms wouldn't rain on our parade, quite literally.
These are the sweetest of childhood memories, the years blurring together into a single evening: the walk through the village carrying candle-lit lanterns, the fireworks, the stars in our young eyes, and the soft, unique feeling of being scooped up from the car fast asleep and carried into bed late at night.
As I became an adult, I soon lost the habit of celebrating le quatorze juillet: crowds make me anxious, and after a failed attempt to watch the Eiffel Tower fireworks from the heights of Montmartre (surprise, surprise, others had had the same idea), I pretty much gave up.
But now that I have kids, it's different; now is the time their own childhood memories are formed (no pressure, right?). And as it turns out, my American friend and fab Pilates instructor* Emily recently moved into an apartment with a breathtaking view of the Eiffel Tower, and she threw a small party for some friends and their children to enjoy the fireworks**.
Dinner was assembled potluck-style, and the theme was "Typically French".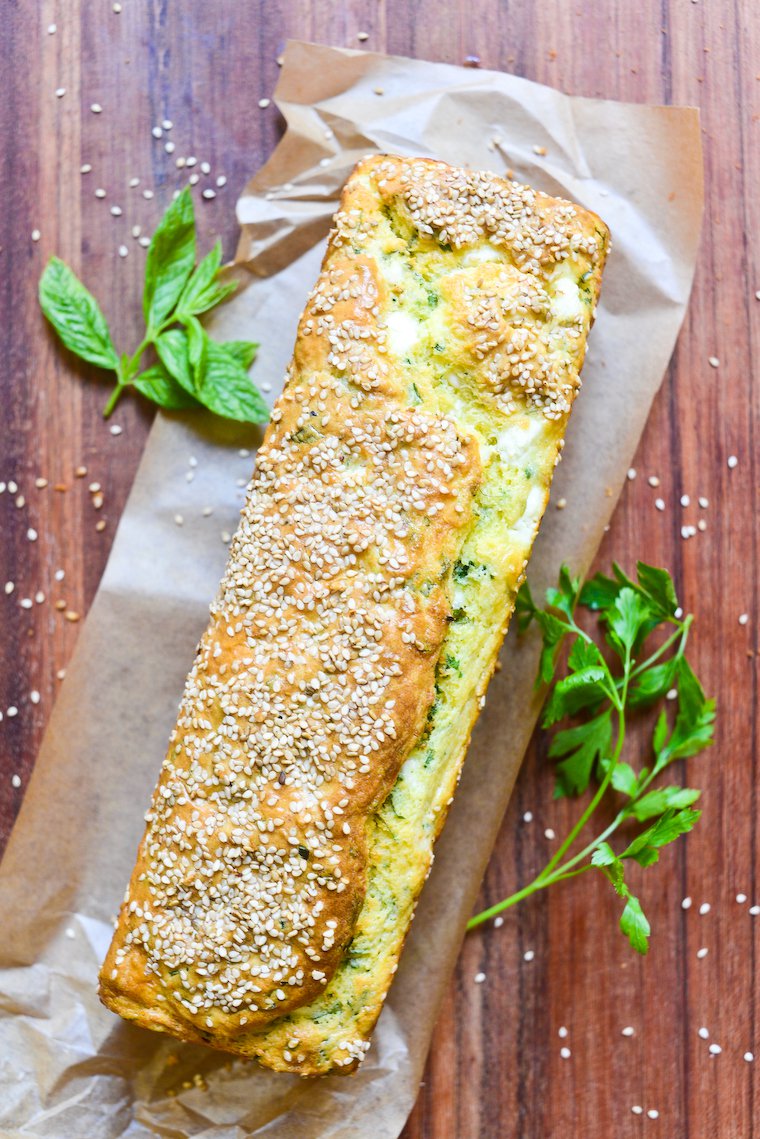 I took me all of three seconds to decide what I was going to bring: nothing could be more quintessentially French than a cake salé — a quick bread. Cut into slices or cubes, they are a national fixture of our buffets, picnics, and other apéro spreads.
Now, I must make a confession: I often find other people's too dry (sorry!), and have worked hard to perfect my own recipe to reach the Holy Grail of quick breads, one with a finely crisp crust and a fresh, moist texture that begs for another slice (and another).
(This is one of the cult recipes I included in Chocolate & Zucchini, my first cookbook, which I just released digitally in its French edition. If you read French, download Chocolate & Zucchini : Le Livre today to inspire your summer cooking!)
This quick bread formula can be used for endless combinations of ingredients, but the version I have adopted with great success since the beginning of summer — for this Bastille Day buffet, for the year-end party at my youngest's daycare, and my eldest's school fair — is garnished with feta cheese (the real kind, from Greece and made with sheep's milk) and mixed fresh herbs.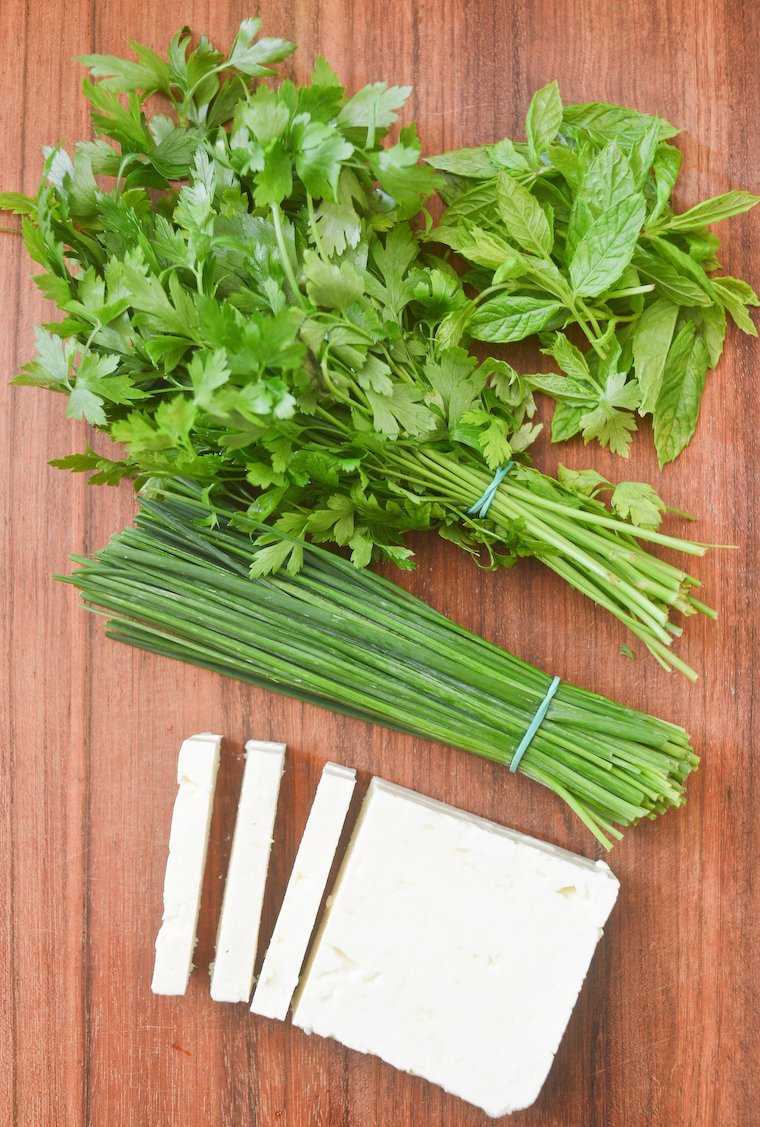 My feta and fresh herb quick bread joined the others' contributions on the coffee table in Emily and Bruno's living room (from which small hands quickly grabbed breadsticks and filched saucisson slices) and soon enough, only crumbs remained.
This is a must-have recipe for your repertoire, and I recommend you take the basic formula and run with it, garnishing with your own flavor pairings. What will you dream up?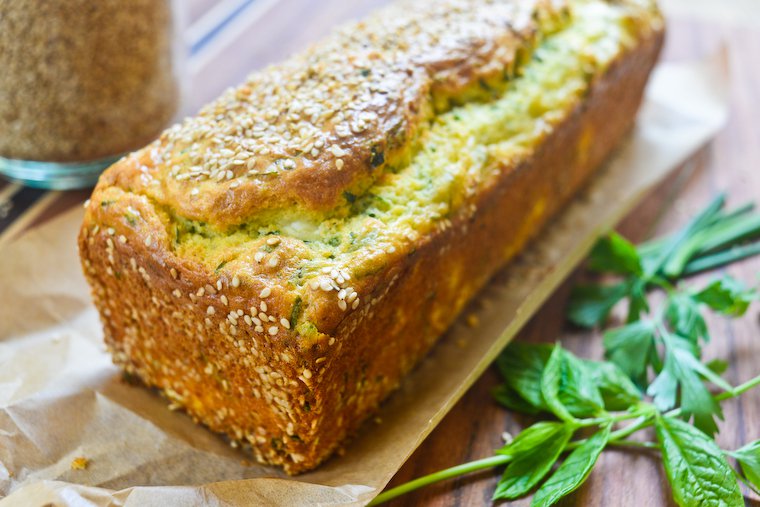 * Every summer, Emily offers a Pilates challenge, a short series of moves to do every day at home, on vacation, anywhere, to feel good and energized! All the details are here. Join us, will you?
** Obviously, the taste of that evening changed dramatically in the morning when we learned about the horrifying events that had taken place simultaneously in Nice. My thoughts and solidarity go to those who have been affected by this, or any act of terrorism throughout the world.

Have you tried this? Share your pics on Instagram!
Please tag your pictures with #cnzrecipes. I'll share my favorites!
Feta and Fresh Herb Quick Bread Recipe
Ingredients
A pat of unsalted butter
2 tablespoons sesame seeds
150 grams (1 1/4 cups) all-purpose flour
1 tablespoon baking powder
3 large organic eggs
60 ml (1/4 cup) olive oil
150 grams (1/2 cup plus 2 tablespoons) plain unsweetened yogurt
1/2 teaspoon fine sea salt
1/2 teaspoon freshly ground pepper
200 grams (7 ounces) sheep's milk feta cheese (substitute goat cheese)
1 bunch fresh herb leaves (flat-leaf parsley, basil, chervil, chives, mint, preferably a mix), about 20 grams or 1 cup loosely packed, roughly chopped
Instructions
Preheat the oven to 175°C (350°F).
Butter a 24-by-12-cm (9-by-5-inch) loaf pan and sprinkle half the sesame seeds onto the bottom and sides, shaking the pan to coat.

Combine the flour and baking powder in a bowl.
In a medium mixing bowl, whisk together the eggs, oil, yogurt, salt, and pepper. Stir in the cheese and herbs.

Fold the flour mixture into the egg mixture. Don't overmix the batter, it's okay if a few lumps remain.

Pour the batter into the prepared pan, level the surface with a spatula, and sprinkle with the remaining sesame seeds.

Put into the oven to bake for 40 to 50 minutes, until the loaf is golden and a knife inserted in the center comes out clean.
Allow to cool for a few minutes and run a knife around the pan to loosen. Unmold and transfer to a rack to cool.
Cut in slices or cubes just before serving, slightly warm or at room temperature.
Notes
The bread can be made a day ahead. Wrap tightly and keep in the fridge.
I like to prepare it halfway the day before: I measure and mix the dry ingredients in one bowl, and the wet ingredients in another, which I cover and refrigerate. The next day, all that's left to do is combine the two and bake.
The recipe calls for a 5 x 9 inch loaf pan as this is the US standard and I don't want people to go out and buy a different size pan just for this recipe. However, in the photos I used a pan that is the French standard and it indeed longer in shape. It is 10 by 30 cm, which is about 4 x 12 inch.
https://cnz.to/recipes/appetizers/feta-fresh-herb-quick-bread-recipe/
Unless otherwise noted, all recipes are copyright Clotilde Dusoulier.