When I lived in California, Saturday mornings saw me driving to the farmers market as bright and early as I possibly could, to get my fill of gorgeous produce and crisp morning air.
I would stroll around from favorite stall to favorite stall, including the cornucopian mushroom stand we still talk about with stars in our eyes. And when I was done with my "need" purchases — you know, grownup stuff like fruits and vegetables and bread and eggs — I would start weighing my "want" options.
The market treat that most frequently got my vote came from the little Russian pastry table that stood in one corner of the market. The woman there sold a marvellous poppy seed pastry that was all dark swirls and golden, sticky crests. Back home, I would slice it thinly and eat it with tea, checking my teeth for stray poppy seeds when I was done.
Despite moving home to Paris, I never could get that pastry out of my head. Alas, I did not know the name for it — it was always a point-and-smile kind of transaction — and my research led me nowhere. It was not a rugelach, it was not a kolache, it was not a makovník… but what was it?
And then, our blessed Internet did its magic. Through its grapevine and Pinterest (follow me there!) I learned of something that was gaining incredible popularity: the chocolate babka or krantz cake, a yeasted cake of Eastern European Jewish origin that is rolled up and twisted to form multiple layers of attraction.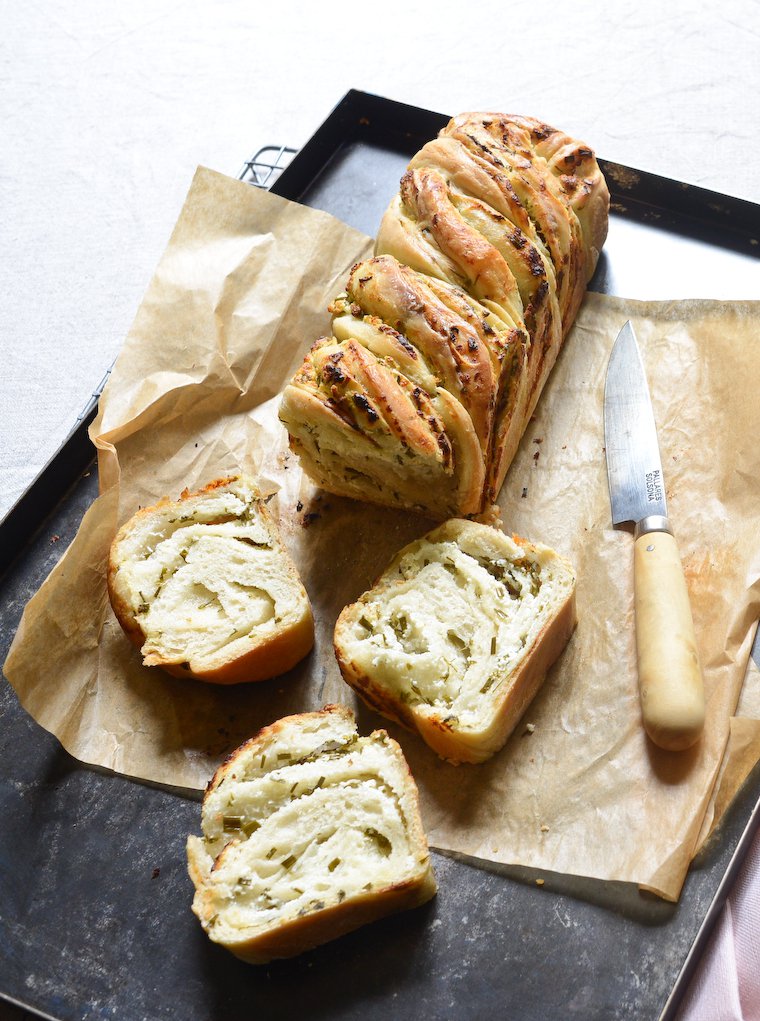 The chocolate babkas I saw looked eerily familiar. Wait. What if…?
What if you replaced the chocolate filling with a poppyseed filling? Wouldn't it then be my long-lost delicacy? And indeed it was! The poppy seed babka is definitely a thing too — one that predates the chocolate babka by a few generations, since Ashkenazi Jews were more likely to use fruit jams, nuts, and seeds in theirs.
Now. Because my baker's mind works in mysterious ways, I haven't (yet!) attempted to bake the poppy seed babka of my California days. What I have done, however, is create a savory babka that is an Eastern European cousin of my über popular feta and fresh herb quick bread. (Seriously, that recipe took off like I never imagined it would!).
I garnish my savory babka with goat cheese and mixed herbs, and twist it into a braid for an extra wowing presentation. It's fun and easy to make — I've included step-by-step pictures for you — and the resulting loaf looks dashing.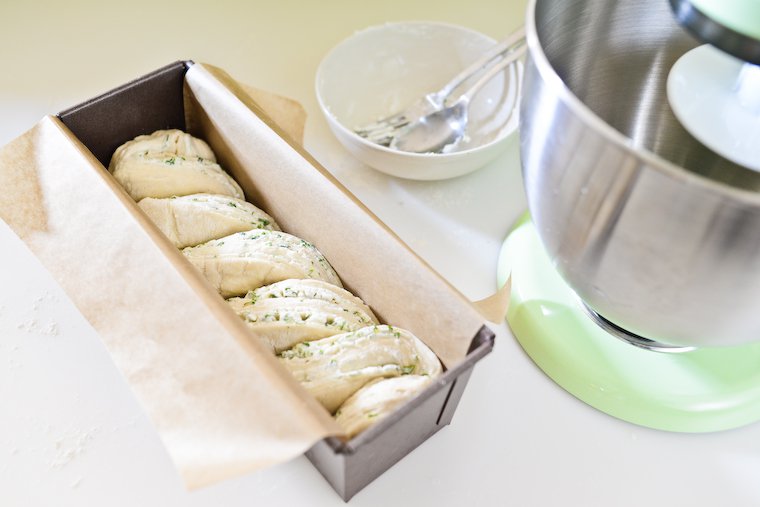 In the spirit of that famed quick bread, I cut the savory babka in thick slices, moist and flavorsome enough to devour on their own, the fluffy insides contrasting with the crisp crust. It's also the perfect bread to serve with a salad or a soup, to mop up whatever needs mopping up in your plate or bowl.
I originally developed the recipe last summer (hence the tomatoes in the photo above!) as part of a collaboration with KitchenAid*. I wanted to share it with you now because it's a festive, elegant offering that will easily find its place on your holiday table, whether you're hosting or contributing a dish to the spread.
Share your best babka stories!
Have you ever had or made babka of any kind? Perhaps you grew up eating your dear old Nana's? (I've always wanted a Jewish grandmother all my own.) How about a savory babka — have you ever seen anything like it? Will you work it into your holiday menus this year?
PS: This feta and fresh herb quick bread, this flourless poppy seed cake, and these goat cheese truffles.
PPS: Follow my babka board on Pinterest !
* This post, however, is not sponsored.

Have you tried this? Share your pics on Instagram!
Please tag your pictures with #cnzrecipes. I'll share my favorites!
Goat Cheese and Herb Babka Recipe
Ingredients
1 teaspoon instant yeast
160 ml (1/2 cup plus 2 tablespoons) water, at body temperature (if you dip your finger in, you shouldn't feel a temperature difference)
260 grams (2 cups) all-purpose flour
1/2 teaspoon fine sea salt
2 tablespoons olive oil, plus more for brushing
200 grams (7 ounces) fresh goat cheese
20 grams (1 cup, loosely packed) mixed fresh herbs (such as flat-leaf parsley, chervil, basil, mint, chives...), roughly chopped
Instructions
In a bowl, combine the yeast with the water and stir to dissolve. Allow to stand for 10 minutes, until a thin foamy layer forms at the surface. If it doesn't, start again with a fresh packet of yeast.
Put the flour, salt, and olive oil in the bowl of a stand mixer fitted with the dough hook.
Add in the yeast and water, and knead at medium speed for 5 minutes, until the dough is smooth and elastic, and pulls away from the sides of the bowl. (You can also knead it by hand on the counter for 8 to 10 minutes.)

Cover with a kitchen towel and allow the dough to rise at room temperature for 1 1/2 to 2 hours, until doubled in size.
In a bowl, mash the goat cheese and the herbs together with a fork.
Scrape the dough onto a lightly floured work surface. Stretch it with your hands to form a rough 40-cm (16-inch) square. Spread the goat cheese mixture onto the square, leaving a 5-cm (2-inch) margin on the left-hand side.

Roll up the dough snugly starting from the right-hand side. Place the roll on a cookie sheet or a tray, and place it in the freezer for 10 to 15 minutes to firm up.
Slice the roll in two lengthwise to get two long "ropes".

Pinch the ropes together on one end, then braid the two ropes together, keeping their cut sides up.

Transfer the braided dough to a loaf pan lined with parchment paper. Allow to rest at room temperature for 30 minutes.

Preheat the oven to 200°C (400°F). Bake the babka for 35 to 40 minutes, until risen and golden brown.
Lift from the pan and place on a rack to cool. Brush the top with olive oil for shine and serve, slightly warm or at room temperature.
https://cnz.to/recipes/bread-brioche/cheese-herb-babka-recipe/
Unless otherwise noted, all recipes are copyright Clotilde Dusoulier.