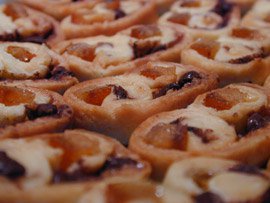 [Chocolate and Orange Palm Leaf Cookies]
If you browse through the row of cookbooks lined up on top of our fridge, you might notice one, called "Moi, je cuisine solo ou duo" by Brigitte Namour. The title roughly means "I cook for one or two", and this book is filled to the brim with quick and ingenious recipes, scaled for a couple of servings. Originally, I had bought it as a gift for my dear friend Marion, who's an enthusiastic cook too. I borrowed it from her (after the minimum length of time that basic manners require) and found myself wanting to write down so many of the recipes, that it was just as simple to get my own copy. So I did, and have been thoroughly happy with it ever since.
One of the recipes I have made again and again from that book is a recipe for little savory palmiers. Palmier (pal-mee-ay) is the French word for a palm tree, but it is also the name of a large cookie commonly found in French bakeries, made with puff pastry and sprinkled with sugar. The puff pastry is rolled into two concentric circles from both sides, creating the special palmier shape I am hard-pressed to describe better than this. (Believe me, I tried.) I don't buy palmiers very often, but now that I think about it I should, because they are a real treat : the layers of sugar on the top and the bottom are slightly caramelized, the outer rim of the dough is flaky and crisp, and the closer you bite into the center of each circle, the moister and chewier the dough gets. You can also find packages of those cookies in a mini version at grocery stores (by Lu or Belin for instance) and then they are called "Palmitos" and are crispier.
To tell you the truth, I don't really see the connection between this shape and a palm tree. A little research revealed that this is quite the stealthy cookie, also going by the aliases of Palm Leaf, Elephant Ear, Butterfly and Angel's Wing, which are cute enough though they don't make much sense either. But hey, who am I to question the etymology of such a lovely confection?
In my cookbook, the recipe explains how to make savory bites in the shape of palmiers by spreading olive oil and dried herbs on store-bought puff pastry, rolling it up from both sides, then slicing and baking the slices, that turn out palmier-shaped. I've made it several times with great success : they are easy as a breeze, look pretty and very professional in that I-can't-believe-you-made-these-yourself way, and taste delicious.
But the trait I love the most in this recipe is its versatility : the dough can be spread with pretty much anything, be it flavored oil, tapenade, sun-dried tomato paste, nut butter, mustard, onion confit, or any other type of spread, then sprinkled with whatever suits your fancy : herbs, cheese, nuts, little bits of bacon… Savory palmiers are best served slightly warm, but room-temp is fine too.
And of course, the recipe lends itself to an infinity of sweet versions, one of which I came up with the other day : finding myself with leftover pie dough and having bought a rather unreasonable amount of candied orange peel and chocolate chips for my Christmas baking, I decided to make chocolate and orange palmier cookies. (This barely put a dent on my supply of chocolate and orange peel, but I can certainly live with that.)
I love the mix of orange and chocolate, and these crunchy little cookies, with the velvety chocolate chips and the chewy bits of orange peel, were excellent. Served with an after-dinner cup of coffee to a few friends, they disappeared quite swiftly.
Petits Palmiers Chocorange
– 250 g pie dough (this is the amount you would make for a pie) : puff pastry (pâte feuilletée) or regular pie dough (pâte brisée or pâte sablée), store-bought or homemade.
– a handful of chocolate chips
– a handful of candied orange peel strips
– 2 TBSP unsweetened cocoa powder
– 2 TBSP brown sugar : demerera sugar (or any unrefined sugar) gives the best results, as its crystals stay a little crunchy when cooked.
– 30 g (1/4 stick) lightly salted butter
Melt the butter in a small ramequin (don't your ramequins just love me?) in the microwave or "au bain-marie" : put the ramequin in a small saucepan filled with a little water, over medium heat.
Roll out the pie dough on a lightly floured surface. If you can, roll it out (roughly) into a square. But if it is store-bought and already rolled out into a circle, that's fine. Using a brush (or the back of a small spoon), spread a little butter all over the dough. Sprinkle the cocoa powder and sugar evenly on it.
Lay the chocolate chips and orange peel strips on the surface of the dough, arranging them in vertical lines of chocolate or orange, about two centimeters (1/2") apart from one another.
Starting on the right hand side, start rolling the dough onto itself (jelly-roll style) into a tight log. While you roll it, the log will "swallow" the lines of chocolate and orange one after the other. Stop when you have rolled half the dough. Proceed to do the same from the left hand side, rolling the rest of the dough to meet the first half. You should now have a log of dough, with a slit down the middle.
Wrap it in parchment paper or plastic wrap and put it in the freezer for 20 minutes to harden.
Preheat the oven to 200°C (400°F). Prepare a cookie sheet lined with a silicon baking mat or parchment paper. Take the log out of the freezer and unwrap it. Using a sharp knife, cut it in slices about 5 mm thick (1/6"). Lay the slices on the cookie sheet, spacing them a bit. Don't worry if they are not in a perfect palmier shape yet, they will bloom into it while they bake.
Brush the tops of the palmiers with the remaining butter, and bake for about twelve minutes, or until they have turned a little golden. Transfer to a rack to cool, and serve with tea or coffee.