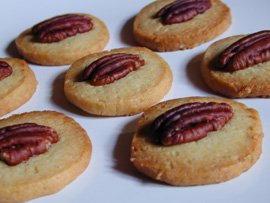 [Vanilla Pecan Cookies]
These are the cookies I made to bring for tea at my parents' last Sunday. Originally, I meant to make cookies using the cookie press that my sister gave me for Christmas last year and which I hadn't yet played with. Did you ever notice how time seems to move at a different pace for kitchen utensils? I buy them or receive them as gifts, I am delighted and determined to use them, but somehow months can go by before I get around to it.
I researched cookie press recipes (Google is my friend) and found quite a few, mostly labeled spritz cookies. I merged and adapted two of them, lowering the sugar content a bit. The dough came together beautifully, I shaped it into a log and inserted it into the cookie press. I held the cookie press above my cookie sheet lined with ungreased foil (as per the instructions), pressed, and… nothing. The dough was pushed out in a pretty pattern, yes, but it would not detach onto the sheet, no. I figured my dough was too firm and considered adding in the egg white I had reserved, but the dough felt fabulous as it were, so I decided to leave the cookie press experimentation for another day and turn this into a simple slice-and-bake session.
So I chilled the dough in the freezer, took it out, sliced it up, deposited the slices on a sheet of parchment paper, pressed in pecan pieces (organic pecans from the Fairway market, generously donated, along with a host of other goodies, by a reader from NYC – thanks so much Julie!), baked my beauties, took them out, and voilà!, beautiful cookies!
They were much enjoyed by my family and the family of long-time friends who were invited as well — they happen to read my blog too (my parents are far and away my best PR agents, I pay their fee in baked goods) and were excited to try something I had baked. The sablés were nice and crisp on the outside, tender and crumbly on the inside, with the lovely crunch brought to you by Mr. Unrefined Cane Sugar and its team of Thick Crystals (I cannot recommend it enough for your cookies). As for the vanilla/pecan pairing, well, generations of cookie bakers in America can't be wrong, and it was perfect in its simplicity.
"And next time, you will use the recipe from the little booklet that came with the cookie press, like you should have in the first place! Going to Google for cookies, I tell you! Sheeesh!" Oh, okay, okay, you're right. But I got a nice and easy cookie recipe out of it, didn't I?
Sablés Vanille Pécan
– 110 g (1/2 C) salted butter, diced
– 120 g (1/2 C) sugar (I recommend unrefined light brown cane sugar)
– 1 egg yolk
– 1 tsp vanilla extract (I use the great vanilla paste from Trader Joe's, a gift from my friend Alisa)
– 200 g (1 1/2 C) flour
– 1/2 tsp baking powder
– about 40 pecan pieces
(Makes about 40.)
In a medium bowl, sift together the flour and baking powder. Set aside.
Put the sugar and butter in a medium mixing-bowl, and work with your fingers to blend them together (it's really good for your skin, too). Add in the egg yolk and the vanilla, and mix with a fork. Pour in the flour mixture, mix it in with the fork, and when the dough starts to feel drier, knead it into a ball with your hands. Cut it in two, roll each half in a log, about 4 cm (1 1/2 inch) in diameter. Put the logs, each of them wrapped tightly in plastic wrap, in the freezer for about ten minutes (the fridge will work too, but leave them in for about an hour).
Preheat the oven to 180°C (350°F) and line a cookie sheet with parchment paper. Take one log out of the freezer, unwrap it, and use a sharp non-serrated knife to cut it in slices, about 4 mm (1/6 ") in thickness. Put the slices on the cookie sheet, spacing them a little (they won't spread much). Press a pecan piece on top of each one. Bake for ten to twelve minutes, until the edges start to turn golden. Transfer to a rack to cool, and repeat with the other log. (I suggest you make one batch well-cooked, and the other a little undercooked, to please everyone.)