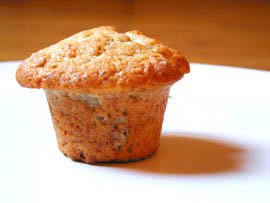 [Banana Pecan Muffins]
Brunch. What a fabulously promising word, evocative of lazy Sunday mornings, meeting with your friends at a sunny terrace, all of you a little sleepy and deliciously carefree, to share the kind of simple and comforting food that makes you feel like a kid again. Runny eggs on toast. Bacon and potatoes. Blueberry pancakes. Puffy French toast.
I adored our brunches in the US — each occasion was cause for elation and excitement — and making the transition to Parisian brunches has been a cruel disappointment. Over the past few years, the concept has evolved from completely foreign to ubiquitous, but very few places get it right (by that I mean getting a little more creative than just eggs, cheap smoked salmon, average bread and industrial jam). And when they do, chances are it will cost you a small fortune and/or the place will be packed and you'll have to wake up at dawn, or stand in line for a table because none of those places take reservations. Too much stress for a Sunday morning in my book.
So what Maxence and I like to do is invite our friends over. Since a brunch is supposed to be a lazy thing, we rely on our neighborhood shops to provide ready-to-eat scrumpadillies — fresh bread and croissants from the boulangerie, different kinds of hams and terrines from the charcuterie and an assortment of cheese from the fromagerie. We round that out with freshly squeezed orange juice, your choice of tea or coffee (free refills!) and a selection from my ever-flourishing collection of jams and spreads. Needless to say, we usually have leftover stuff to eat for about a week afterwards, but that's a clear benefit.
And since this is all so easily put together — apart from the bread and croissants everything can be bought in advance — I will usually bake a little something, to add a nice homemade touch to the brunch feast.
When my sister Céline came over for brunch last Sunday, I had plans to make the recipe Molly gave for her friend Glenn's Banana Bread with Chocolate Chips and Candied Ginger. Maxence wasn't too keen on chocolate chips and ginger in his banana bread so I opted for the classic pecan companion, and I baked muffins instead of a loaf, just because muffins are small and single-serving and cute, and because it was a good occasion to finally use the silicon muffin tins I bought last October.
They turned out delightfully moist and flavorful, and the banana and pecan pairing is just perfect — generations of bakers can't be wrong. I like them best fresh out of the oven (after the necessary cooling down), before their inimitable crusty hat turns soft. But you can refresh them the next day by returning them into the warm oven for a couple of minutes.
Banana Pecan Muffins
– 1 C (220g) sugar
– 1 egg
– 1/2 C (112g) salted butter
– 2 ripe bananas
– 1/4 C (60 ml) milk
– 2 C (240g) all-purpose flour
– 1 tsp baking powder
– 1/2 tsp baking soda
– 1 C pecans, toasted and chopped
(Yields 18 small muffins.)
Preheat the oven to 180°C (360°F), and grease medium muffin tins (1.5" or 4 cm in diameter) or line them with paper.
In a large mixing-bowl or in a food processor, cream together the sugar, the egg and the butter. In a separate bowl, mash together the bananas and milk. In another separate bowl, sift together flour, baking powder, and baking soda. Add the flour mixture to the butter mixture in three parts, alternating with banana-milk mixture in two parts, stirring by hand until just combined (don't overmix or your muffins will be a little dense). Stir in the pecans.
Pour the batter into the muffin tins and bake for 20 to 25 minutes, or until the muffins are nice and golden. Allow to cool for a few minutes then remove from the tins and transfer to a rack to cool.