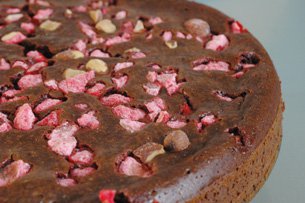 [Pink Praline Chocolate Cake]
Pralines can be a confusing thing, considering that the same pretty word (It would make a cool name for a little girl, no? Or would this ruin her life you think?) is used for different confections.
The original praline is made by cooking almonds in melted sugar: the mixture is left to cool then reheated several times, forming an irregular crust of crispy chewy caramel around the tender almond. These pralines are usually golden brown and thus referred to as pralines brunes, but a coloring can be added to the sugar and then all bets are off. But praline is also the name given to Belgian chocolate bites with a smooth filling, sometimes made with pralin (a mixture of grilled almonds and cooked sugar, or ground brown pralines) and, this has to be said, often too cloying for my taste — I am a ganache girl at heart.
And then there is the pink praline. Often featured in specialties from Lyon, the pink praline could look to the untrained eye like a brown praline in pink clothing: it is an almond in sugar after all. But there is in fact one capital difference here: the sugar surrounding the almond is not caramelized. This gives the pink praline a unique kind of texture, quite different from the brown praline's sweet stickiness: your teeth meet a slight resistance at first, but the powdery sugar coating quickly surrenders, crumbling in little flakes on your tongue, while you start chewing on the meaty almond.
Like anything pink and edible, this praline benefits from my unconditional adhesion. It is a fine candy to eat out of hand (particularly with coffee), but it can also be used as an ingredient in baking or cooking recipes: tarte aux pralines roses (a great classic, not unlike a pecan pie — recipe here), île flottante aux pralines roses (as tasted at Aux Lyonnais), brioche aux pralines roses (such as Pralus' famous Praluline), or a delicious magret de canard aux pralines roses (as tasted at the Café Fusion). Even Heston Blumenthal has featured pink praline tarlets in his tasting menu, that has to tell you something. The pink praline is like a magic wand, lending color and flavor and a tickling name to anything you choose to make — I'm sure even a pink praline meatloaf would be irresistible, but let me test that recipe first and I'll get back to you.
G. Detou sells pink pralines in bulk, whole or pre-crushed (convenient and cheaper), and I had bought a bag of the latter a few months ago with the firm intention of making a tarte aux pralines roses. That tart hasn't happened yet, but some of the pralines were put to good use in this pink praline chocolate cake, which I baked for my sister's birthday party a few days ago. I had made her a chocolate and pistachio cake for her previous birthday, and since a chocolate cake is always well received, I decided to make yet another adaptation of my favorite coffeecake, moist and fluffy, using cacao powder, chocolate chips, and a good sprinkle of pink pralines on top. And who knows, maybe these two cakes — one green, one pink — are the first in a series of chocolate cakes using a different color of ingredient every year?
Gâteau au Chocolat et Pralines Roses
– 270 g (2 C) flour
– 2 tsp baking powder (1 envelope)
– 1 tsp baking soda
– 150 g (2/3 C) butter, at room temperature
– 300 g (1 1/4 C) white sugar
– 4 eggs
– 1 1/2 C (3 x 125 ml) plain yogurt or sour cream
– 1 1/2 tsp vanilla extract
– 6 Tbsp unsweetened cocoa powder
– 60 g (1/3 C) chocolate chips
– 160 g (1 1/4 C) pink pralines, chopped — substitute regular pralines, or almonds and a sprinkle of brown sugar
Preheat the oven to 180°C (360°F). Grease a 25-cm (10-inch) cake pan, preferably nonstick with a removable bottom.
In a food processor, mix together the sugar and butter until fluffy. Add in the eggs, one at a time, mixing well between each addition. Add in the yogurts and vanilla extract, and mix again.
In a medium bowl, sift together the flour, baking powder, baking soda and cocoa powder. Add the flour mixture into the food processor and mix again until just combined (or blend it by hand in a large bowl if your food processor is, like mine, too tiny). Fold in the chocolate chips.
Pour the batter into the cake pan, and smooth out the surface with a spatula. Sprinkle with pink pralines. Put into the oven to bake for an hour, or until a cake tester comes out clean. Let rest for five minutes on the counter, then remove from the pan and transfer to a rack to cool completely.