Those of you who have been around for a little while have probably noticed a personal penchant for all things pink, and this is only confirmed by my two most recent shoe acquisitions. I certainly don't shy away from hefty doses of garlic either, so you can certainly imagine my glee at welcoming this beautiful bunch of pink garlic into my kitchen.
"Pink garlic?", you ask, your right eyebrow arched in curiosity. Well yes, it is a unique variety of garlic, grown exclusively in and around the medieval town of Lautrec, in the South of France. It is protected by an IGP (Protected Geographical Indication, a European certification of origin), benefits from a Label Rouge quality certification and, most importantly, it has been awarded the honorific title of Prince des Condiments. "Princess" might have been more fitting, one might argue, given its rosy-cheeked cloves and pretty hair pompon.
Apart from its undeniable attractiveness, l'Ail Rose de Lautrec is also distinguished for its aromatic and subtle taste, sweeter and milder than its white cousin. It also keeps for much longer, six months to a year. It can be used anywhere you would normally use garlic — raw or cooked, sliced, chopped, crushed or unpeeled ("en chemise", which means "shirt on") — but also in a variety of recipes created especially for it : a pink garlic soup, a walnut and pink garlic tart, a lime and garlic sorbet, and even a pink garlic chocolate cake!
Pink garlic is planted in the fall every year, and harvested in late June, always after "La St-Jean" (St-John's day, celebrated on June the 24th with popular bonfires and dances). It is then hung to dry for a month, before it is cleaned, sorted and selected according to the Label Rouge quality specifications, and put together in bunches, called manouilles (have fun trying to pronounce that).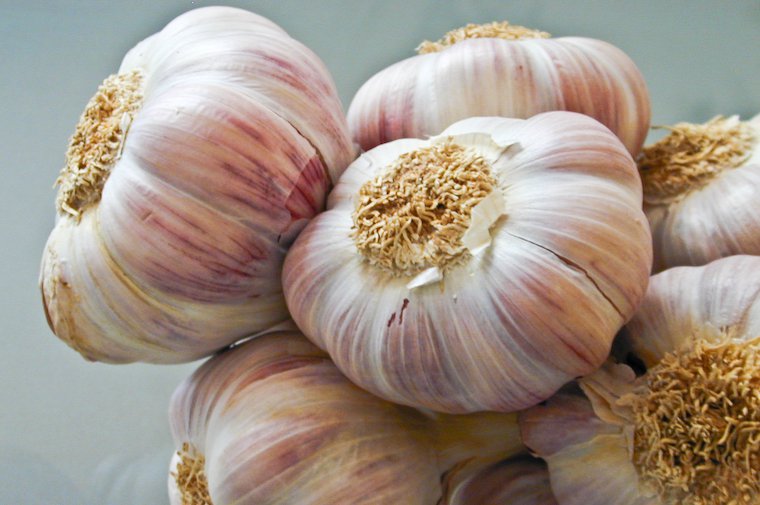 The process of manouillage is a painstaking one, entirely done by hand : the roots and stem of each head of garlic have to be trimmed, and all layers of skin must be removed with a knife except for the last one, to show the pink cloves underneath. The bulbs are then tied together one by one with a string, to form the signature bouquet. (The firmness of its stems prevents Pink Garlic from being braided, as is sometimes done for other varieties.)
I was happy, but not at all surprised, to discover that Pink Garlic has its very own brotherhood, La confrérie de L'ail Rose de Lautrec, to protect and promote it. I have a special weakness for the idea of such brotherhoods, and am determined to be admitted into one someday, if only for the fun apparel. And the samples.
There is also a yearly Pink Garlic festival, la Fête de l'Ail, in early August, with manouille competitions, recipe contests and an exhibition of artistic compositions, not to mention tastings of all things garlic and a grand "fabounade", a giant feast for over 1000 guests.
My own personal bunch of Ail Rose was brought back to us as a gift by our dear friends Marie-Laure and Ludo: they had gone on vacation to visit Ludo's father in Castres, who happens to live right next door to a pink garlic grower. They had gotten us same thoughtful present last summer, and we had happily worked our way through the bunch over the course of the year. I'm certainly hoping that this pink and garlicky souvenir evolves into a steady tradition for many years to come!