Did you know that France produces more than 350 types of cheese? Each variety is the unique result of a specific production method and aging process, requiring both technical skill and intuition.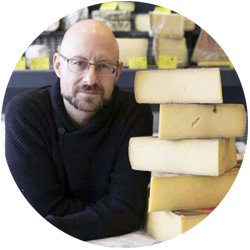 We talk about cheese a lot on Chocolate & Zucchini: we've covered how to shop for cheese and the notion of cheese terroir, and today I am happy to present a guest post by Jonathan Deitch, a.k.a. Monsieur Fromage, a fellow bilingual blogger and passionate explorer of all things cheese.
Jonathan is an American who's lived in France since 2009. He recently attended an intensive two-week professional workshop at Académie Opus Caseus, the cheese industry's center for education. He has generously offered to walk us through the process of making and aging cheese, with lots of quirky details for us cheese geeks to lap up.
Please visit the M. Fromage blog, and follow him on Twitter and Instagram. Thank you Jonathan!
Part Magic, Part Biochemistry
My recent two-week professional training with the Académie Opus Caseus was an eye-opening introduction to affinage, the process of aging cheese. The principles and techniques are simple to understand, yet they take a lifetime to master. They also serve as a good reminder of the importance of environment and tradition, and the value of patience, honest labor, and passion.