Over the summer, Maxence and I spent a few blissful, brightly sunny days hiding out in my parents' vacation house in the Vosges mountains. One day, we took a day trip to Alsace, the region just on the other side of the mountain famous for its wines, its storks, and little houses with pointy roofs and exposed beams.
We went on a pilgrimage to Niedermorschwihr, the Alsacian village where Christine Ferber, whom I've mentioned before, officiates. This is where the Jam Fairy makes the best French jams, and this is where she sells them, in a little bakery named Au Relais des Trois Epis.
I had been dying to go there ever since I learned about it, and grew increasingly excited as we neared the village. We parked on the tiny church square, got out of the car and were instantly knocked off our feet by the intense fruit smells. They were coming out of a small ground floor window in the back of the shop, through which we could see the lab where the magic happens.
We stepped inside the shop, which also operates as the sole grocery store for the village, selling bread, a small assortment of pastries, some charcuterie, dried goods, an array of typical Alsatian ceramic dishes, a few magazines, some postcards, and the entire collection of the books Christine Ferber has written or participated in.
There was also a large table loaded with an army of sujets en pâte d'amande, those tiny marzipan figures. I used to adore these as a child, and my grandmother would buy them for me every time she came to visit. I loved them so much I couldn't bring myself to eat them, although pâte d'amande was (and still is) one of my favorite things in the world. Christine's were strikingly expressive, looking up at you like cute puppies, wagging their tails and begging you to adopt them.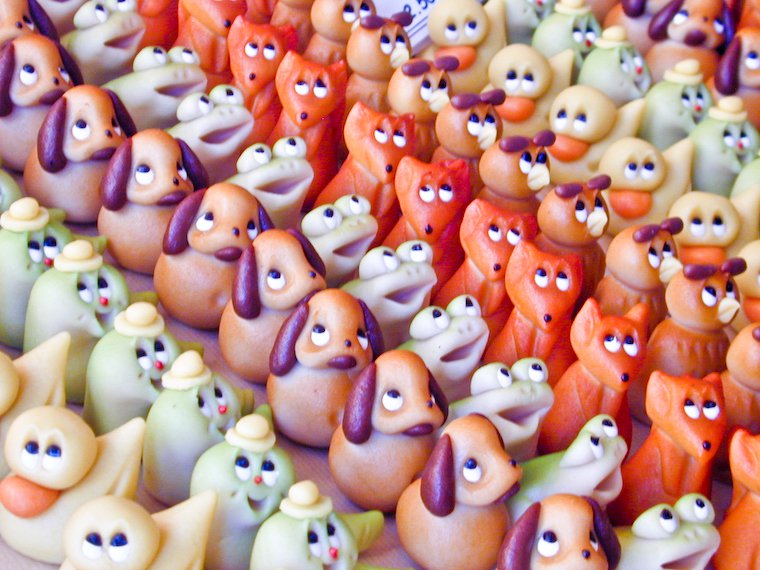 Last but certainly not least, two of the walls were lined with shelves filled with what makes Christine Ferber's international reputation and fame: hundreds of jars of her French jams, with their signature polka-dotted hats and little ribbons, in more varieties than I had ever seen before.
I spent an inordinate amount of time studying all. the. flavors. while Maxence was waiting with the patience of an angel for me to make up my mind.
Heroically, I limited myself to six jars. Some for my own enjoyment, some to give away as presents: confiture de mirabelles, confiture de quetsches (mirabelles and quetsches being the two most emblematic kinds of plum from Alsace), confiture de framboise à la violette (raspberry and violet), confiture de myrtille (blueberry), confiture de cassis à la violette (blackcurrant and violet), and confiture de tomates vertes à l'orange aux épices de pain d'épices (green tomatoes and orange with pain d'épice spices).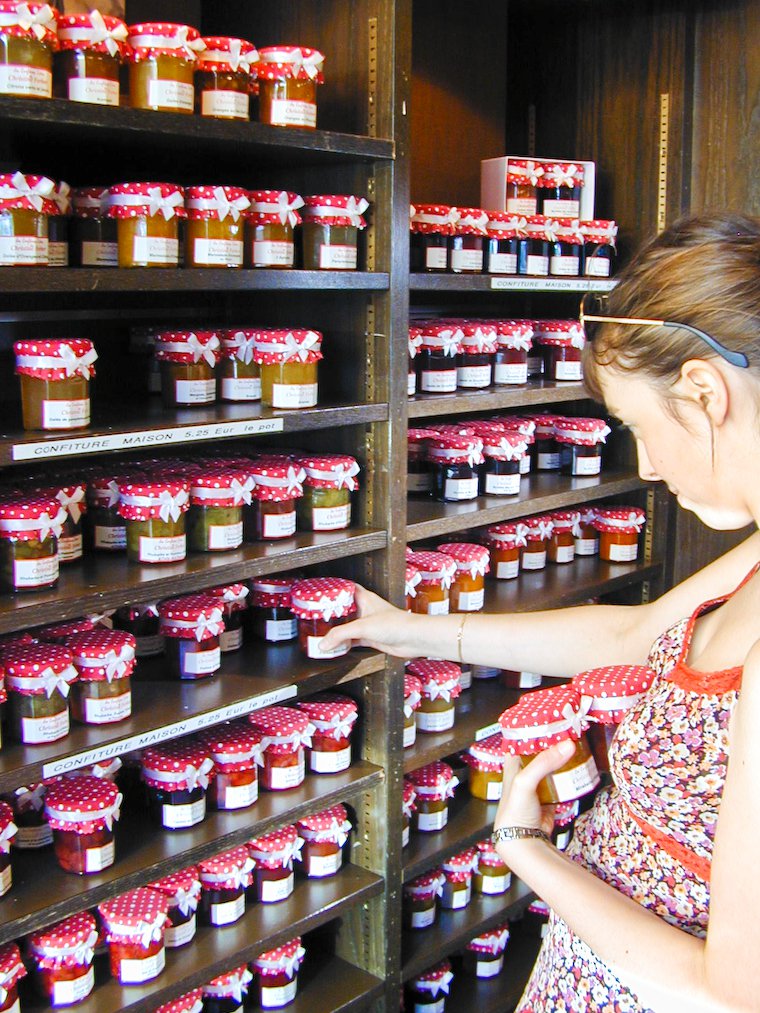 We also got a slice of a delicious blueberry tart (though not as delicious as my mother's), which we shared in the car momentarily, me beaming with joy at the thought of my six treasured jars tucked away in the back seat.
Note: I recommend her recipe book of jams, Mes Confitures: The Jams and Jellies of Christine Ferber, which I own in its French edition and have used multiple times with great success.
Christine Ferber
18 rue des Trois Epis
68230 Niedermorschwihr
+33 (0)3 89 27 05 69
This post was first published in September 2004 and updated in September 2016.