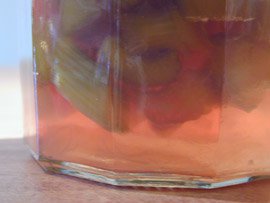 And here you thought, ingenuously, that a bunch of rhubarb was just a bunch of rhubarb.
But no. A bunch of rhubarb, or any other delightful but fleetingly seasonal fruit, is in fact a test that life puts before you. Think Cosmopolitan meets Jean de la Fontaine : are you a grasshopper or an ant?
The grasshopper will enjoy the rhubarb now, and make a compote, a cake, a crumble, a tart, a pie, a buckle, a grunt, a cobbler, or hey, maybe even a slump.
The ant, however, will be good, will be wise ; the ant will show foresight and will prepare for the winter months. The ant will make jam.
Although I would love to claim that I am a grasshopper — much more glamorous, no? — our brimming kitchen cabinets certainly state otherwise. I will settle for a cross between grasshopper and ant, if such a thing is even possible, DNA-wise.
In any case it is the ant in me who decided to use the rhubarb and lemon I had in the fridge to whip up some Confiture de Rhubarbe, following yet another recipe in Christine Ferber's trusted little book "Mes Confitures". Organic rhubarb jam at that, since the rhubarb and lemon came from my Campanier basket.
No tasting notes as of yet : jam should be kept in a dark and preferably gloomy place for a few months, it builds character. But what I can already tell you is that it looks lovely, with its shades of baby pink and pistachio green. As you can see on the pic above, the rhubarb pieces all bobbed up to the surface of the syrup, which would probably put Christine to shame and make the jars unfit for sale in an upscale gourmet store, but guess what, that is not quite the destiny I had in mind for them.
I three-quartered the recipe below to adjust it to the amount of rhubarb I had, and was delighted to see that I had very precisely enough to fill three Bonne Maman jars. Not a drop more, not one less.
And this, of course, makes my inner ant very happy.
Confiture de Rhubarbe
– 1.2 kg rhubarb (1 kg when trimmed)
– 800 g sugar
– the juice of a lemon
(Makes 4 jars if you're using the Bonne Maman size)
Rinse the rhubarb, trim the ends, halve the stalks lengthwise and dice. Christine notes that she likes to use young and slender green stalks, and doesn't peel them, to keep the rhubarb chunks whole.
Combine the rhubarb pieces, the sugar and the lemon juice in a ceramic or glass dish, cover with parchment paper, and let rest overnight.
In the morning, the sugar will have drained the juice out of the rhubarb. Put a saucer in the freezer. Wash the glass jars and their lids carefully, then soak them in boiling water for 10 minutes, and set them out to dry upside down on a clean kitchen towel.
Pour the rhubarb mixture through a sieve. Bring the syrup you've gathered to a boil, cover and let it boil for five to ten minutes. The goal temperature, if you have a candy thermometer, is 110°C (230°F).
Add in the rhubarb, bring back to a boil and let simmer for five to ten more minutes, stirring gently from time to time.
Take the saucer out of the freezer, and put a drop of jam on it. Tilt the saucer, and see if the jam is set. If not, let it boil for another minute, then test again until you've reached the desired consistency.
Pour the jam into the jars until they are full, wipe carefully if there was any spillage and close the lids tightly. Let cool to room temperature upside-down on the counter, then store in a cool and dark place for a few months.
Important disclaimer! This jarring method (boiling the jars then closing them tightly and letting them cool upside down) is one that's been commonly practiced in France for generations and generations. However, using a sterilizing machine and rubber-lidded jars is the only way to be absolutely safe. For more information on home-canning, click here.