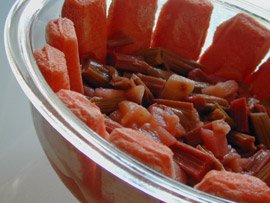 [Rhubarb Compote with Pink Champagne Cookies]
This was a last-minute addition to the dessert buffet for my birthday party. I was at the grocery store minding my own business, when a beautiful bunch of rhubarb, all slender stalks and pink cheeks, called out mischievously : "Rhubarb season doesn't last forever, you know!" I turned around in surprise, looked at the other shoppers, but they were just filling their carts as usual, absorbedly studying the produce stalls.
I took a few tentative steps towards the rhubarb, picked it up, and reflected that it was, indeed, a fleeting thing, and that such an attractive bunch could not possibly be passed up on. Besides, my dessert selection would certainly benefit from something fruity, would it not? I put the rhubarb in my basket. Maybe it was just a trick of the light, but I could swear it winked at me.
I decided to oven-bake the rhubarb, as is my favored method of preparation, and had the idea of combining it with a package of Biscuits Roses de Reims I had on hand. Those crispy little cookies, pink and rectangular with a dusting of confectioner's sugar, are a specialty from Reims, the largest city in the region of Champagne. A simple mix of eggs, sugar and flour colored with crimson, their particularity is to be baked twice, allowing them to stay whole even when moist. This makes the delicate Biscuit Rose de Reims the ideal dipping companion of a cup of Champagne, and the perfect biscuit to use in a charlotte, in place of the classic ladyfingers.
I didn't want to make a real charlotte though (which implies fruit and some form of cookie, but also custard or fromage blanc), as it should normally sit in the fridge for a bit, while the flavors develop and the filling settles, and I didn't have that kind of time.
So I went for something simpler, lining the serving bowl with biscuits roses before I spooned in the rhubarb compote. It made for a pretty sight, with that pink sun ray pattern, and it worked very well tastewise, too : the rhubarb was its usual, delightful self, and its acidulated flavor was beautifully complemented by the subtly sweet cookies. There was also a nice textural effect, as the bottom halves of the cookies were imbued with the rhubarb juices and thus softened, while the top halves remained delicately crispy. I'm sure leftovers would have been great the next day, had any of it survived the night…
Compote de Rhubarbe aux Biscuits Roses de Reims
– 1 kg rhubarb (untrimmed weight)
– 100 g sugar
– a package of Biscuits Roses de Reims (175 g, about twenty biscuits, or enough to line the serving bowl — substitute regular lady fingers)
Preheat the oven to 180°C (360°F). Rinse the rhubarb, trim the ends, and cut the stalks in one-inch chunks. Combine them with the sugar in an oven-proof dish. Cover the dish with foil, and bake for 30 minutes. Let cool to room temperature.
Line the bottom and sides of a medium glass salad bowl with biscuits, sugar-dusted side outwards (so it shows from the exterior of the bowl). Carefully spoon the rhubarb in the bowl, and use some of the rhubarb juice to lightly coat the biscuits.
Cover with plastic wrap, and let rest in the fridge for a couple of hours before serving, cold or at room temperature : of course, each serving should contain both rhubarb and biscuits.