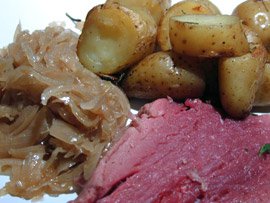 [Roast Beef, Shallot Compote, Rosemary Fingerling Potatoes]
While planning for our Saturday night dinner, I conducted a little research to find out what was best to eat with Baptiste's bottle of St Julien. My sources were comfortingly unanimous. Red meat, roasted, was the card to play. I chose to roast a filet de boeuf, a very tender beef cut, and serve it with a shallot compote and roasted rosemary potatoes. The meat was promptly ordered at our favorite butcher's, La Boucherie des Gourmets in the rue Lepic.
As you will infer from the many comments in the roast recipe, I am really not a meat specialist. Steaks, ribs, chops and other single-serving cuts I can handle, but I tend to be a little intimidated by big slabs of meat (both in the literal and figurative sense), and I don't have a lot of experience cooking them. It always seems to involve a lot of complex techniques I shy away from – brining, basting, probing, stuffing – and I don't even own a meat thermometer. But I'm more than willing to play with the big guys and learn. Especially when it turns out as well as this…
And without further ado, ladies and gentlemen, here are the recipes.
Shallot Compote
– 500 g shallots (weighed unpeeled)
– 50 to 100 g cassonade (brown sugar) depending on the natural sweetness of the shallots
– 2 TBSP butter
– salt, pepper
(Serves 6.)
Peel the shallots and chop them (I use the vegetable slicing mode of my food processor for a quick and perfect result). In a large saucepan, heat up the butter on medium heat until bubbly. Add the shallots and stir to coat with butter. Reduce the heat to low. Add salt and pepper, 50 g of sugar, and stir again.
Leave on low heat, covered, for about an hour and a half, until the shallots are very soft, stirring from time to time to check on the progress. About an hour into the cooking, taste and correct with sugar, salt and/or pepper to get the desired effect – you may want it more or less sweet depending on what you want to serve it with.
This can be made a day ahead, and reheated over low heat before serving.
~~~~~~~~~~~~
Rosemary Roasted Potatoes
– 1 kg fingerling potatoes (I used the Rattes du Touquet variety)
– a few sprigs of fresh rosemary
– 4 cloves of pink garlic
– olive oil
– salt, pepper
(Serves 6.)
Preheat the oven to 220°C (430°F).
Wash and scrub the potatoes. Cut them in chunks of equal size. Wash and dry the rosemary. Peel the garlic cloves, slice them verticaly in half, and remove the germ. In a large bowl, toss together the potatoes, the garlic, the rosemary leaves, a few splashes of olive oil, salt and pepper.
Line a gratin dish with a piece of foil large enough to be folded back over its content. Pour the potatoes and seasoning in, and close the foil into an airtight packet. Put in the oven for 45 minutes. After that time, take it out, toss and check for doneness. Depending on the heat of your oven and the size of your potato chunks, another 10 to 20 minutes may be needed. The potatoes can be made ahead of time up to this step.
Before serving, put the potatoes back into the hot oven to crisp, foil packet open, for 15 to 20 minutes.
This cooking method allows the potatoes to cook in their own steam, retaining their moistness, while infusing with garlic and rosemary flavors. I also love the slight crust that they develop during the last stage of cooking, and the contrast between the tender flesh and the slightly wrinkled skin.
~~~~~~~~~~~~
Filet de Boeuf
– a 1 kg Filet de Boeuf (net weight), bardé et ficelé *
– the meat scraps from the roast (you should get 200 g for a 1 kg filet) **
– 70 g butter
– 1/2 C of beef stock
– chopped flat-leaf parsley
– salt, pepper
(Serves 6.)
* Filet de Boeuf is a very tender cut of beef, held in a log shape by string (ficelé), the bottom and sides wrapped in lard for flavor (bardé). There are a lot of differences between the French school of butchery and all others, so I'm not sure what a non-French equivalent would be, a beef roast, probably.
** You'll have to ask the butcher, although you pay for them anyway, since the price per weight is before preparation. Interesting observation : an article I had cut out about filet de boeuf called these scraps of meat the "parures", meaning "finery". My butcher calls them the "déchets", which means "garbage". I kept calling them parures throughout my conversation with him. I am not buying the butcher's garbage if I can help it, thank you.
Preheat the oven to 220°C (430°F).
In a large skillet, heat up a third of the butter over high heat. When it's nice and hot, put the roast in and quickly brown it all over in about two minutes.
Put the roast in an oven proof dish as close to the meat in size as possible. Put the meat in to roast for about 20 minutes. While this is cooking, add the rest of the butter, the beef stock and the scraps of meat in the skillet. Cook until you get all the juice out of the scraps, and until you get the desired sauce consistency. Remove the scraps, set the juice aside and keep warm.
Take the roast out, cover it with two sheets of foil, and let it rest on the counter for another 10 minutes. This allows the meat to keep cooking without drying up and concentrates the juices. Now is a good time to put the rosemary potatoes in the oven to crisp.
Put the roast on a cutting board, and (have your boyfriend) cut it in thin slices. They will be very rare, which is the one and only way to truly appreciate excellent meat.
~~~~~~~~~~~~
Plating and comments
In each plate (preferably heated beforehand), serve two slices of meat, a few spoonfuls of shallot compote, and a little mound of potatoes. Pour juice on the meat, sprinkle parsley, and serve with old-fashioned mustard.
We all liked this very much, the proof of the pudding being that the boys went for seconds, then thirds. The meat was incredibly tender, so tender in fact that you didn't need your knife, you could just cut it with a fork. The potatoes and shallots were excellent sides, sweet and soft and flavorful. More importantly, all this together did turn out to be a very good match for the wine's rich taste.
And the observant reader will have noticed that the recipes serve six, although there were only four of us. It's not because we are ogres, it's because I wanted Maxence and I to have nice leftovers to enjoy for lunch today. Which we did. And they were. Very nice.