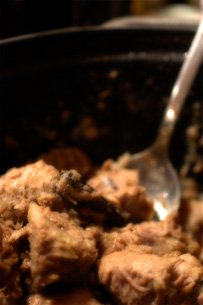 [Cider-Stewed Pork Loin Blade Roast]
I find cuts of meat confusing.
I find them confusing because the terminology straggles from the technical to the vernacular and back again, because readable diagrams are few and far between, and because the matter only gets murkier when you try to juggle French and English terms used in different countries.
Can't we all be friends and agree to cut and name meat in the same fashion? May I suggest the creation of a United Nations Symposium of Butchers that will draw up a comparative report — with diagrams — and put an end to my puzzlement?
Case in point: the échine de porc I cooked for a dinner party last Saturday. What I really had a mind to cook was joues de porc — pork cheeks. Don't ask me why, I just did. I pictured the rosy pinch-me cheeks of the three little pigs (don't you love that there's a spoiler warning on the Wikipedia page?) and figured they had to taste good.
But when I called my butcher on Friday to place an order it was too late for him to get the cheeks by the weekend — I should have called before noon on Thursday; who plans that far in advance? — so he had me explain what I wanted to make (a cider-flavored stew), and suggested I fall back on échine, which he'd cut in cubes for me.
As it seems to turn out after a frustrating bit of online and offline research, l'échine is a cut from the back of the animal that includes the neck and the first five ribs, and seems to be called the blade end of the loin in English. It may be sold bone-in (as ribs or chops) or boneless (in cubes or as a roast), and is reasonably marbled with fat, a feature that makes it moist, full-flavored, and stew-friendly. It is also not the most noble of loin cuts, and is hence afforable (check with your butcher, but mine charged 25€ for 2kg, which was enough meat to feed eight).
This was my first time cooking a pork stew of that sort — I usually just rub roasts with spices and stick them in the oven or braise them — and I have an inkling it won't be the last. I improvised an effortless recipe, leaving the meat to marinate from morning till night in hard cider with shallots and spices, then dumping the whole thing in a pot to simmer for two hours — I didn't even sear the meat first — and adding apples halfway through.
The meat took kindly to that treatment, softening to a flavorful pulp (not chewy, not spongy) and gradually turning the marinade into a slick sauce that was a beautiful complement to the pasta gratin I served it with — recipe coming up next.
Compotée d'Echine de Porc au Cidre
– 2kg (4.5 pounds) boneless pork loin blade roast (échine de porc désossée), cut into 8-cm (3-inch) cubes
– 12 shallots, peeled and halved
– 2 cloves garlic, peeled and halved
– 6 cloves
– 1 stick cinnamon
– 1 bay leaf
– 3 pods cardamom
– 75cl (3 cups) hard cider (cidre brut)
– Fine sea salt
– 2 baking apples
– Freshly ground pepper
Serves 6 to 8.
Start the marinade 10 to 12 hours before the time of serving. Put the meat, shallots, garlic, cloves, cinnamon, and bay leaf in a large salad bowl. Split the pods of cardamom open and add the seeds to the bowl (discard the pods). Pour in the cider and stir with a wooden spoon so the pieces of meat swim comfortably in the marinade. Cover with plastic wrap and refrigerate for 8 to 10 hours (or until 2 hours before the time of serving), stirring once or twice during that time.
Set a large pot or, preferably, cast-iron cocotte over medium-low heat. Pour in the contents of the bowl, bring to a simmer, cover, and cook for 1 hour and 15 minutes, stirring every now and then.
Core the apples and cut them into slices (you don't have to peel them). Remove the lid from the pot, season with salt, add the apples, and stir. Keep to a low simmer for another 30 to 45 minutes, uncovered, until the sauce is reduced enough to cling to the meat, stirring regularly — to prevent the meat and shallots from sticking to the bottom — but gently — so as not to mush the now-soft pieces of meat.
Taste the sauce, adjust the seasoning, sprinkle with freshly ground pepper, and serve with steamed potatoes, rice, or a pasta gratin.