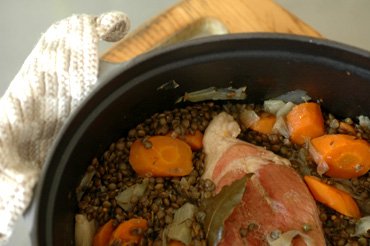 [Petit Salé aux Lentilles]
If you had told twelve-year-old me that a Sunday morning, fifteen years later, would find me cooking this dish, I would have laughed so hard I might have choked on my petit suisse.
Petit salé aux lentilles is a splendid specialty from Auvergne in which cured pork is slowly cooked and served with lentils. The "splendid" part was hard for us kids to grasp when presented with the school cafeteria's take on it: sickly purple straps of oversalted leather sitting on a muddy brown mush. The sight and smell were disheartening enough that, on petit salé days, we largely subsisted on bread.
But now that I am older and wiser, now that I have a kitchen to call my own, now that I've been introduced to green lentils from the Puy and the Berry (the upper crust of the lentil society, delicately flavored and not a bit mealy), and now that I have access to a good organic butcher, my heart and stomach feel differently.
This epiphany wasn't planned: I was simply waiting in line at the butcher's market stand when I noticed an unfamiliar cut of meat in a dish at the far end of the counter (always be on the lookout for what the butcher keeps on the side). I couldn't read what was scribbled on the label, so when my turn came, I pointed and asked hesitantly, "What does this say… magret de porc?" This, apparently, is very funny*; try it on your butcher sometime. No, what the label said was jarret de porc (pork shank) and he was out of it anyway, but what he did have was palette demi-sel**. "Great for choucroute or petit salé," he said.
I had just bought carrots and shallots and I knew there was a package of lentils in my pantry somewhere, so petit salé was a done deal, and after getting a tip or two from my grandmother and assorted websites, up it went on the menu for Sunday lunch.
Fork-tender meat, softened vegetables, and pop-in-your-mouth lentils: this is a rustic and invigorating dish, of which you don't need extraordinary quantities to feel the warm glow of satisfaction, and which constitutes the ideal dietary intake if you plan on going for a run and locking yourself out later in the afternoon.
* Magret is the breast of a fatted duck or goose. Since porks don't fly (except for these piglets from Les Aldudes), there is no such cut on a pork.
** Palette is the cut of meat that's wrapped around the shoulder blade of the pork. Demi-sel means it's cured in salt: it should be soaked before use to remove most of the saltiness, and there is no need to add salt to the dish you use it in.
Petit Salé aux Lentilles
– 1 kg (2.2 pounds) salt-cured shoulder of pork (palette demi-sel)
– Olive oil
– 5 medium carrots, peeled and thickly sliced
– 6 shallots, peeled and quartered
– 3 cloves (clous de girofle)
– 1 teaspoon yellow mustard seeds
– 3 black peppercorns
– 2 teaspoons dried thyme
– 3 bay leaves + 1 to cook the lentils
– 300g (1 1/3 cups) French green lentils, preferably from the Puy or the Berry, rinsed in cold water
– Fresh flat-leaf parsley, chopped, for serving
Serves 4.
Soak the meat in fresh water for three hours, changing the water every hour, to remove the excess salt (this is called dessaler in French). Drain and pat dry.
Heat a little olive oil in a large heavy pot — I use my loyal cast-iron cocotte. Add the carrots and shallots and cook for a few minutes over medium heat, without coloring, until they start to sweat a little. Add the flavorings (cloves, mustard seeds, peppercorns, thyme, 3 of the bay leaves), toss to coat, and cook for a couple more minutes to revive their aromas. Add the meat, pour in fresh water to cover, and bring to a simmer. Cover and cook for two hours, stirring the vegetables and flipping the meat every once in a while.
After 30 minutes, a greyish seafoam-like goop will have gathered at the surface. Scoop it out and discard (this is called écumer in French).
After an hour and a half, transfer one cup of the stock into a medium saucepan — use a ladle. Add the lentils and one bay leaf to the saucepan, and top with three cups of fresh water. Bring to a simmer and cook for whatever time the package says — my lentils cook in 25 minutes.
Transfer most of the cooking stock from the cocotte to a freezer-friendly container — using a ladle again –, leaving just a little for moisture. (Refrigerate the stock overnight. The next day, skim the fat from the surface, and freeze for use in a soup of cabbage and apples, or a fennel risotto.) Drain the lentils and add to the pot. Stir to combine and serve immediately and straight from the pot, with chopped parsley on the side for everyone to sprinkle on their plate.
Cooking/baking time: 2 h