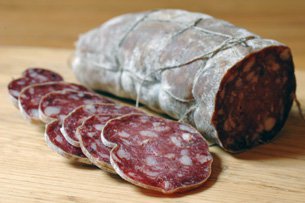 [Dry-Cured Duck Sausage]
We had long wanted to try Le Petit Canard, a small restaurant tucked away in a side street of the 9th arrondissement, just a few blocks from us. I had often walked past it on my way up and down the hill, and it looked cosy and warm, with just a handful of candle-lit tables. As the name implies, the menu focuses on all things duck, and I have a weakness for monomaniac restaurants.
We finally made it there last week with our neighbors and my two oldest girlfriends. For starters, we decided to share a selection of duck charcuterie: smoked magret, duck rillettes (a pâté of shredded meat), two kinds of duck terrines (one with port and green peppercorns, one with chesnuts), and slices of duck saucisson, a dry-cured sausage that's classically made with just pork meat.
All the products served at this restaurant come from a small farm in Haute-Savoie, a region in the French Alps. This came as something of a quirky suprise, because Haute-Savoie isn't typically renowned for its duck breeding — the bulk of French duck products comes from the South-West. The owner confirmed that this farm, operated by his brother-in-law in a village called Balaison, is the only such farm in the area, but that the ducks fare very well in the cool mountain air. They enjoy the ski slopes, too.
And indeed, everything we tasted on that platter was excellent. But what we enjoyed the most was the duck saucisson: made with 95% duck meat and 5% pork meat (duck meat alone wouldn't bind well enough), it was moist yet lean-tasting, and wonderfully seasoned, with rich and complex flavors, smoky and peppery.
The rest of the meal was good though not stellar — the roasted magret and duck tartare were quite tasty, but the canard à l'orange was oversalted and the confit a tad dry — and as the dessert plates were cleared, our thoughts returned to the saucisson (apparently, we have no problem discussing charcuterie right after finishing a tarte tatin). Did they sell it to go?, we inquired. They did, I happily bought one*, and it's been a much appreciated apéritif companion since then.
This post is my contribution to Kate's and Judy's Some Pig Blogging Weekend, a celebration of all things charcuterie in honor of San Antonio Abate, the patron saint of farmyard animals.
Le Petit Canard
19 rue Henri-Monnier in the 9th.
01 49 70 07 95
*The saucisson costs 7€ for 300g, about 10 oz.