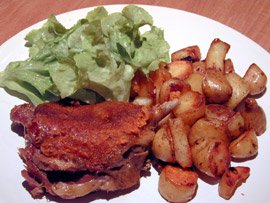 Thursday night, on a whim, we asked our neighbors Stéphan et Patricia over for dinner, and I prepared the kind of dish that epitomizes the French paradox * : duck confit.
Back in July, Maxence and I spent a lovely extended week-end in the South-West of France, visiting his grandparents in Gourdon and driving around the incredibly beautiful countryside. On our last day, as is becoming the tradition, we indulged in a shopping spree at the Canard du Midi store. We joyously filled our shopping basket with foie gras, magret de canard (roasted duck breast), canned cassoulet (a typical regional dish that involves white kidney beans and various meats in goose fat), a black truffle in its jewellery-like box, canned gésiers de canard (duck gizzards), ostrich (!) and boar terrines, canned confit de canard (duck confit), confiture d'oignon (onion jam), and noisillons (chocolate-covered walnuts). This was stashed away in our luggage, keeping company to the other marvels purchased at the marché : dried cèpes (porcinis), an assortment of duck, boar, hazelnut and pork saucissons (dry sausages), a scrumptious walnut cake, and a rather unreasonable number of Rocamadours, these succulent individual little goat cheeses – which we redistributed to gleeful family and friends upon our return.
* What is referred to as "the French paradox" is the seeming contradiction between the rich foods we typically consume in France and the comparatively low incidence of heart disease. Jeffrey Steingarten (brilliant author of "The man who ate everything") was among the first to identify it. The expression, in its implication that this is the only paradox the French have, amuses me to no end…
To feed the four of us, I opened two cans of duck confit, which amount to six thighs. Duck confit is best accompanied with pommes sarladaises : named after the town of Sarlat, these are potatoes sauteed in duck fat and garlic. I cut up a kilogram of small new potatoes, of the Ratte du Touquet variety, and chopped three cloves of pink garlic, which Ludo brought us back from Lautrec. In a large skillet, I heated up the garlic in 3 tbsp of the duck fat, taken from the confit cans, then threw the potatoes in to cook, covered, over medium-low heat for about an hour, stirring from time to time, until they were thoroughly cooked and tender and a golden crispy crust had built up.
Meanwhile, I washed and dried some salad, and made a walnut oil vinaigrette to dress it. About 45 minutes into the cooking of the potatoes, I transferred the thighs from the cans to another skillet, meat side down, trying not to take along too much of the fat, which was still solid at this point. I heated them up, covered, over medium heat. The excess fat rapidly turned liquid, so I poured it into the sink. After a while, the meaty side had turned brown, so I turned up the heat under the potatoes for final crisping, flipped each thigh, and cooked them until the skin had turned crispy too.
This has got to be one of the most satisfying combos ever : sweet duck meat, warm nutty potatoes, constant contrast between crunchy and tender, refreshing yet tangy salad, and a delicious – and most appropriate – red wine from Cahors to wash it all down, courtesy of our guests.