Have you ever visited the Périgord, that gorgeous region in the south-west of France?
It is where Maxence's grandfather lives, and we have visited many times over the years. We are drawn back again and again, not just by the adorable stories Grand-Père tells of Maxence as a child, but also by the heart-stopping beauty of the landscape, the vertiginous cliff-side villages, the fascinating natural caves with subterranean river rides, and, well, the food.
Périgord is particularly known for its truffles, walnuts, strawberries, ceps, chestnuts, goat cheese (the one and only Rocamadour), and duck products, foie gras and duck confit most famously.
So we drive around from village to village and sight to sight, and wherever we go, we look for the little country inns that serve housemade confit with — reliably, deliciously — a golden pile of pommes sarladaises: potatoes seared in duck fat, sometimes with ceps or mushrooms added in, and finished with fresh parsley and garlic.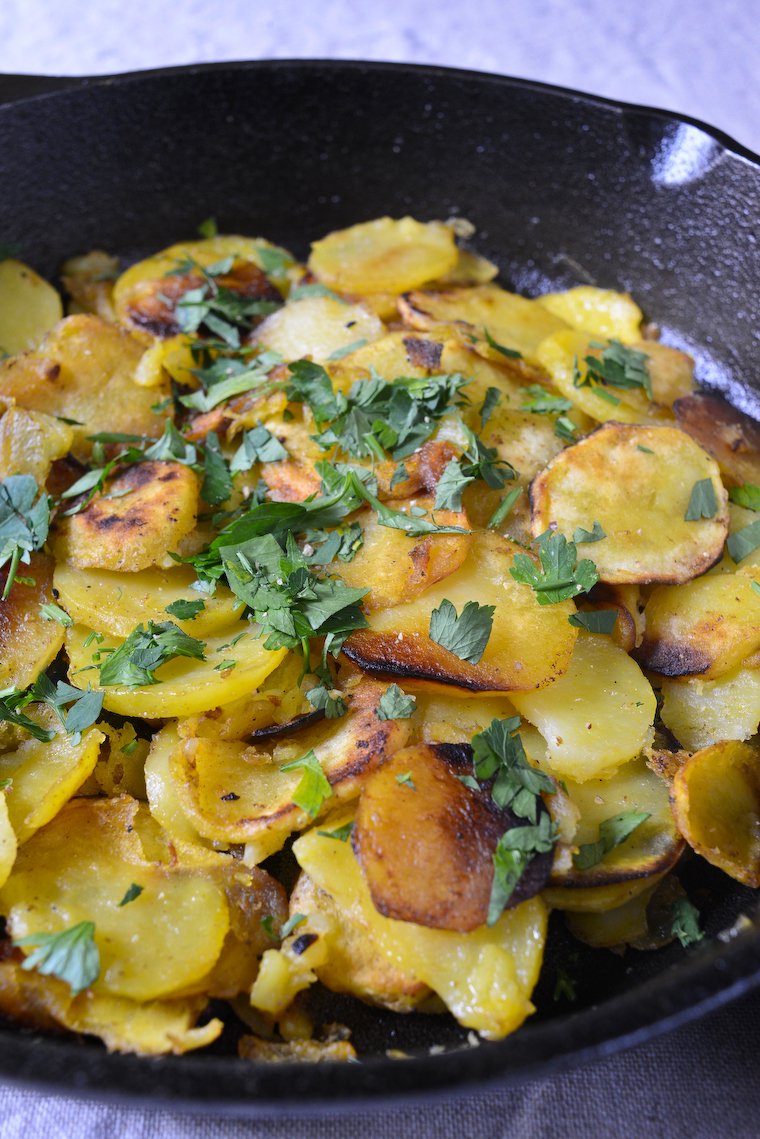 Potatoes Sarladaises are an absolute treat, with the nutty, velvety richness of duck fat, and the beautiful contrast between the tender middle of the potatoes and the browned crunchy bits.
I will have potatoes sarladaises any day of the year, but early spring is an excellent time of year to make them. The first new-season potatoes are out, but there is enough of a chill in the air still to justify a generous plate of potatoes with a crispy duck thigh.
Naturally, this works equally well as a side to roast chicken; I also like to let it take center stage with no meat, just a green salad.
The dish is named after the picturesque town of Sarlat, which is impossibly charming but best visited off season.

Have you tried this? Share your pics on Instagram!
Please tag your pictures with #cnzrecipes. I'll share my favorites!
Potatoes Sarladaises Recipe
Ingredients
700 grams (1 1/2 pounds) waxy potatoes (i.e. they hold their shape when cooked)
3 tablespoons (35 grams) goose or duck fat
1 teaspoon fine sea salt
2 cloves garlic, finely sliced
Finely chopped flat-leaf parsley
Freshly ground black pepper
Instructions
Peel the potatoes and slice them into 5-mm (1/5-inch) slices; a mandolin slicer makes quick work of this. Rinse in a colander to remove excess starch, drain, and dry thoroughly in a clean dish towel.
In a large, heavy-bottomed skillet such as this, heat the duck fat over medium heat.
Add the potatoes and salt, stir well to coat, and cook uncovered for 4 to 5 minutes without disturbing, until browned underneath. (I like to use a splatter screen to prevent fat droplets from landing on my stove.) Adjust the heat as needed so it is high enough to brown the potatoes, but not so high that the potatoes will burn at the bottom.
Flip the potatoes (I use my beloved Earlywood flat spatulas), and cook for another 4 to 5 minutes without disturbing, until browned underneath. Repeat the flipping and browning 2 to 3 times more, until the potatoes are cooked through and browned to your taste.
Add the garlic and parsley, sprinkle with black pepper, and serve.
https://cnz.to/recipes/vegetables-grains/potatoes-sarladaises-recipe/
Unless otherwise noted, all recipes are copyright Clotilde Dusoulier.