I strive to master simple dishes. I don't aspire to be a person of whom one says, "What an ambitious cook!" or "She should really open her own restaurant!"
No. I want to be someone who can be trusted to prepare a good, well-rounded, home-cooked meal. A meal that has personality, yes, but one that doesn't try too hard, and relies chiefly on good taste and good technique.
This is why I had long been frustrated by my limited potato roasting skills. Oh, I'd roasted my share of potatoes, but I had never been able to make perfect roasted potatoes, golden and generously crusty on the outside, moist and tender on the inside.
By the time the chunks had developed enough of a crust, the flesh had begun to dry up inside, and I was left with something a bit cardboard-y. Not inedible — it takes considerable effort to render a potato inedible in my book — but not my platonic image of the roasted potato, either.
And then some years ago, my friend Pascale* shared the recipe she uses for pommes de terre rôties, which she learned from her British mother-in-law. I have blind kitchen faith in Pascale — she has never steered me wrong — and I was very excited about her technique, a classic in British cooking that was unknown to me at the time.
Here, let me show you in this video:
The Secret to Perfect Roasted Potatoes
The magic behind Pascale's roasted potatoes unfolds thusly: the potatoes are parboiled for five minutes first, drained, and returned to the saucepan. At this point — and this is the crucial step, so pay attention — you grab the lidded pan and shake it vigorously, which not only is fun, but also makes the surface of the potato pieces fuzzy from rubbing their sides one against the others.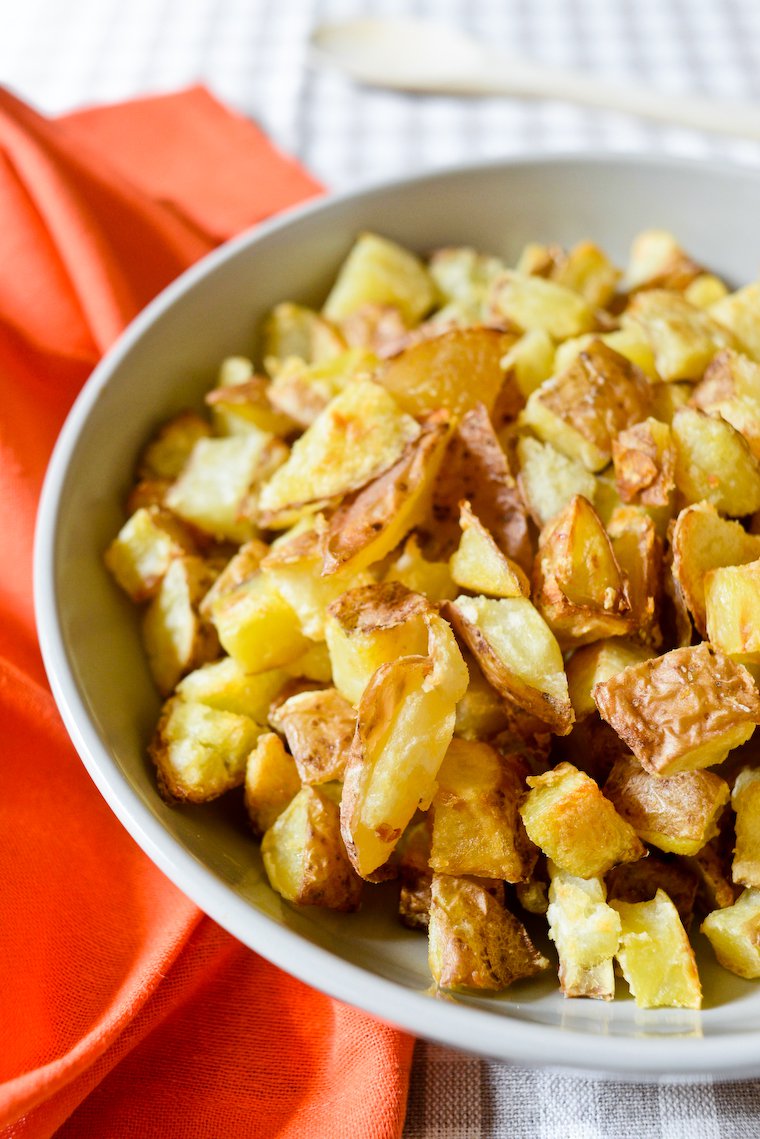 And wouldn't you know it, it is this very fuzz that fosters the formation of a splendid crust when you then bake the potatoes. The parboiling step reduces the baking time and ensures that the flesh inside stays moist.
Pascale posted this recipe in late afternoon on a Sunday in December. I read it in early evening, and an hour later, the roasted potatoes were gracing our table, making this a personal TTK (time-to-kitchen) record.

Seven years have passed (!) since that inaugural batch, and I have made the recipe dozens and dozens of times since then, using oil or duck fat and different potato varieties (ratte, roseval, charlotte, vitelotte…) to stupendous results, every time.
It is a dish that's great for dinner parties, too: you can parboil and bruise the potatoes before your guests arrive, then slip them in the preheated oven as everyone's settling in. I've served them with Muriel's chicken, with whiskey-flambéed veal paupiettes, and with seared duck breasts, but I think my favorite pairing was with the quails I stuffed and roasted, loosely following a recipe in Thomas Keller's Bouchon.
So, is this one you have in your repertoire? Are you going to try it? (I'm warning you, there's no way back!)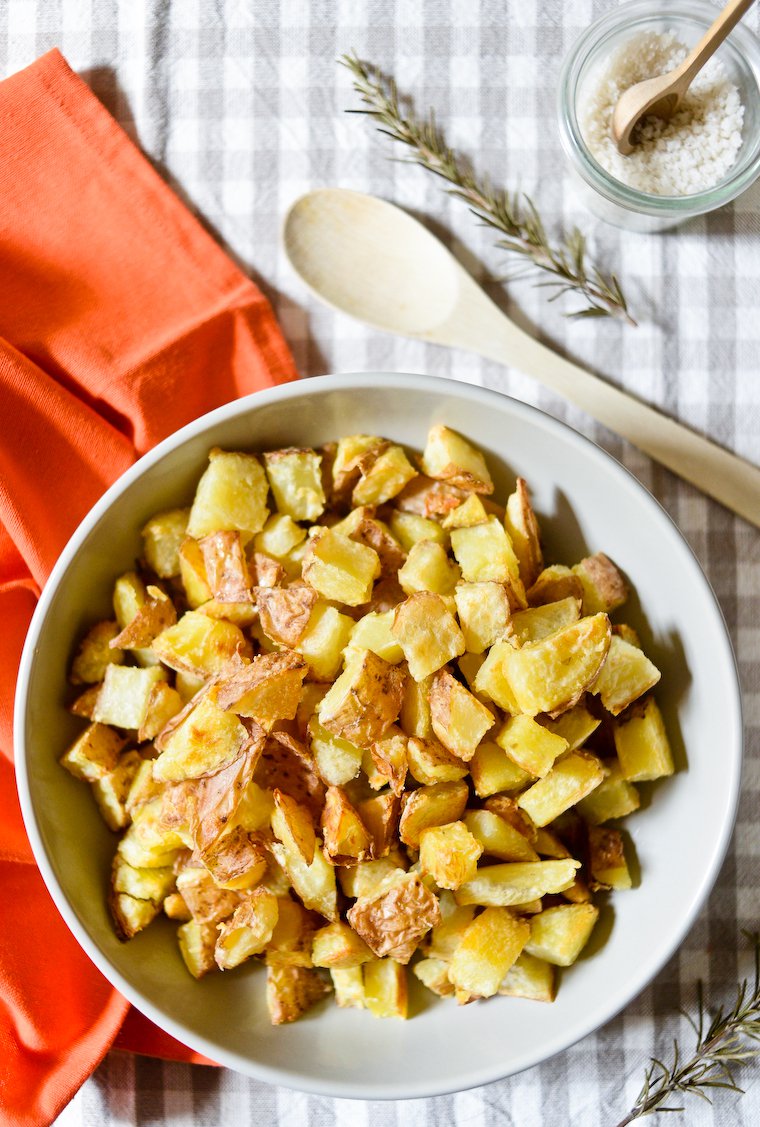 Have you tried this? Share your pics on Instagram!
Please tag your pictures with #cnzrecipes. I'll share my favorites!
Perfect Roasted Potatoes Recipe
Ingredients
1.2 kilos (2 1/2 pounds) potatoes (waxy or floury -- both types will work equally well)
2 tablespoons vegetable oil or duck fat
1 teaspoon coarse sea salt
1/2 teaspoon fine sea salt
1 teaspoon finely chopped rosemary (optional)
Instructions
Preheat the oven to 210°C (410°F).
If your potatoes are smooth-skinned, scrub them well and peel them in alternative stripes so that strips of skin remain. If, on the other hand, the skin of your potatoes is rugged and grainy, peel it off completely (no need to scrub) then rinse the potatoes well in cold water.
Cut the potatoes into even chunks, about 2 cm (3/4 inch) in width. Place them in a saucepan large enough to accommodate them, cover with cold water, and add 1 teaspoon coarse salt. Set over high heat, cover, bring to a low boil, then lower the heat to medium and cook for 5 minutes.
As soon as the water boils, pour the fat into a rimmed baking sheet, and place the sheet in the oven, so the fat and baking sheet will heat up.
After the 5 minutes of boiling, drain the potatoes -- they will not be cooked at that point -- and return them to the saucepan. Add the fine sea salt and the rosemary, if using.
Place a lid on the saucepan. Holding the lid firmly shut with both hands (the saucepan will be hot, so wear oven mitts or use dish towels), shake the saucepan vigorously for a few seconds, until the surface of the potato chunks is fuzzy; this will help the formation of a crust.
Remove the baking sheet from the oven, pour the potatoes onto the sheet, and stir well to coat with the fat.
Return to the oven and bake for 25 to 30 minutes, flipping the potatoes halfway through, until cooked through (when you insert the tip of a knife in one of the pieces, it should meet no resistance), crusty, and golden. If you want a little more color on them, you can switch to grill mode for the final few minutes.
Serve immediately.
Notes
I normally plan to serve about 200 to 250 grams (7 to 9 ounces) of potato per person, but these are so good people tend to want a little more.
Adapted from Pascale Weeks' pommes de terre rôties.
https://cnz.to/recipes/vegetables-grains/perfect-roasted-potatoes-recipe/
Unless otherwise noted, all recipes are copyright Clotilde Dusoulier.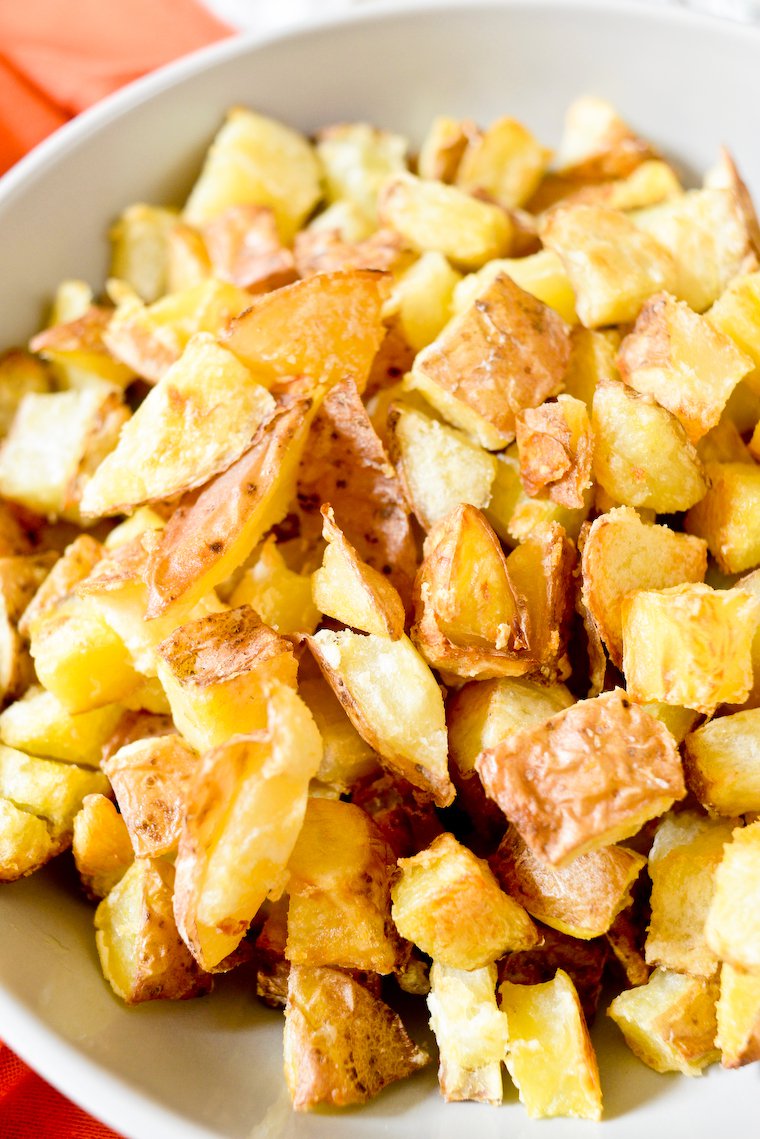 This post was first published in January 2010 and fully updated in October 2016.