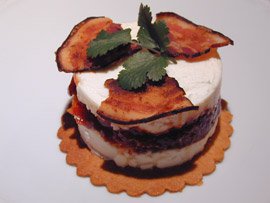 [Fresh Goat Cheese Mousse with Cherry Tomato Jam and Bacon Chips]
Yesterday, we had two of Maxence's oldest friends, Baptiste and Jérémie, over for dinner. The occasion was to finally open the bottle of St Julien that Baptiste had given us a while ago, a 1996 Sarget du Château Gruaud-Larose. As I have done in the past, I will tell you about the dinner menu over the next few entries.
While I wanted the main dish to be classical to compliment the wine nicely, I do have a lot of fun coming up with fancier and more personal stuff, and decided to give myself carte blanche for the starter and the dessert. As is usually the case when we throw dinner parties, the previous week was spent idly toying with recipe ideas, the back of my mind always more or less occupied with ingredients and techniques, writing them down and sketching plating ideas in my little red notebook.
On a particularly fruitful bus ride, I decided to use my Confiture de Tomates Cerises in the first course, and came up with this idea.
Fresh Goat Cheese Mousse with Cherry Tomato Jam and Bacon chips
– A roll of pre-made pie dough
– 400 g fresh goat cheese
– 10 cl whipping cream
– 3 sheets of gelatin
– salt, pepper
– half a jar of Confiture de Tomates Cerises à la Cannelle
– 4 thin slices of lard fumé (substitute bacon)
– a handful of cilantro, washed and dried
Special gear :
– 4 metal circles (6 cm in diameter, a bit under 2")
– a fluted tartlet mold of a slightly larger diameter
– baking beans
Crust. Preheat the oven to 200°C (400°F). Use the tartlet mold to cut out four circles in the pie dough. Place them between two sheets of parchment paper, and pour the baking beans on top. Bake for ten to 15 minutes, until thoroughly cooked and golden. Set aside to cool.
Mousse. Put the gelatin to soften in a bowl of cold water for a couple of minutes. Heat up the whipping cream in another bowl. Press the gelatin dry with your fingers, then put it in the warm cream, stirring until dissolved. In a medium bowl, beat together the cheese, cream and gelatin, salt and pepper, until thoroughly mixed.
Assembly. On a large plate, set out the 4 rounds of dough, and place the circles on top. Spoon half of the cheese mixture into the circles, pressing it in an even layer. Add about two tablespoons of tomato jam in each, then spoon in the rest of the cheese, evening out the surface with the back of the spoon. Put in the fridge to set for at least two hours.
Chips de lard. Cut each lard slice in three pieces. Sauté in a dry skillet until golden and crispy. Drain the excess grease on paper towels, and let cool.
Plating. Right before serving, remove the metal circles, hope to God that everything stays in place, and put the mousses on small plates. Place three chips of lard on top of each in a biohazard pattern, add a cilantro sprig, and arrange seasoned baby spinach leaves and cilantro leaves all around.
I was very happy with the outcome of this dish, it looks very pretty and was brought out to ooohs and aaahs from the public. The only glitch was that I had added sugar in the cheese mixture and we all thought it was a bit too sweet that way, so I have removed it from the recipe given here. But apart from this, the overall result works really well : the salty chips balancing the sweet jam, the fresh soft mousse answering the crispy dough. I will definitely repeat this.